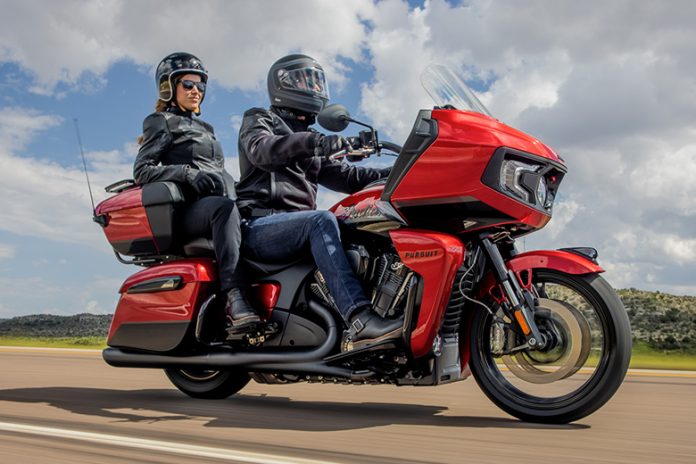 With the introduction of Indian Pursuit, Indian Motorcycles, America's first motorcycle company, today unveiled the next generation of American V-Twin touring performance. The 2022 Indian Pursuit lives up to its claim as the most capable and beautiful American touring motorcycle on the road, thanks to a liquid-cooled Power Plus engine, smooth ride-enhancing technology, chassis-fit fairing, and a ton of touring comfort.
The Indian Pursuit has been carefully crafted for the discriminating rider who loves the journey more than the destination and is packed with unmatched comfort and performance. Riders can choose from four options to suit their riding style and personal taste, with each model coming in two trim levels and available in two body styles. The Pursuit Dark Horse and Pursuit Limited are two models with a premium package that includes advanced ride-enhancing technology and other comfort features.
"Touring bikes are one of the greatest expressions of freedom," said Mike Dougherty, president of Indian Motorcycle, "allowing unparalleled experiences through extended routes and epic excursions on the open road." "With the Pursuit, we've built on the unmatched sophistication of the Power Plus motor to deliver a class-leading, the fully-equipped touring machine that combines elite performance with unparalleled comfort and advanced technology features, that any The American V-Twin delivers a touring experience unlike any other.
The Indian Motorcycle Power Plus engine, a 108 cubic-inch, liquid-cooled V-twin that produces a class-leading 122 horsepower and 128 ft-lbs of torque, is at the heart of every model. Every 2022 Pursuit model has an improved Power Plus calibration that enhances low-speed drivability and the overall riding experience.
2022 Indian Pursuit Dark Horse Touring Bike – Features and Specs
Standard Features
The Indian Motorcycle Power Plus engine, a 108 cubic-inch, liquid-cooled V-twin that produces a class-leading 122 horsepower and 128 ft-lbs of torque, is at the heart of every model. Every 2022 Indian Pursuit model has an improved Power Plus calibration that enhances low-speed handling and the overall riding experience.
Comfort
Each type of Indian Pursuit is designed for maximum comfort on long, epic journeys. Improved weather protection and increased adaptability to changing weather and temperature conditions are provided by the movable windscreen and ventilated lower fairing. In cold weather, heated grips keep riders' hands warm, and Indian Pursuit's new Touring Comfort Seat provides unparalleled comfort.
Storage
Riders can pack everything they need for extended tours thanks to the premium cargo trunk and more than 35 gallons of power-locking storage provided by spacious saddlebags.
Technology
An industry-leading seven-inch touchscreen display powered by Ride Command completes the features of every Indian Pursuit model. With Ride Command+, the touchscreen display includes Apple Carplay®, GPS with turn-by-turn directions, and a free year of Ride Command+ connected services. These capabilities include live traffic and weather overlays, as well as an all-new vehicle location tool. Riders can check the Indian Motorcycle Riding Command smartphone app or website to track their bike's last known position for enhanced security using the new vehicle tracking tool.
The Indian Pursuit Limited, Indian Pursuit Dark Horse, Indian Pursuit Limited with Premium Package, and Indian Pursuit Dark Horse with Premium Package all have standard features.
Premium Package Features
An all-new electronically adjustable rear suspension preload by Fox is standard on the Indian Pursuit Dark Horse with the Premium Package and the Indian Pursuit Limited with the Premium Package. Riders can now alter their rear suspension preload for optimal comfort and handling in various conditions. The bike's infotainment system makes it easy to control the electrically adjustable rear suspension preload whether you're riding alone or with a passenger, or with extra luggage. The new electronic preload is an optional upgrade that can be added to any base Indian Pursuit Dark Horse, Indian Pursuit Limited, or Indian Challenger model in addition to being standard on Premium Package vehicles.
Smart Lean Technology
A Bosch IMU is used by Intuitive Smart Lean Technology to add cornering control to Dynamic Traction Control and ABS, keeping riders securely anchored.
Integrated Driving Lights
There are also integrated driving lights in the reinforced lower fairings on every premium model. Indian Pursuit Limited and 2022 Indian Pursuit Dark Horse Touring Bike can be upgraded with these driving lights.
Heated Touring Comfort Seat
An all-new heated touring comfort seat makes its debut on every premium Indian Pursuit model. Riders are kept warm in varying degrees of cold weather thanks to three controllable heating settings via a touchscreen display. All Challenger models, including the Indian Pursuit Limited and Indian Pursuit Dark Horse, can be upgraded for heated touring comfort seats.
2022 Indian Pursuit Dark Horse Touring Bike – Price
The new 2022 Indian Pursuit Dark Horse Touring Bike is available at $30,999.
2022 Indian Pursuit Dark Horse Touring Bike – Top Facts
When discussing the 2022 Indian pursuit, it is difficult to focus on just one aspect. With a powerful 128 ft-lbs of pavement-rippling torque and 122 horsepower, the V-twin engine is paired with the comfortable ergonomics of a fully equipped touring cruiser. More than 132 liters of storage space is available and the suspension is excellent. The cast aluminum frame is strong and the suspension is the first rate. Fortunately, instead of clashing and clouding the purpose of a motorcycle, all of these elements enhance each other.
Comfort is the top priority for the needs of long-distance cyclists, and the Pursuit delivers a fatigue-free ride. The pursuit shows its hand when you start the Power Plus motor. The considerable twin begins at the touch of the start button, but you hardly notice it because it purrs like a cat. You can cruise over 100 mph without feeling any engine strain, even though the vibration worsens as the engine speeds up. The frame-mounted fairing and electrically adjustable windscreen provide the rider with a comfortable cocoon even at high speeds. For a more natural feel, the wide handlebar extends the grip into your hands. There's plenty of lower back support, and the dash seat isn't overly soft. More extended floorboards give the rider several options for where to place their feet, while lower louvers that move can effectively change the airflow.
Performance is promised — and delivered — when a product's name is Pursuit. At slow speeds, the Power Plus engine is pleasantly quiet, making it easy to ride in traffic. But once you're riding on the open road, the only thing holding you back is your anxiety about maintaining your driver's license. Illegal speeds are easily accessible with just the turn of a dial. The motor revs smoothly and effortlessly from its sub-1k idle to the 6500-rpm rev limiter. While downshifting isn't necessary for passing without much roll-on power, going down to fifth gear for overtaking makes things go faster.
Sport, standard, and rain are the three power settings, although most users only use the first two. Few drivers will be out of the game because it has the smoothest, liveliest throttle response. Although we know it's ride-by-wire, throttle response slows considerably in Standard mode until it resembles a rubber band. It leaves a dull, unattractive impression of power plus motor. Although Southern California is experiencing a drought, there aren't many opportunities to test real-world rainfall patterns while the pavement is wet.
The best gear selection is always possible with the six-speed gearbox. A broad power band gives you multiple ratio options that can be used in any situation. Despite having the floor, the Pursuit lacks heel/toe transfer, but Indian offers it as an option. When navigating parking spaces and urban traffic, the assist feature of the clutch is a big plus. Because there is no reverse, park carefully. Cruise control is flawless in sixth gear and upshifts, even at high speeds.
The handling power matches the pulse output. The 2022 Indian Pursuit is a big bike weighing 921 pounds with a full tank of gasoline but no passengers or cargo. However, it is stable as it moves due to the strong metal frame. If you have a solid strategy, you can ride it fast in the canyons, and triple-digit sweepers are easy. It all comes down to not taking on more than you can handle. Long-travel suspension seat damping eliminates rough-road problems. Pursuit prioritizes durability over agility, as is always true with a full dresser. It leans into corners with steady assurance and then holds its line aggressively.
The best Metzeler Cruisetec tires significantly outperform any acceptable cornering requirements. Cornering clearance on the pursuit is ample, so many riders never scrape anything. Even so, it won't be too early to test the edge grip of the Cruisertec tires if you touch down the pursuit.
High-speed driving calls for solid braking, and the Pursuit has excellent binders—four-piston Brembo calipers with radial mounting breaking the two 320mm discs at the front wheels. The 298mm rear disc also kicks into action when the rear wheel is heavily loaded. Note that the brakes are not attached. The brakes are applied gradually, as you can imagine, preventing jerky motion as you travel. However, braking tends to worsen unless you put a lot of pressure on the lever. The contact screws on the tires can only do so much when half a ton (or more) is moving, so keep that in mind. If you go over them, ABS will help you.
With the $3000 Premium Package, we put the 2022 Indian Pursuit dark horse to the test. Completion of the equation, which has nothing to do with working, is the dark horse component. The Premium Package adds fog lights, a heated touring comfort seat, cornering-aware ABS and an IMU for (beatable) traction control, plus electronically adjustable spring preload for Fox shocks. The Ride Command infotainment display has convenient controls for spring preload adjustment. You enter your weight, as well as the importance of your passenger and luggage (if applicable), and the preload is set electronically. Cornering-aware traction capabilities are hard to test, but it's good to know they're there. While the Touring Comfort Seat lives up to its name, the heating feature was too hot to use.
Raid Command software from Indian is the best. With a seven-inch touchscreen and buttons on the left handlebar as the interface, it's easy to find the information or function you're looking for—something we can't often claim. The Ride Command+ system upgrade from The Dark Horse gives you access to Apple Car Play (but not Android Auto), traffic overlays on the GPS, and weather forecasts on the map. With the iPhone 12 mini, Bluetooth connectivity was practically lightning fast. Even with the full-face helmet, the two-speaker sound system is ineffective at highway speeds but satisfactory around town.
Large luggage compartments boost intercontinental trips twice. The Pursuit's top box and side luggage are roomy. A total of 132 liters is 12 liters more than the Honda Gold Wing Tour and the same as the Harley-Davidson Road Glide Limited. Electronic locks on purse bags are easy to operate.
The 2022 Indian Pursuit is an ideal touring bike for riders who want to enhance the recipe with excellent performance. The pursuit is there for you if you want it, but it doesn't force you to ride hard. It can easily cover a massive amount of ground very comfortably, and the airflow can be changed as needed in response to changing weather demands. The style is modern yet avoids being weirdly futuristic. The premium package's valuable additions and Dark Horse styling accents combine to create a stunning touring motorbike that's both thrilling and extremely useful.
2022 Indian Pursuit Dark Horse Touring Bike – Technical Specification
Engine & Drivetrain
| | |
| --- | --- |
| Bore x Stroke | 4.251-inch x 3.799-inch (108mm x 96.5mm) |
| Compression Ratios | 11.0:1 |
| Displacement | 108 cubic inches (1768 cc) |
| Drive/Driven Clutch | Wet, Multi-Plate, Assist |
| Electronic Fuel Injection System | Closed loop fuel Injection / 52mm of dual bore |
| Engine Type | Liquid-cooled PowerPlus |
| Exhaust | Split Dual exhaust with Resonator |
| Horsepower | 122HP |
| Peak Torque | 128ft-lbs |
| Peak Torque RPM | 3800rpm |
| Transmission/Final Drive | 2.379:1 |
| Transmission/Primary Drive | Gear Drive Wet Clutch |
Dimensions
| | |
| --- | --- |
| Fuel Capacity | 6 gallons (22.7 Liters) |
| Ground Clearance | 5.4 inches (137mm) |
| GVWR | 1,385lbs (628kg) |
| Lean Angle | 31-degree |
| Overall Height | 56.8 inches (1,444mm) |
| Overall Length | 102.7 inches / 2609mm |
| Overall Width | 39 inches (990mm) |
| Rake/Trail | 25-degree / 5.9 inches (150mm) |
| Seat Height | 26.5 inches (672mm) |
| Weight | 877 lbs |
| Wheelbase | 65.7 in (1,669 mm) |
Brakes
| | |
| --- | --- |
| Front Brakes | Dual, 320mm Semi-Floating Rotor, 4 Piston Radial Caliper |
| Rear Brakes | Single, 298mm Floating Rotor, 2 Piston Caliper |

Tires / Wheels
| | |
| --- | --- |
| Front Tires | Metzeler Cruisetec 130/60B19 66H |
| Front Wheel | Sport Contrast Cut 19 inches x 3.5 inches |
| Rear Tires | Metzeler Cruisetec 180/60R16 80H |
| Rear Wheel | Sport Contrast Cut 16 inches x 5 inches |
Suspension
| | |
| --- | --- |
| Front Fork Tube Diameter | 43mm |
| Front Suspension | Inverted Telescopic Fork |
| Front Travel | 5.1 inches (130mm) |
| Rear Suspension | Fox Single Shock w/Hyd adjust |
| Rear Travel | 4.5 inches (114mm) |
Features
| | |
| --- | --- |
| Color/graphics | Black Smoke, Spirt Blue Metallic, Silver Quartz Smoke, Ruby Metallic / Black Metallic |
| Factory Warranty | 2-Year and Unlimited Miles |
| Gauges | Fairing-attached instrument cluster containing analog speedometer and tachometer including fuel gauge, odometer, range, and current gear. 15 LED telltale indicators; cruise control enabled, cruise control set, neutral, turn signal, high beam, low tire pressure, ABS, check engine, battery, low fuel, security system, low engine oil pressure and MPH or km/h unit designation. |
| Infotainment | 7 in touchscreen powered by RIDE COMMAND: The model year 2022 bikes include a complimentary 1-year trial of RIDE COMMAND+ (after which fees apply) which includes features like live traffic/weather, vehicle health, intuitive destination search, and vehicle locator. Seven in touchscreen display with a real-time clock; ambient air temperature; heading; audio information display; map/navigation; Bluetooth status for phone and headset; vehicle status (tire pressure, voltage, engine hours, oil change); vehicle info (speed, fuel range, RPM, gear position); current ride data (distance, moving time, stop time, altitude, altitude change); trip meters; ride mode selection; screen brightness; vehicle trouble code readout; Apple CarPlay® integration. |
| Lights | LED lighting, including Pathfinder LED Headlamp |
| Standard Equipment | 7 in touchscreen powered by Ride Command with Navigation, RIDE COMMAND+, Apple CarPlay integration; Selectable Ride Modes; Rear Cylinder Deactivation; Cruise Control; Tire Pressure Monitoring; Remote-locking Hard Saddlebags & Trunk; 35.8 gallons of Storage; Highway Bars; Adjustable Passenger Floorboards; Brembo brakes; ABS; Keyless Ignition; Chassis Mounted Fairing; Power Windshield; Adjustable Fairing Air Flow Vents; Heated Grips; 200 Watt Audio System with AM/FM, Bluetooth, USB, Smartphone Compatible Input, and Weatherband; 12V Charging Port |