Garage 221's ambitious custom bike-based BMW R18 began some time ago with the introduction of the bike at EICMA 2019. According to Pierre Francisco Marcio of Garage 221, the lines of the new BMW Cruiser are both innovative and genuinely traditional, deserving "complementary features and even more heritage spirit, ranging from the soft shape of a tank to the recognizable curves. Of a boxer."
2022 BMW R18 Aurora Cruisers – Features and Price
The Verona Motorbike Expo was a great place to bring ideas for customizing two great motorcycles based on the magnificent BMW R18 to grab the attention of Italian and European fans.
It is the outcome of a splendid partnership between BMW Motorrad Italy and its dealer network, as well as some of the prominent names. R 18 M is a project designed by American Dreams and produced by the Italian magazine LowRide. Garage 221 was commissioned by BMW Motorrad Roma to create the R18 Aurora.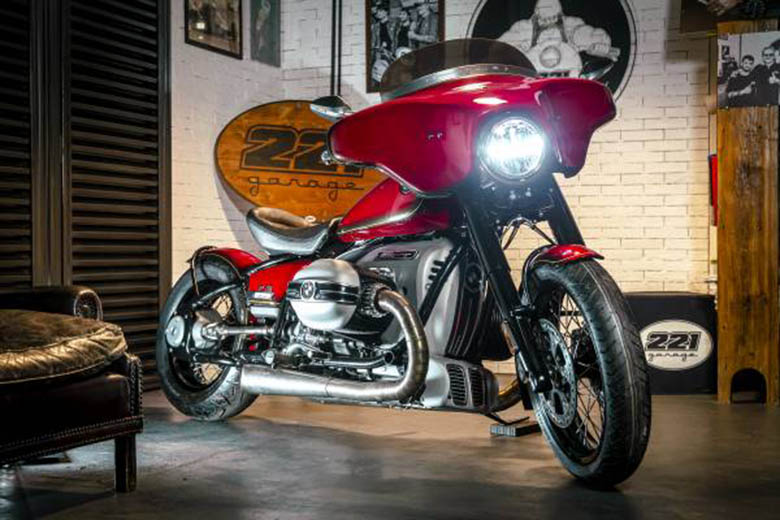 A BMW Custom with BMW Heritage at its Heart
The changes to the R 18 Aurora result from BMW's expertise in the world of garage 221 and all the components used to belong to other BMW Motorrad models. The set has been fully adapted from the BMW 1200 C since 2005. The Bat Wing Support was manufactured in 1982 with the help of the BMW R 100 gesture and from 1991, on the back frame of the BMW K75, even body color was influenced by the code of the 1983 BMW RT 100 with custom graphics in terms of colors and intensity.
2022 BMW R18 Aurora Cruisers – Technical Specifications
Engine
| | |
| --- | --- |
| Design | Air/oil-cooled two-cylinder four-stroke boxer engine with two chain-driven camshafts above the drive shaft. |
| Bore x stroke | 4.2" x 3.9" |
| Capacity | 1,802 cc |
| Nominal capacity | 91 hp at 4,750 rpm |
| Max. torque | 116 lbs-ft at 3,000 rpm |
| Compression ratio | 9.6 :1 |
| Fuel preparation | Electronic intake pipe fuel injection, BMS-K+ electronic engine management with overrun cut-off, and twin-spark ignition. |
| Emission control | A regulated three-way catalytic converter |
Mileage / consumption
| | |
| --- | --- |
| Maximum speed | Over 111 mph |
| Fuel type | Super plus lead-free (max. 15% ethanol, E15) Gasoline (min. 90 AKI Octane Rating, max. 15% ethanol content) |

Electrical system
| | |
| --- | --- |
| Alternator | Permanent magnet generator 600 W (nominal capacity) |
| Battery | 12 V / 26 Ah, maintenance-free |
Power transmission
| | |
| --- | --- |
| Clutch | Single-disc dry clutch |
| Gears | 6-speed transmission |
| Secondary drive | Shaft drive |
Suspension / brakes
| | |
| --- | --- |
| Frame | Double-cradle steel frame |
| Front suspension / spring elements | Telescopic fork |
| Rear suspension / spring elements | Steel swingarm with central shock strut |
| Spring travel, front/rear | 4.7" / 3.5" |
| Wheelbase | 68.1" |
| Caster | 5.9" |
| Steering head angle | 57.3° |
| Wheels | Spoke wheel |
| Rim dimensions, front | 3.5″ x 19″ |
| Rim dimensions, rear | 5.0″ x 16″ |
| Tire, front | 120/70 R 19 |
| Tire, rear | 180/65 B16 |
| Brake, front | Twin disc brake, diameter 300 mm, four-piston fixed calipers |
| Brake, rear | Single disc brake, diameter 300 mm, four-piston fixed caliper |
| ABS | BMW Motorrad Integral ABS (partially integral) |

Dimensions / weights
| | |
| --- | --- |
| Seat height, unladen | 27.2" |
| Rider step length, unladen | 64.2" |
| Usable tank capacity approx. | 4.23 gal |
| of which reserve | 1 gal |
| Length | 96.1″ |
| Height (excluding mirrors) | 44.3″ |
| Height (above a mirror, at DIN empty weight) | 48.5″ |
| Width (with mirror) | 38.0″ |
| Unladen weight, fully fuelled/road-ready | 761 lbs |
| Max. permitted weight | 1,234.6 lbs |
| Max. load (with standard equipment) | 474 lbs |