For those who want to go cross-country, the KTM 250 XC is the machine for you. KTM 250 SX shares a lot of DNA with this bike, which means it has the same incredible two-stroke performance and lightweight frame. To put it another way, it implies that the 250 XC is a monster on fast and challenging terrain. A transparent fuel tank and 18-inch rear wheel also make this a very competent SX-derived offroad racing weapon.
KTM's unwavering dedication to the evolution of the 2-stroke engine. Additionally, the method eliminates the requirement for premixing fuel and re-jetting, allowing the engine to operate more smoothly and consistently with less effort. The advantages are evident. Powerful two-stroke engines are paired with the most advanced chassis technology in the 250 XC TPI from KTM. The lightweight 2-stroke engine's outstanding performance makes it a severe competitor in offroad racing.
2021 KTM 250 XC TPI Dirt Bike – Features and Specs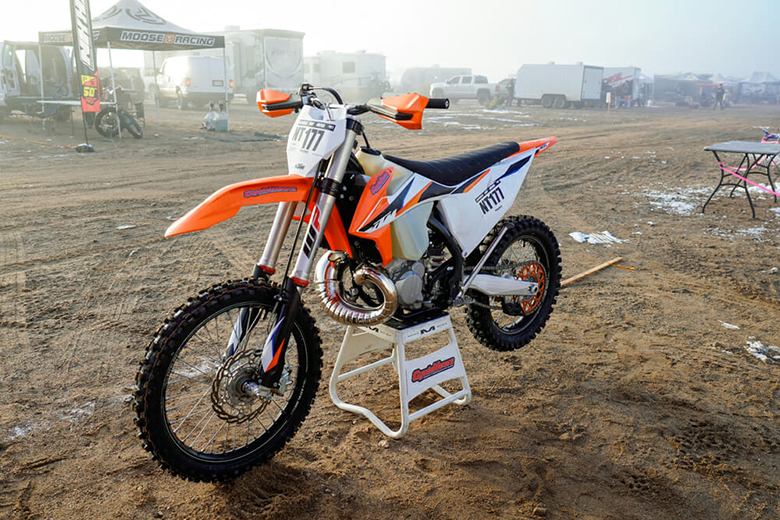 Exhaust
The exhaust is critical to delivering power and performance, and it provides a powerful punch that can't be matched. Its HD exhaust pipes (heavy-duty) are created utilizing a revolutionary 3D stamping method that creates ribbed surface finish on the exhaust pipes of 250 and 300cc models. It significantly improves the pipe's resistance to rocks, as well as its ability to suppress noise. Using an aluminum mounting bracket, the silencer is attached to the vehicle's exhaust system in a compact form factor. A perforated inner silencer tube works with lightweight damping material to deliver effective and long-lasting noise reduction in the exhaust's design.
Engine
Push and torque are plenty in the 250 2-stroke engines while being light enough to allow riders to power past even the most challenging obstacles. An even more refined powertrain may be achieved thanks to cutting-edge technical techniques, creative 2-stroke architecture, and revolutionary fuel injection technology. It's a brilliant option for those looking for a lightweight and small enduro machine that can handle the most challenging terrain.
Airbox
In conjunction with the intake snorkels, the air filter box design provides optimum protection for the air filter from soiling while also assuring maximum airflow. On top of the rigid cage that keeps the system together, the Twin Air air filter takes up the most available space. This design is so simple that even if your face is covered in muck, you can still put in a new one.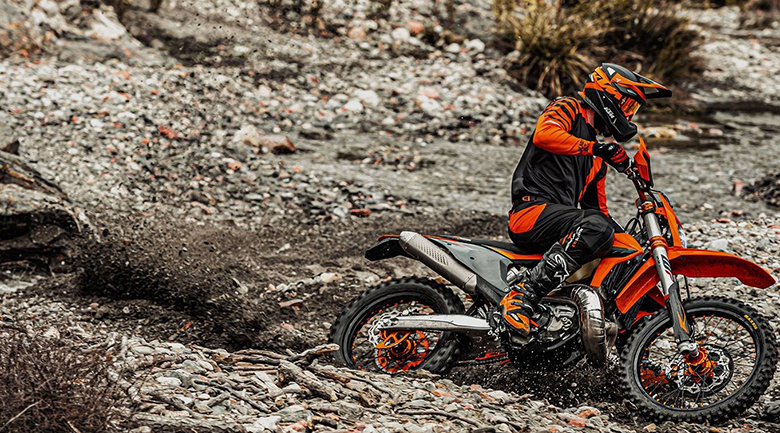 Frame
Easy to ride, accurate turning precision and excellent stability are all hallmarks of the chrome-moly steel frame's high-tech, lightweight design. You may also rely on the frame's same rigidity. Consequently, the energy generated by the front and rear suspensions are better absorbed, and leaps and bumps are absorbed better. Rider fatigue will be reduced as a result of increased comfort. Reducing vibrations by using lightweight aluminum head stays (the link between cylinder heads and the frame) is an essential benefit of this design. The engineers achieved a 2.2-pound weight advantage over the lightest rival. This design provides more room for the tank and other components, as well as is simpler to maintain and work on. In addition, the bike has an aluminum subframe that weighs less than 2 pounds.
Seat
High-density foam cushioning and a newly contoured seat surface provides the new XC line's seats with superior ergonomics and seating comfort. One long, lateral screw secures the seat to the bike, making it safe and straightforward to use.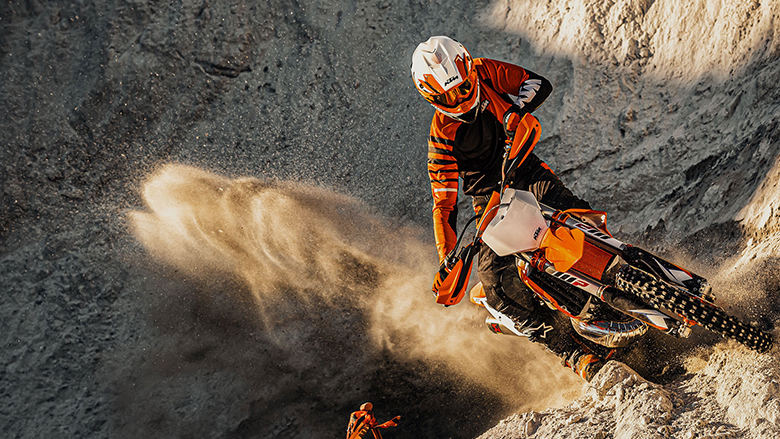 Handlebar
KTM engineers handle those handlebars to a tee. It boasts a throttle assembly with a twin-cable for TPI models exactly like their 4-stroke siblings with a double-cable aluminum body and simple free-play adjustment in this tapered unit constructed of high-strength aluminum. There's an easy-to-install wire-free ODI lock-on grip on the right and a vulcanized grip on the left side of the bar.
Footpegs
Even while digging in deep ruts, sophisticated 'No Dirt' footpegs keep the pegs clean. Are you looking for a better vantage point? The EXC models' footpegs, which are 6 mm taller than the stock ones, may then be attached.
Seat
High foam cushioning and a newly contoured surface in the XC range provide enhanced ergonomics and a far better seat experience. One long, lateral screw secures the seat to the bike, making it safe and straightforward to use.
Handlebar
KTM engineers handle those handlebars to a tee. As with their 4-stroke counterparts, the TPI variants of this tapered unit from NEKEN include a double-cable aluminum body and uncomplicated free-play adjustability with a throttle assembly that has a twin-cable. On the right side of the bar, a vulcanized grip is installed, while on the left, an ODI lock-on grip is installed, which does not need any wire or glue to be attached.
2021 KTM 250 XC TPI Dirt Bike – Price
The new 2021 KTM 250 XC TPI Dirt Bike is available at $9,999 only.
2021 KTM 250 XC TPI Dirt Bike – Technical Specifications
Engine
| | |
| --- | --- |
| Transmission | 6-speed |
| Starter | Electric starter |
| Stroke | 72 mm |
| Bore | 66.4 mm |
| Clutch | Wet, DDS multi-disc clutch, Brembo hydraulics |
| Displacement | 249 cm³ |
| EMS | Continental EMS |
| Design | 1-cylinder, 2-stroke engine |
Chassis
| | |
| --- | --- |
| Weight (Without Fuel) | 101.3 kg |
| Tank Capacity (Approx.) | 8.5 l |
| Front Brake Disc Diameter | 260 mm |
| Rear Brake Disc Diameter | 220 mm |
| Front Brake | Disc brake |
| Rear Brake | Disc brake |
| Chain | 5/8 x 1/4″ |
| Frame Design | Central double-cradle-type 25CrMo4 steel |
| Front Suspension | WP XACT-USD, Ø 48 mm |
| Ground Clearance | 370 mm |
| Rear Suspension | WP XACT Monoshock with linkage |
| Seat Height | 950 mm |
| Steering Head Angle | 63.9 ° |
| Suspension Travel (Front) | 310 mm |
| Suspension Travel (Rear) | 300 mm |