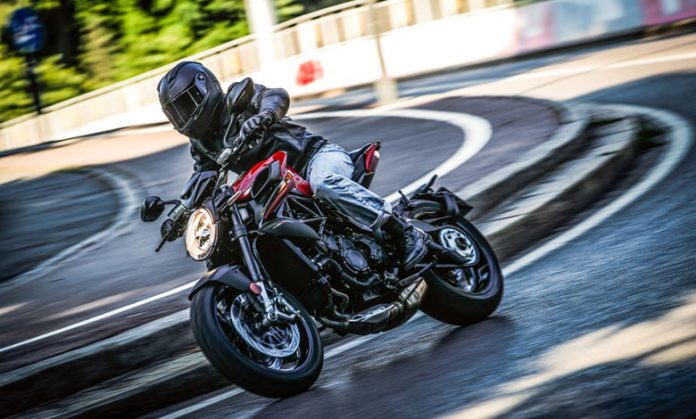 The convenience, accessibility, and enjoyment of riding. The new 2021 Brutale Rosso MV Agusta Motorcycle is the MV Agusta for everyone. The bike makes getting into the renowned MV world a lot simpler and faster.
It is accomplished without compromising technology, safety, or riding economy. The Rosso, like the rest of the Brutale 800 bikes, benefits from all of the technological advancements made to the three-cylinder engine with counter-rotating crankshaft, which is now available in a 112-horsepower version for even more straightforward and more intuitive control.
The redesigned, more comfortable seat, as well as the improved setup, which is aided by the new, progressive linkage, enhance the riding experience even more. The updated electronics with an inertial platform oversee every riding parameter more accurately, while the Continental ABS with cornering function increases performance and safety. All of the technology in the new Brutale series is available at a price that has never been lower. A low-power version is also available (35 kW).
The Brutale Rosso is the Brutale line's entry model. It is a true Brutale, but it is simpler to manage and ride for everyone. It boasts a 3-cylinder engine with even higher performance owing to reduced internal friction, and the new electronics are more tuned than before. The Brutale Rosso is eager to welcome any new fans into its extraordinary universe.
2021 Brutale Rosso MV Agusta Motorcycle – Features
Chassis
Redesigned frame plates for more torsional and longitudinal stiffness improved riding precision with new front and rear suspension settings. New rear suspension link progressive. Improved riding comfort with new seat foam. Advantages of a restyled dashboard cover: comfort, stability, agility, and safety.
Engine
Crankshaft with counter-rotating crankshaft and an all-new DLC coated tappets and sintered valve guides reduce friction. To reduce friction and increase reliability, new crankshaft main bearings, piston rod bearings, and countershaft bearings. Engine tuning and power/torque curves are optimized with a modified exhaust collector. Exhaust silencer with a new design. New clutch basket designed to improve engagement benefits: better operation and reliability, compliant with euro 5 regulations.
Electronics
New abs mk100 continental module with cornering feature for constant safety in curves. The brand new international platform. 5.5″ TFT dashboard in new color Bluetooth and GPS mv ride app is a mobile application that allows you to ride a motorcycle. Integrated navigator in the dashboard, new electronic gear sensor EAS 3.0 new engine management algorithms for a direct link between the throttle and the rear wheel advantages of cruise control: a better feeling ride riding is more accessible, more intuitive, and safer with advanced electronics.
Design. Every Detail Counts
The Rosso Range's distinguishing feature is, of course, it is remarkable coloration: red, the ultimate racing color, serves as the design's crowning splendor. Surface refining on the profile of the wheel spokes, for example, is a tiny change from the standard setup.
Feel the Power of Sound
The F3 800's in-line three-cylinder engine excels in performance, output range, weight, and record-breaking dimensions. With 110 horsepower and 83 Nm of torque, the bike's full potential can be unlocked swiftly and effortlessly on any circuit.
Freedom and Control
Sport, Race, Rain, and Custom are four riding modes with eight degrees of traction control. For optimal pleasure in any driving circumstance, the various sides of an engine bursting with confidence may be chosen through the joystick.
Hi-Tech for Everybody
The Rosso Range uses the exact technological solutions as previous MV models, such as the counter-rotating crankshaft developed from MotoGP and the detachable gearbox. Thanks to a new progressive linkage rear and a new and improved-comfort seat, the construction has been overhauled.
Quality braking system
Scalability and power. The mission was completed owing to a high-performing front-end system that included a set of four-piston Brembo radial brakes. Even around bends, the new Continental ABS with cornering function increases performance and safety.
2021 Brutale Rosso MV Agusta Motorcycle – Technical Specifications
Engine
| | |
| --- | --- |
| Type | Three-cylinder, four strokes, 12-valve |
| Timing system | "D.O.H.C" has a mechanical chain tensioner and DLC tappet |
| Total displacement | 798 cm3 (48.68 cubic inches) |
| Compression ratio | 12.3:1 |
| Starting | Electric |
| Bore x stroke ratios | 79mm x 54.3mm (3.1 inches x 2.1 inches) |
| Maximum power – RPM (at the crankshaft) | 82 kW (112 hp) @ 11.000 RPM |
| Maximum. torque – RPM | 85 Nm (8.67 kgm) @ 8.500 RPM |
| Cooling system | Cooling having separated liquid & oil radiators |
| Electronic quick-shift | MV EAS 3 (Electronically Assisted Shift up and down) |
| Clutch | Multi-disk wet clutch including hydraulic actuation and back-torque-limiting device |
| Transmission | Cassette style; 6-speed, constant mesh |
| Primary drive | 22/41 |
| Final drive ratio | 16/41 |
Electrical Equipment
| | |
| --- | --- |
| Voltage | 12 V |
| Alternator | 350 W at 5.000 r.p.m. |
| Battery | 12 V – 8.5 Ah |

Dimensions and Weight
| | |
| --- | --- |
| Wheelbase | 1,400 mm (55.12 in.) |
| Overall length | 2,045 mm (80.51 in.) |
| Overall width | 875 mm (34.45 in.) |
| Saddle height | 830 mm (32.68 in.) |
| Min. ground clearance | 135 mm (5.31 in.) |
| Trail | 103.5 mm (4.07 in.) |
| Dry weight | 175 kg (385,8 lbs.) |
| Fuel tank capacity | 16.5 l (4.36 U.S. gal.) |
Performance
| | |
| --- | --- |
| Maximum speed | 237 km/h (147.2 mph) |
Frame
| | |
| --- | --- |
| Type | ALS Steel tubular trellis |
| Rear swing arm pivot plates material | Aluminum alloy |
Front Suspension
Type
Marzocchi "UPSIDE DOWN" telescopic hydraulic fork with rebound-compression
damping and spring preload external and separate adjustment
Fork dia.
43 mm (1.69 in.)
Wheel travel
125 mm (4.92 in.)
Rear Suspension
Type
Progressive Sachs, single shock absorber with rebound and compression
damping and spring preload adjustment
Single-sided swingarm material
Aluminum alloy
Wheel travel
130 mm (5.12 in.)
Brakes
| | |
| --- | --- |
| Front brake | Double floating disc with 320mm (12.6 inches) diameter, including steel braking disc and flange |
| Front brake caliper | Brembo radial-type, having four pistons 32mm (1.26 inches) |
| Rear brake | Single steel disc with 220mm (8.66 inches) diameter |
| Rear brake caliper | Brembo with 2 pistons – 34mm (1.34 inches) |
| ABS | Continental MK100 with RLM (Rear Wheel Lift-up Mitigation) and with cornering function |
Wheels
| | |
| --- | --- |
| Front: Material/size | Aluminum alloy 3.5 inches x 17 inches |
| Rear: Material/size | Aluminum alloy 5.5 inches x 17 inches |
Tires
| | |
| --- | --- |
| Front | 120/70 – ZR17M/C (58W) |
| Rear | 180/55 – ZR17M/C (73W) |
Fairing
Emissions
| | |
| --- | --- |
| Environmental Standard | Euro 5 |
| Combined fuel consumption | 5.1 l/100 km |
| CO2 Emissions | 117 g/km |
| Combined fuel consumption | 5.6 l/100 |