The new C 650 Sport maxi scooter's second generation is more maneuverable and dynamic. 63 Nm and 44 kW (60 hp) of additional engine power, a more modern appearance, and an improved chassis and suspension setup contribute to an improved riding experience. Here you will find all the necessary technical information and equipment.
For everyday life in the city, the new BMW C 650 Sport is a joy to drive and even makes the daily commute enjoyable. While the two-cylinder, 60 horsepower engine can reach a top speed of 180 kilometers per hour, it provides a smooth and efficient ride. Sporty aspirations are emphasized by the scooter's contemporary design, which clearly emphasizes dynamic performance. The new stainless steel exhaust system produces a more impressive sound than its predecessor. It's easy to maneuver through tight spaces in congested city traffic thanks to the car's light, responsive chassis.
As a result of their conceptual differences, the two new BMW maxi scooters are now able to target a broader range of customers than ever before: the C 650 Sport is designed for sporty riders, while the C 650 GT is aimed toward people who prioritize comfort and touring capabilities.
New models like the C 650 Sport and the C 650 GT have been updated to meet these needs better. For the first time, they've combined the great riding attributes with the exceptional agility and comfort afforded by the maxi scooter idea with an entirely revamped design for the C 650 Sport.
The new exhaust system and optimized drivetrain setup make for a more dynamic riding experience. Dynamic propulsion is provided by the C 650 Sport and GT's 647cc 2-cylinder in-line engine. Both variants have a maximum power of 44 kW (60 hp). A model with 35 kW (48 horsepower) at 7 000 rpm is also available. The new C 650 Sport and GT's engine programming was reworked to meet the EU4 standard's stringent standards. With the addition of a dynamic-looking new silencer, the cars can meet the new ECE R41-04 noise test rules, as well as create a notably rich sound.
Optimum clutch engagement and a more dynamic set-off reaction are possible by a newly configured CVT gearbox and new clutch linings. The CVT's transmission ratio spread was altered, and the centrifugal force weights were fine-tuned to obtain this result.
2020 BMW C650 Sports Scooter – Features
New Suspension and Damper Set-up
New for the C 650 Sport and GT is a torsionally robust hybrid composite suspension system composed of a tubular steel bridge frame and an aluminum die-cast unit for the swinging arm bearings. It was feasible to design a more comfortable suspension setup while retaining the current spring travel of 115 millimeters in each instance. Thus, the C 650 Sport and the C 650 GT are a great combination of sporting flair and comfort.
ABS and ASC for Maximum Safety
As part of the "Safety 360°" philosophy, the braking system's optimal design works in tandem with the standard and brand new BMW Motorrad ABS Bosch 9.1MB to provide the most significant possible degree of active riding safety. Autonomous Stability Control (commonly known as ASC) is an additional layer of protection currently included as standard equipment in all new cars. The world's first motorcycle rider support technology, Side View Assist, is now available for added convenience (SVA). For example, while changing lanes, the C 650 GT's new blind-spot monitoring option helps the rider know their surroundings, particularly in congested metropolitan areas.
Completely new Dynamic Design
A more contemporary, energetic, and future-oriented design has been added to the C 650 Sport in the new edition of the two models. For the BMW Motorrad brand, this is a natural fit. A new rear light unit and new rear side trim panels have been added to the Comfort subsegment-designated C 650 GT. In addition, both models have been given new instrument dials and new handlebar trim. Centre stand kinematics have been improved, and automated daytime riding lights have been added.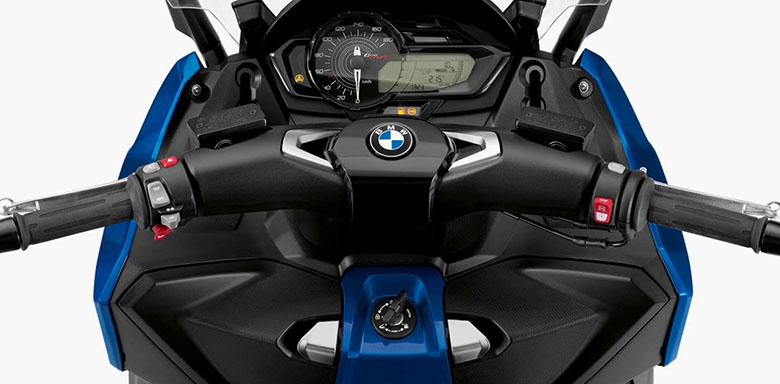 Attractive Paint Finishes
There are three color options for each C 650 Sport and C 650 GT model. With its Valencia Orange metallic matt and contrast surfaces, the C 650 Sport exudes dynamism and a youthful, contemporary vibe. The new C 650 Sport looks technical, small, and light thanks to its Light white non-metallic finish. The new 2020 BMW C650 Sports Scooter appeals to a more traditionally minded customer base in Black storm metallic. Frozen Bronze metallic is used in combination with a complementary tone on the C 650 GT to produce a harmonious paint finish that clearly emphasizes the style of the new C 650 GT. Non-metallic light white showcases the C 650 GT's sporty side. This color lends it an airy and elegant appearance.
2020 BMW C650 Sports Scooter – Technical Specifications
Engine
| | |
| --- | --- |
| Type | Water-cooled 2 cylinder four-stroke engine, four valves per cylinder with bucket tappets, two overhead camshafts, dry sump lubrication |
| Bore x stroke | 79mm x 66mm |
| Displacement | 647cc |
| Rates Output | 44kW (60hp) at 7,750rpm, 35KW (48 PS) bei 7.000 U/min |
| Max. torque | 63Nm at 6,000rpm, 54Nm at 4,250rpm |
| Compression ratio | 11.6:1 |
| Fuel/engine management | Electric fuel injection BMS-E2 |
| Emission control | The regulated three-way catalytic converter, compliant with EU4 emission standard |
| CO2 emission based on WMTC | 106.5 g/km |
Riding performance / consumption
| | |
| --- | --- |
| Maximum speed | 180km/h |
| Consumption per 100km based on the WMTC | 4.6 l |
| Fuel type | Unleaded super 95 (RON) |
Electrical System
| | |
| --- | --- |
| Alternator | 508-W three-phase generator |
| Battery | 12 V/14 Ah, maintenance-free |

Power transmission
| | |
| --- | --- |
| Clutch | Radial centrifugal clutch |
| Gearbox | CVT gearbox |
| Final drive | Chain drive in oil bath |
Suspension / brakes
| | |
| --- | --- |
| Frame | Steel tube construction with aluminum die-cast unit |
| Front suspension / spring elements | Upside-Down fork Ø 40 mm |
| Rear suspension / spring elements | Single-sided swingarm |
| Travel, front/rear | 115 mm / 115 mm |
| Wheelbase | 1,591 mm |
| Castor | 92 mm |
| Steering head angle | 64.6° |
| Wheels | Cast aluminum |
| Rim dimensions, front | 3.50 x 15″ |
| Rim dimensions, rear | 4.50 x 15″ |
| Tyre, front | 120/70 ZR 15 |
| Tyre, rear | 160/60 ZR 15 |
| Brake, front | Rigid double disc brakes, diameter 270 mm, double-piston floating calipers |
| Brake, rear | Single disc brake, diameter 270 mm, 2-piston floating caliper |
| ABS | BMW Motorrad ABS |
Dimensions / weights
| | |
| --- | --- |
| Length | 2,180 mm |
| Width (including mirrors) | 775 (877) mm |
| Height (excluding mirrors) | 1,378 mm |
| Seat height, unladen | 800 mm (Low seat (OE / accessory): 780 mm) |
| Inner leg curve | 1,830 mm (Low seat (OE / accessory): 1,810 mm) |
| Unladen weight, fully fuelled/road-ready | 249 kg |
| Max. permitted weight | 445 kg |
| Max. load (with standard equipment) | 196 kg |
| Usable tank capacity | 15.5 l |
| of which reserve | 3 l |