The new 2017 Ducati Multistrada 1200 Enduro Turing Bike has always been a favorite bike for those who wanted an adventure to its extreme level. It features the powerful 152 hp Ducati Testastretta DVT engine with 30 liters of a fuel tank for an extended ride. The new 19 inches of the front wheel with spoked wheels and has wheel travel of 200 mm. This bike is best known for its latest Ducati technology, performance and comfort, which redefine the boundaries of adventure. Itsnew aggressive design always demands another look. The color combination is very carefully selected. The seat height is kept low so that rider can feel confidence during riding. The review of new 2017 Ducati Multistrada 1200 Enduro Turing Bike with its pictures and specifications are given below.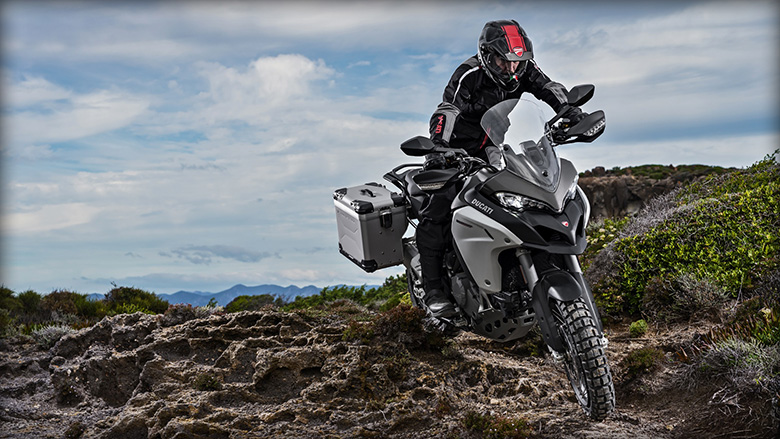 2017 Ducati Multistrada 1200 Enduro Turing Bike – Features
Engine
The new 2017 Ducati Multistrada 1200 Enduro Turing Bike features the powerful Testastretta DVT engine, which uses the new Desmodromic valve actuation system. This system has made the Bologna-built bikes famous worldwide. This system closes the intake and exhaust valve mechanically with the same precision as they were opened. The new engine design provides the best performance as compared to the traditional engine design. It makes it possible to keep an individual valve timing adjuster compact, which minimizes their weight and allows them to be smoothly integrated. The bore to stroke ratio of 106 mm and 67.9 mm respectively. This bike provides the displacement of 1198 ccm3 offering the 152 hp at 9500 rpm and 128 Nm of torque at 7500 rpm. The incredible part is that it offers 100 Nm at just 3500 rpm only. It comes with the six-speed gearbox ratio offering the best gear shifting experience. The first gear is kept shorter to improve the off-road performance to ensure the best handling experience. The clutch is oil-bath slipper type. The new DVT (Desmodromic Variable Timing) features the hydraulically operate camshaft-phasers. They are used to manipulate the camshaft position relative to the sprocket connection.
They are present on both intake and exhaust camshaft. The camshaft-phaser is the two-piece mechanism, which is comprised an outer sprocket, connected to the timing belt and an inner rotor, which is connected to the camshaft that varies the valve timing by adjusting the rotating angle of the camshaft. These two pieces can move about at 45-degree independently in just 0.45 seconds. The inner rotor consists up of a set of lobes, ports inside the phaser direct oil in or out of the space between the outer housing and the lobes. Oil seals fit into the machined grooves of the rotor to give the tight seal between the chambers. The engine control unit actuates the solenoid valves. They open an oil gallery into the control housing. An engine oil through its control housing into the camshaft phasers. These camshaft-phrases turn and adjust the camshaft timing according to the specifications of engine control unit. The new 2017 Ducati Multistrada 1200 Enduro Turing Bike comes with the latest anti-knocking sensor, which is optimized for high octane fuel (RON 95). The motor can operate without manual intervention, due to this anti-knocking sensor. This touring bike is equipped with the two sparks. The ignition of these sparks is managed independently. One is managed at the center of the combustion chamber while the second one is on its external side. It ensures to provide an efficient mixture of fuel and air within the combustion chamber across the shorter period of time. The new exhaust system layout is based on the two primary manifolds, which is being directly merged into the single 2-chamber silencer in addition to acting as the 2-1-2 collector. It features the catalytic converter for better performance. The two pipes exit directly toward the compact and light silencers. These are side-mounted in the high position and they feature an aluminum alloy outer sleeves. The incredible features of this engine are that it requires the long service intervals like in 2017 Ducati Multistrada 1200 Enduro Pro. Normally the routine maintenance intervals were 15,000 km but this Enduro bike has increased the service intervals up to 18,000 miles. This is only possible due to the use of quality components.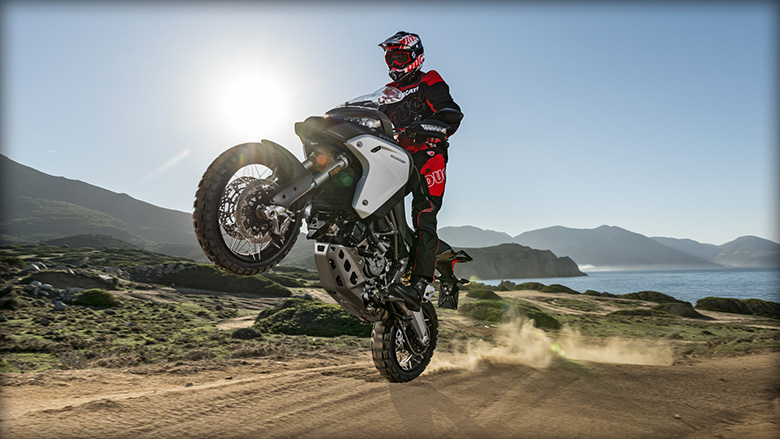 Chassis
The new 2017 Ducati Multistrada 1200 Enduro Turing Bike is equipped with the standard 870mm seat height. There is an optional seat which can be lifted up to 890mm for the taller rider. Its new design ensures the comfortable ride in all conditions. There is a lower seat height up to 850mm is also available as an option. There is another option for narrower passenger seat as well to ensure an easy standing position on the pegs. The trellis frame is much stronger than 2017 Ducati Multistrada 950 and light in weight to ensure the stability on all surfaces. The wheelbase, swingarm length, and steering geometry have been carefully designed to ensure the best handling and performance when riding off-road. The front side of the frame has a large diameter, low thickness tubing while the rear section has two lateral sub-frame, techno-polymer, fiber-glass element to maximize the torsional rigidity. The ground clearance is kept about 205 mm for better handling during off-road. This Ducati Enduro is equipped with the latest Pirelli Scorpion Trail 2 tires with a front of 120/70 R19 and rear of 170/60 R17. These tires have been carefully designed for better traction and grip over slipper and off-road tracks. This endure comes with the tubeless, spoked wheels with aluminum rims having 40 cross-mounted spokes and the latest gravity-cast hubs.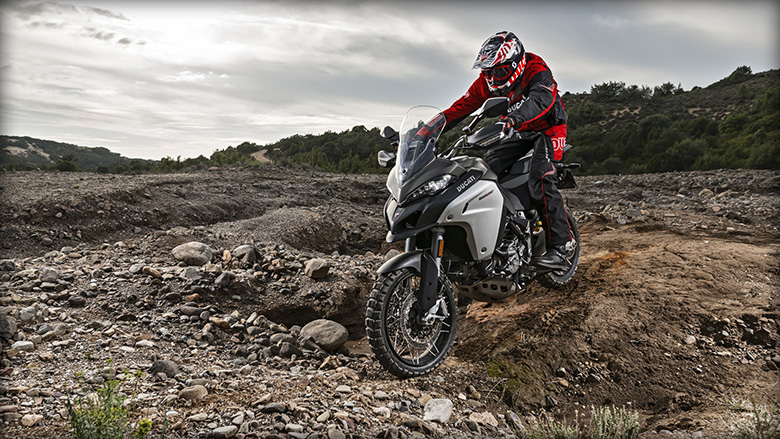 The front has 300 x 19″ while the rear has 4.5 x 17″ dimension. Thanks to an excellent riding position, the handling of this monster is very easy. The handlebars are kept higher and a seat is carefully designed to maximize the contact between rider and bike. The footpegs are made of steel and have removable covers on them. The design of lever makes it possible to easily use it plus it is height adjustable. The new double-sided swingarm is made of the shell-cast aluminum and it is the best combination of brushed and rough-finished parts. They are specially designed for off-road riding. This tough swingarm combines with the limited weight having an excellent ability to absorb the punishment meted out the off-road riding. The new Brembo brakes with the Bosch 9.1ME ABS ECU is being used for best braking performance. It is an integrated part of DSP (Ducati Safety Pack). This Ducati Enduro has the full support of cornering ABS, which makes use of Bosch IMU (Inertial Measurement Unit) to optimise the rear and front braking power. The front braking system features the Monobloc radially-mounted Brembo 4-piston calipers with the piston diameter of 32 mm and 2 pads. There is the radial master cylinder with an adjustable lever and dual disc of 320 mm. The rear braking system a single disc having 265 mm of diameter, which is equipped with the floating caliper made Brembo. The new 2017 Ducati Multistrada 1200 Enduro Turing Bike has the full support of DSS (Ducati Skyhook Suspension) evolution system, which is based on the fork of 48 mm and the Sachs rear shock. The latest wheel travel of 200 mm is used in both front and back. The all-new electronic suspension allows the rider to continuous rebound and compression damping adjustment having and semi-active control giving optimal vehicle balance. This system ensures the minimization of vehicle body oscillation plus it reduces the vibration transferred to the rider to increase the rider comfort and safety. This system also ensures to use of DTC (Ducati Traction Control) longitudinal accelerometer sensor.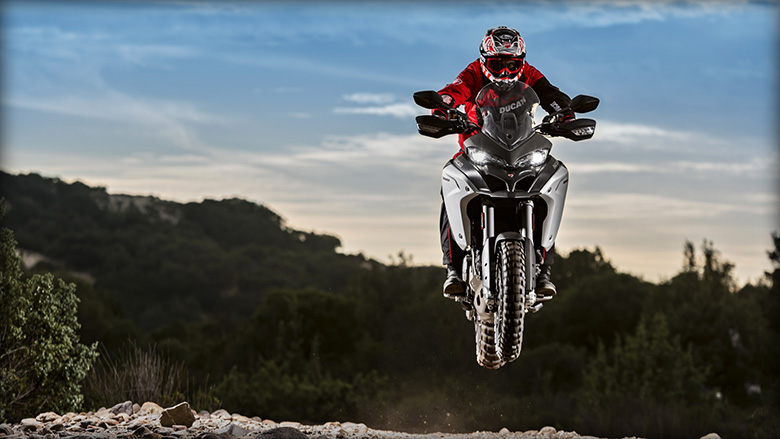 Equipment
Multistrada Link.
Vehicle Hold Control (VHC).
Ducati Cornering Lights (DCL).
Ducati Safety Pack (DSP).
Premium handlebar switches.
Bosch 9.1ME multi-calibration cornering ABS.
Full-TFT instrument panel.
Cruise control.
Ducati Traction Control (DTC).
Hands-free ignition.
Full-LED headlights.
Ducati Wheelie Control (DWC).
Ducati Multimedia System (DMS).
Riding Mode.

2017 Ducati Multistrada 1200 Enduro Turing Bike – Technical Specification
Engine
| | |
| --- | --- |
| Type | Testastretta with the variable valve timing, L-Twin cylinder, 4-valve-per-cylinder, Dual Spark, Desmodromic, liquid cooled |
| Displacement | 1198.4 cc |
| Bore x Stroke | 106 mm x 67.9 mm |
| Compression ratio | 12.5:1 |
| Power | 112 kW (152 HP) @ 9,500 RPM |
| Torque | 128 Nm (94 lb-ft) @ 7,500 RPM |
| Fuel injection | Bosch electronic fuel injection system, elliptical throttle bodies with the Ride-by-Wire, equivalent diameter 56 mm |
| Exhaust | Stainless steel muffler with the catalytic converter and 2 lambda probes, single stainless steel muffler |

Transmission
| | |
| --- | --- |
| Gearbox | 6 speed |
| Primary drive | Straight cut gears, Ratio 1.84:1 |
| Ratio | 1=38/14; 2=30/17; 3=27/20; 4=24/22; 5=23/24; 6=22/25 |
| Final drive | Chain; Front sprocket 15; Rear sprocket 43 |
| Clutch | Light action, wet, multi-plate clutch with hydraulic control. Self-servo action on drive, slipper action on over-run |
Chassis
| | |
| --- | --- |
| Frame | Tubular steel Trellis frame |
| Front suspension | Sachs 48 mm of fully adjustable USD forks. Electronic compression and the new rebound damping adjustment having Ducati Skyhook Suspension (DSS) |
| Front wheel | All-new tubeless spoked wheel in light alloy 3″ x 19″ |
| Front Tire | Pirelli Scorpion Trail II 120/70 ZR19 as an optional Pirelli Scorpion Rally same measure |
| Rear suspension | Fully adjustable Sachs unit. Electronic compression & the rebound damping adjustment. An electronic spring pre-load adjustment with Ducati Skyhook Suspension (DSS). Aluminium double-sided swingarm |
| Rear wheel | All-new tubeless spoked wheel in light alloy 4.50″ x 17″ |
| Rear tire | All-new Pirelli Scorpion Trail II 170/60 ZR17 having optional Pirelli Scorpion Rally same measure |
| Front wheel travel | 200 mm (7.9 inches) |
| Rear wheel travel | 200 mm (7.9 inches) |
| Front brake | 2 x 320 mm of semi-floating discs, radially mounted monobloc Brembo calipers, 4-piston, 2-pad, with cornering ABS as standard equipment |
| Rear brake | 265 mm disc, 2-piston floating caliper having standard cornering ABS |
| Instrumentation | Color TFT display 5″ |

Dimensions and weight
| | |
| --- | --- |
| Dry weight | 225 kg (496 lb) |
| Wet weight (KERB) | 254 kg (560 lb) |
| Seat height | 870 mm not adjustable (890 – 850 mm with optional seats) |
| Wheelbase | 1594 mm (62.76 inches) |
| Rake | 25° |
| Trail | 110 mm (4.3 inches) |
| Fuel tank capacity | 30 liters (7.9 US gallons) |
| Number of seats | Dual seat |
Equipments
| | |
| --- | --- |
| Standard Equipment | Riding Modes, Cruise control, ABS cornering, Power Modes, DTC and DWC, RbW, Hands-Free, Full LED headlamp with light cornering function, Bluetooth module for infotainment |
Warranty
| | |
| --- | --- |
| Warranty | 24 months unlimited mileage |
| Maintenance service intervals | 15,000 km (9.000 m) / 12 months |
| Valve clearance check | 30.000 km (18,000 m) |

Emissions and Consumption
| | |
| --- | --- |
| Standard | Euro 4 |
| CO2 Emissions – Consumption | 132 g/km – 5.6 l/100 km |

Conclusion
This article is the review of new 2017 Ducati Multistrada 1200 Enduro Turing Bike and it is covered under www.bikescatalog.com. It features the powerful engine delivering the massive amount of power and acceleration. The chassis is very strong and attractive plus it is carefully designed to ensure the comfortable ride. The wheels and tires offer the full support when riding off-road. In short, this endure is best for those who love to explore new places with their bikes.