Aprilia Company is working hard to make its bike surprising regarding speed, design, style, look, power and handling. Reviews of newly launched 2016 Aprilia RSV4 RF are mentioned below which indicates that it is an impressive bike with the impressive engine. Aprilia Company has a repute of successful racing record in history, so its primary focus is on the speed and handling of bikes. Aprilia has upgrades the engine. Chassis, suspension, and electronics of the new bike.
2016 Aprilia RSV4 RF-specs
Engine
2016 Aprilia RSV4 RF comes with an incredible powerful liquid cooled engine of 999 ccs with a signature 65-degree V-four engine. The bike has a bore to a stroke of about 78 into 52.3 mm. Aprilia's bike are known for its most captivating sports bikes in the world due to its deep roar pumped out of the exhaust to the direct response from the ride by wire throttle and engine. One of the most unusual features of this bike is that it works with 14,200 RPM rev range which is the remarkable improvement. The bike has a six high-speed gear which give amazing acceleration and torque. The fantastic feature is the use of Italian technology in this bike. 2016 Aprilia RSV4 RF is known for the world first full-scale production bike which has a high-performance narrow V4 engine. This engine is known as most powerful and efficient light weight and compact size engine ever built by Aprilia.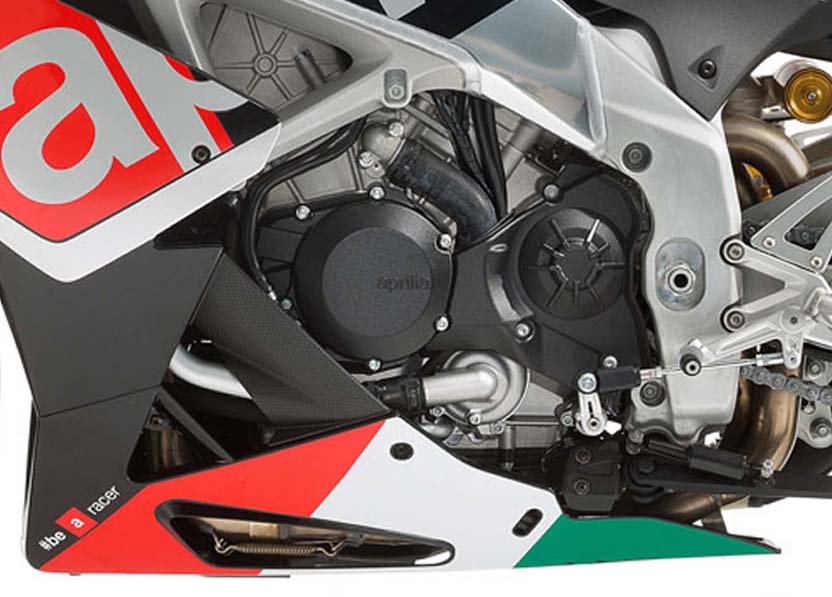 The primary objective of Aprilia engineers was to produce a bike which has a power of more than 200 horsepower with an improved torque and high speed. This goal was achieved by reducing the internal friction of the bike and by improving combustion efficiency by the support of fluid dynamic efficiency as well as increasing the maximum rotation to give the top speed. The entire internal and external design of the bike was redesigned and made it exceptional light weight and compact size.
Electronics
Aprilia has introduced its unique APRC (Aprilia Performance Ride Control) electronic system software suite in 2011 which proves this bike as a pioneer in the electronics system. Aprilia continues to working in its eight-way adjustable traction and wheelie control. Aprilia provides three level of launch control during race and drag race and a particular ABS.

2016 Aprilia RSV4 RF has a famous AWC (Aprilia Wheelie Control) which is very helpful in achieving the maximum performance of the bike at level 1 which is the least restrictive setting of the system. ALC (Aprilia Launch Control) system is very handy on track only; this system has three settings. AQS (Aprilia Quick Shift) system is very helpful on the quick shifting of gears without using the throttle and clutch; this method is very useful in a race when there is tiny amount of time is available for gear shifting.
The 2016 Aprilia RSV4 RF comes with a second-generation APRC system with the factory standard with the highly advanced braking system known as "Race ABS," which is specially designed keeping given extreme safety on roads and performance on the race track. This system has incredible features, and the surprising thing is that it weighs only 2 kg, and it can be adjusted to three different setting levels. Level one is only dedicated to tracking especially on both wheels, and it ensures maximum performance even in the most intensive braking situation at any level of speed. This setting provides maximum performance and pleasure. Level two is primarily dedicated to sport riding on the street; it works with the combination of both wheels and its tip over a system. Level three is only committed to riding on those surfaces which have a weak grip; it also has a combination of both wheels and advanced tip over a system. Each of the above mentioned levels can perform well with any three engine map to produce the maximum performance for the rider.2016 Aprilia RSV4 RF has a powerful engine with a support of ECU, which makes the handling and management of bike a lot more quickly than before. The three levels of ABS make the bike incredible to ride and easy to 
Chassis
Aprilia Company is well-known company, when it comes to chassis manufacturers in the world 2016 Aprilia RSV4 RF has a high frame with exceptional features and Aprilia is the only company in the world which allows a rider to adjust the engine position headstock angle swingarm pivot suspension and rear end height according to desire and need of rider. Twin spar aluminium is used in the frame of this bike which is not only light in weight bit gives strength and excellent performance. One of the best features regarding the chassis of this bike is that its centralized masses are adjusted amazingly.The fork of a motorcycle is the paired set of Brembo M430 monobloc calipers that provides tons of clamping force. The suspension of a vehicle is woking extraordinary; a motorcycle has a front suspension of 43 mm inverted Ohlins forks which can be adjusted in three different position. The rear suspension of bike has gas charged ohlins shock absorber which can also be changed in three divergent views.
Dimension and design
2016 Aprilia RSV4 comes with the incredible size which represents its class and maintains its sports look. Bike has a maximum length of 80.3 inches with a seat height of 33.3 inches. The fuel capacity of the motorcycle is about 4.88 gallons. The rake of bike is at an angle of 25 degrees and trail is about 4.13 inches. Bike has an ergonomic design and an unusual seating position oriented for rider of any height and size. Aprilia has maintained its graphics in this bike as well this bike has incredible graphics with excellent details.
2016 Aprilia RSV4 RF price
Aprilia is producing amazing bikes and it sells them at an amazing price packages. 2016 Aprilia RSV4 RF comes with the price package of $21,999 only.
2016 Aprilia RSV4 RF specs
Engine
| | |
| --- | --- |
| Type | 999 cc liquid-cooled V-Four, DOHC, 16-valve |
| Bore x Stroke | 78.0 x 52.3 mm |
| Compression Ratio | 13.6:1 |
| Fuel Delivery | Fuel-injection |

Transmission
| | |
| --- | --- |
| Gears | Six-speed |
| Clutch | Cable actuated wet multi-plate ramp-style slipper |
| Final Drive | Chain, 16/42 gearing |
Chassis
| | |
| --- | --- |
| Frame | Twin-spar aluminum |
| Front Suspension | 43 mm inverted Ohlins fork, three-way adjustable for spring preload |
| Rear Suspension | Gas-charged Ohlins shock absorber, three-way adjustable for spring preload |
| Front Brakes | 320 mm discs with Brembo M430 monobloc four-piston radial mount calipers |
| Rear Brake | 220 mm disc with Brembo twin-piston caliper |

Dimension
| | |
| --- | --- |
| Dry Weight | 180 kg |
| Wheelbase | 55.9 inches |
| Length | 80.3 inches |
| Rake | 25.0 degrees |
| Trail | 4.13 inches |
| Seat Height | 33.3 inches |
| Fuel Capacity | 4.88 gallons |
Warranty
| | |
| --- | --- |
| Warranty | Two years, unlimited mileage |

Conclusion
The newly launched review 2016 Aprilia RSV4 is covered under www.bikescatalog.com today. This article provides complete information about it. It an excellent bike with great features, so be the first to purchase it and enjoy its ride with your friends and be here to have more details in the shape of review. 2016 Aprilia RSV4 is a luxuries fastest bike, it is the bike for those who want speed and class.