Powerful Quadro 3D 350 S 2013
The next year, Quadro will propose certain innovations on its three-wheeler scooter Quadro 3D 350. Named S, this new version of the other trans-alpine tripod will use a new motorization for the first time and will have revisited equipment. Presentation lives at the Eicma Living room of Milan.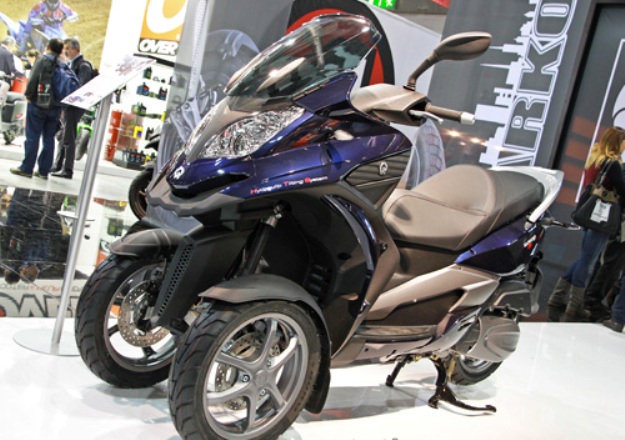 While waiting for the arrival of Peugeot Metropolis 400i, Quadro 3D 350 2013 is always the only scooter competitor three-wheeler of Piaggio MP3. In order to reinforce its offer on this segment, Quadro will propose an improved version of this tricycle, the version S by the next year. The Italian manufacturer seems to have heard criticisms formulated with regard to the first year since the machine will have a swifter motorization.
3D 350 S 2013 are always equipped with one-cylinder coming from Aeron, however; this one was worked over again. Passing 313 Cm3 to 346 Cm3, it gained 4 horses, as for its value of maximum couple, this one is posted from now on with 2.52 daN.m with 5,750 tr/min, against 2.36 daN.m with 6,000 tr/min before. Note that this new motorization is the same one as that which will propel the next scooter 4 wheels of the mark, Parkour 350.
Comfort re-examined upwards
To offer more comfort, Quadro also re-examined the saddle of the Quadro 3D 350 2013. The model S thus has a base whose forms were redrawn and who incorporates yokes in Gel for the pilot and the passenger. One also sees appearing new lick-wheels, a new carry-package as well as new information with the instrument panel, the indication of the outside temperature. Lastly, for the comfort handling, the shock absorbers of Quadro 3D 350 S 2013 are different. The tariff of sale of the optimized three-wheeler should not evolve.
Quadro 3D 350 S 2013 technical specifications:
One-cylinder engine 346 Cm3, simple camshaft at the head, 4T and 4 valves
Electronic injection
Power of 27ch. (19.8 kw) with 7,000 tr/min
Couples 2.52 daN.m with 5750 tr/min
Primary transmission standard CVT
Final transmission: differential + two belts
Tally lattice out of steel tubes
Length X width: 2,330 mm X 811 mm
Height of saddle: 780 mm
Dry weight: 240 kg
Reserve of 15 liters
Front suspension HTS, adjustable hydro pneumatic pendulum fork, system of swinging on jacks filled of air and oil
Suspension AR 2 shock absorbers, deb. 100 mm
Brakes AV 2 discs of 240 mm
Brake AR 1 disc of 256 mm
Tires AV 110/80 X 14
Tire AR 140/70 X 15