The market of cafe racers is immense and vast but the fans do not have enough skills and time to make one on their own. The top ten cafe racers are included in this list and the good thing is, the factory-made cafe racers aren't on shortages. So, the following is the latest list of Top Ten Best Production Café Racers of All Times.
Top Ten Best Production Café Racers of All Times – Top Rated
10. Skyteam Ace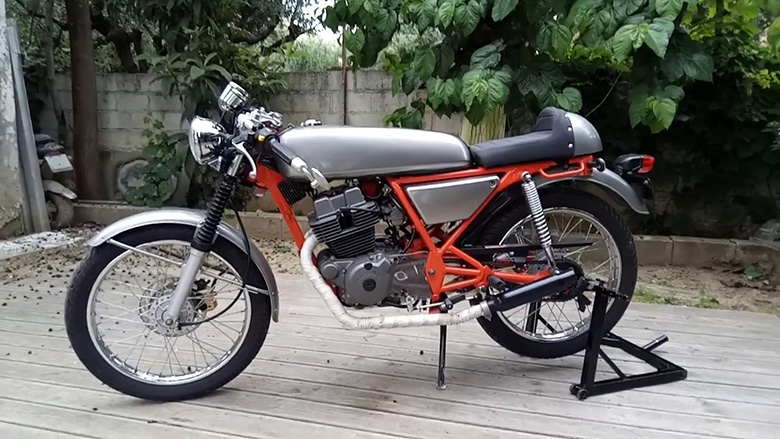 The styling nail is aced by Skyteam Ace 125 of £1,699 and Ace 50 of £1,599. They're considered to be the exact copy of the 1990s Honda dream 50 which was a tribute to CR110 1960s racers. The sky teams are all made in China. As a cafe racer, they tend to be upgraded in terms of performance, handling and quality.
9. Yamaha XSR900
It's considered as a motorcycle purely and has three-cylinder MT-09, with a power of 115hp higher than most of the bikes. It also has an aluminum frame including high tech suspension and electronics. It's not very much known for its comfort but is excellent in styling and that's what cafe racers are known.
8. Honda CB1100RS
This bike is the closest cafe racer made by Honda even when it lacked several things like dropped bars. However, it has a four-cylinder engine and good quality cylinder. The biggest problem it has is that it's considered more like a UJM rather than a cafe racer. The bike has been neutered instead of getting its appeal broadened. But with a little bit of spawned work, it can make the fans look at with it awe.
7. Continental GT
It's the bike that's closest to being the best cafe racer and is cheaper than most bikes by being over £5k. The specification isn't too low with its paioli shocks, Brembo brakes, and Harris performance brakes. It makes 29.1hp with its 535cc engine and is the best motorcycle in the price of £5200.
6. Norton 961 Café Racer
The 961 cafe racer achieves the best look and name category with having Donington based machines. It has Ohlins and Brembo which are the best quality components to have. However, the bike has some cons of relative price and not being a day to day commute and isn't hardcore on the list.
5. Moto Guzzi V7
Guzzi V7 is the bike to choose if you're looking for retro cafe racers. The 'Racer' isn't included in the list of Guzzi's UK, but Anniversario priced £9002 is the closest to hit the mark. You might want to add rear sets and dropped Bars. The bike has 52hp with the best retro styling.
4. Triumph Street Cup
The bike is based on street twin, with a 900cc engine, which gives 55hp and the retro styling leaves nothing for this bike to not be considered as a cafe racer. It has the best innovative components including the ride by wire including the switchable engine mode. You can't find a better bike at this price, which can be used for the everyday commute.
3. Ducati Scrambler Café Racer
If you're in the cafe racer market, then Ducati Scrambler can't be ignored which gives the modern cafe racer vibes and doesn't have an uncomfortable riding position. It's less retro than other bikes on the list but worth it.
2. BMW R NineT Racer
This racer is the most distinctive among the other R NineT models with the addition of bullet fairing and dropped bars along with the paint job. The 110hp is much powerful than many bikes and costs over £10k.
1. Triumph Thruxton
Thruxton and Thruxton R are considered to be the best combination of modern technology and classic styling. The retro vibes can all be sensed with the normal Thruxton, and the Brembo and Ohlins equipped R to give 21st-century vibes. It gives 96hp from 1200cc engine which isn't very hardcore, but the way it's made, you can't ever find the best cafe racer then this one.
Top Ten Best Production Café Racers of All Times – Top List
| Sr. # | Top Ten Best Production Café Racers of All Times |
| --- | --- |
| 1 | Triumph Thruxton |
| 2 | BMW R NineT Racer |
| 3 | Ducati Scrambler Café Racer |
| 4 | Triumph Street Cup |
| 5 | Moto Guzzi V7 |
| 6 | Norton 961 Café Racer |
| 7 | Continental GT |
| 8 | Yamaha XSR900 |
| 9 | Honda CB1100RS |
| 10 | Skyteam Ace |
Conclusion
It's not easy to create the most suitable and classy cafe racers on your own, so we've given you a list from which you can choose the best cafe racer that suits you. Be it according to its speed, styling, or other components, and this list will surely satisfy you.