The commuters have a great option of choosing 50cc scooters for low prices and insurance. The bikes in the world, which are 50cc, are limited to 30mph only and will move on with a full tank which is great for riding. Some scooters like the Honda zoomer launched in 2020 didn't make a list, but do let us know about your favorite 50cc bikes in the comments. So, here is the list of The Ten Best 50cc Scooters in the World.
The Ten Best 50cc Scooters in the World – Top Rated
10. Sym Mask 50
The bike is known for having a good economy and 100+mpg with a 5.2L tank including good storage. The new mask 50 comes with a warranty of 3 years and has a CVT auto transmission and air-cooled engine which is the same as for Jet 50. It has a price of £1599.
9. Piaggio Zip 50
The scooter is known for its comfort and being a utility bike, it is a 50cc, and the four strokes motor is substituted with a. 2 stroke a few years back. It has low emissions and is considered economical.
The bike consists of a seat that's adjustable including three heights and has a separate space for a helmet under seat and costs around £1929.
8. Peugeot Speedfight 50
This bike is our most favorite and has a different variety of models usually based on colors. It has well stable 13-inch wheels as claimed by their website, air-cooled, single-cylinder and belt-driven but still is compliant of euro 4. The bike only goes to 30mph but the experience is excellent. It's comfortable, has 104kg wet weight and 800mm seat aligns with hurricane discs for stopping power. It also consists of a smartphone holder, a USB socket, and is available in mad black color for £2499.
7. Sinnis Encanto 50
It has a 1-year warranty with a price of £1299—the Sinnis consist of front and rear disc brakes, and a weight of 80kg. However, there isn't much space for keeping your helmet but if you include a top box, then it will have plenty of space. It can go over 120+MPG with a tank of 4.7L. The price of this charming bike ranges from £1145.
6. Aprilia SR 50 R
The bike is pretty good looking and has a two-stroke liquid-cooled engine, and has an electronically operated carburetor for the controlling of its exhaust. Aprilia also has twin discs brakes, low profile wheels of 13 inches are priced around £2400.
5. Direct Bikes DB 50 QT-11
Price as low as £1199 may be one of the reasons why this bike was highly sold even in 2020. The cost can go to the weakest at £949.
The bike has a classic 50cc scooter vibe which is quite decent and straightforward and can run up to 120+MPG with a 5.4L tank. If you have a tight budget, then this is the best option you have.
4. Lexmoto Nano 50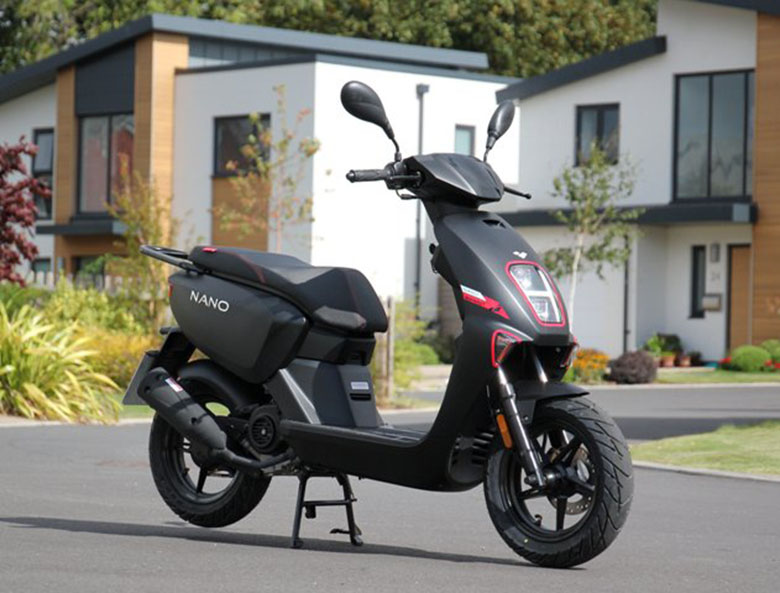 This bike is comfortable and economical and was doing well in 2019 and 2020 as well. It has a USB charger, digital display, luggage rack, and storage made under-seat. This bike is a good and cheap option for local commuters with a price of £1299 and a weight of 93kg, and it has a 6.2L tank and 760mm seat.
3. Yamaha Aerox 50
This bike is great for younger riders who are looking for Japanese bikes with sporty looks. It's practical and economic, but along with this, it has a great space for helmet, hydraulic suspension and tubular frame for the sporty handling on the road. The bike deserves to be on top of the list as it serves as an excellent competition for other rivals on the list awaiting a price of only £2699.
2. Peugeot Kisbee 50
The bike introduced this year has some different components, even though we can't find anything unique other than its distinct color. The scooter has 760mm and is a stylish ride for commute and work. It weighs 90kg and is an economic air-cooled motor for the lowest price of £1649.
1. Lexmoto Echo 50
The bike is for those who want a fun-filled, reliable, and economical ride which has two echo models: the normal and. The difference is only 12 inches bigger wheels; however, m, both are air-cooled and can go up to 140MPG with a 5.8L tank. The echo was a top seller in 2019 and provides comfort and simplicity with a price of only £1099 in 2020.
The Ten Best 50cc Scooters in the World – Top List
| Sr. # | The Ten Best 50cc Scooters in the World |
| --- | --- |
| 1 | Lexmoto Echo 50 |
| 2 | Peugeot Kisbee 50 |
| 3 | Yamaha Aerox 50 |
| 4 | Lexmoto Nano 50 |
| 5 | Direct Bikes DB 50 QT-11 |
| 6 | Aprilia SR 50 R |
| 7 | Sinnis Encanto 50 |
| 8 | Peugeot Speedfight 50 |
| 9 | Piaggio Zip 50 |
| 10 | Sym Mask 50 |
Conclusion
If you're looking for a bike with 50cc and all the best components to make your ride comfortable, smooth as reliable, then this list will provide you with the best picked 50cc bikes. The top ten bike list consists of all the machines which are well equipped and consistent in their quality.