Kymco presented its new scooter to Paris, the Kymco K-XCT 125, and a newcomer in the family of the GT, which shows an orientation more sporting than Dink Street 125 I. With the Kymco K-XCT 125, Kymco reveals new ambitions and aims than the Yamaha X-max 125 clearly.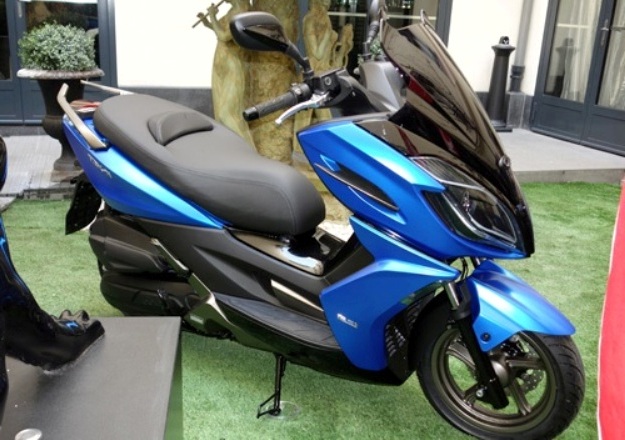 Kymco K-XCT was revealed with the specialized press in Paris. With its aggressive line and its so particular blue color, he plays resemblance to a certain maximum scooter with the propeller, BMW C 600 Sport. Moreover, the new German reference profits from the subcontracting of Kymco which has a production line engine dedicated to the Bavarian scooter in Taiwan.
The Kymco K-XCT, new color-bearer of the Kymco brand, is announced like the direct competitor of Yamaha X-max 125, leader of the sales of scooter in France within the GT category. The bet is at the very least dared, but the K-XCT 125 or 300 has good arguments on paper: a part-cycle sharpened according to Kymco, with one of the shortest footings of the category. Of good omen for the agility K-XCT 125 also put on its mechanics which develops 15 horses with 9,000 tr/min, is maximum authorized by the French legislation.

For the moment deprived of ABS, Kymco K-XCT remains faithful to the sales strategy of the brand with an announced selling price of 3,699 €, making of him a top-of-the-range scooter good placed knowing that Yamaha X-max 125 costs him 4,299 €. This does new to commutate with the sporting spirit interest you? Then remain with the watch, it will be very soon with the test on bikescatalog!