Better equipped, more finely equipped and always propelled by a twin-cylinder of 800 Cm3 (in spite of its name), this BMW F700GS 2013 takes again hair of the animal and deletes the bottom-of-the-range image which stuck to its predecessor.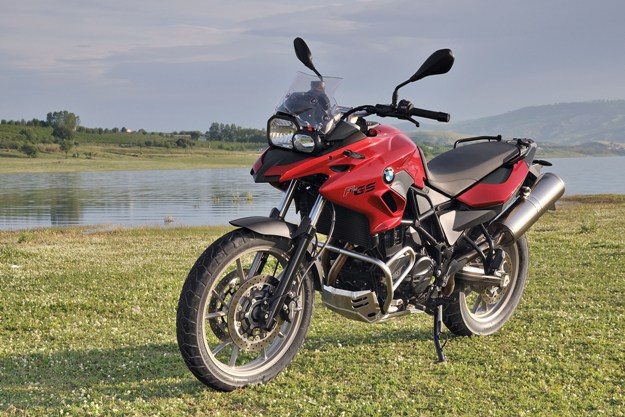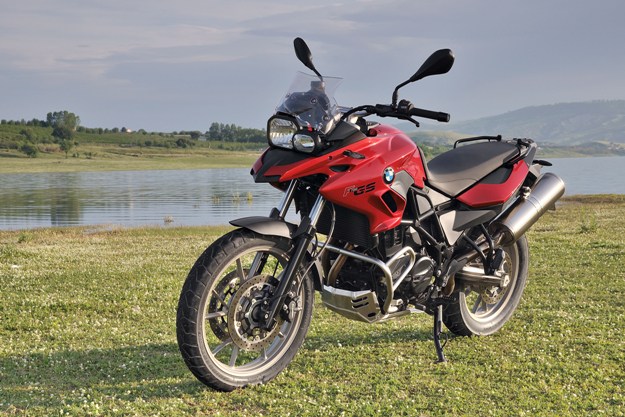 One already knew BMW F700GS 2013 under name 650 and we were afflicted to see it rigged out of a basic braking, a careenage little seducer and to have to pass by the box option to equip it with dignity. With this rise in range, it is from now on worthy of our waiting's.
Driving side, it is always the same twin-cylinder of 798 Cm3 which officiates, but it gains 4 horses. In 2013, the GS is seen especially equipped with a second disc of front brake, ABS of origin and a block meters enriched by a gauge with petrol and temperature engine.
And it is from now on possible, in option, to have the electric management of suspensions (ESA). However Let us note that our model of test, barded options (see photographs), has very to like.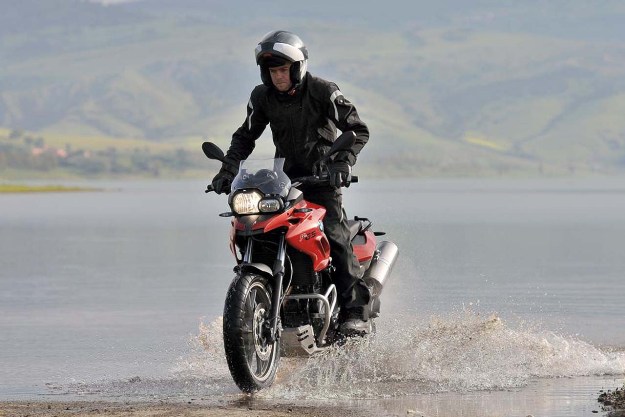 A light impulse is enough to descend the F700GS from its central crutch (optional) because of a weight contained (213 kg). The height of saddle is measured and the effect of arcade is weak: one is immediately at ease on board. Only the new control knobs (with the Japanese woman), placed on the casseroles, offer an average gripping with gloves of winter.
The twin lack of roundness of operation, especially in urban environment, and it is not rare to fix while starting. Once launched, more concern: it runs smoothly and the 75 horses are completely sufficient in all circumstances. In spite of a firm box, the staging of the reports is well thought. But what characterizes the 700; it is its low fuel consumption: between 4.5 and 4.9 liters raised, allowing autonomy of 300 km.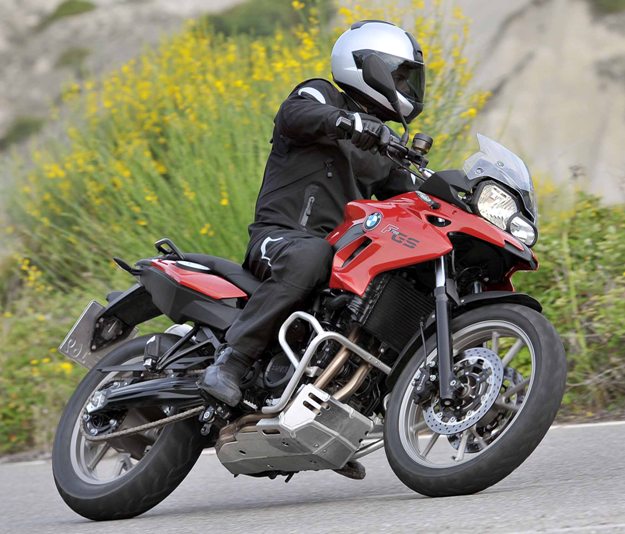 To damp a light motorcycle is not too complicated. Moreover our testing machine being equipped with the ESA, its dynamic behavior is without reproach. On a badly maintained secondary road, the BMW F700GS 2013 is freed without quivering of the deformations. Add the comfort of a softer saddle (in option) and envies it to cut down kilometers comes irresistibly.
Only the protection of original finally makes spot. The bubble is really too low and its replacement by a more effective element would not be superfluous. We also waited more of the second front disc. If comfort with the catch of the lever really gains there, the power of deceleration, higher, does not make however a spectacular jump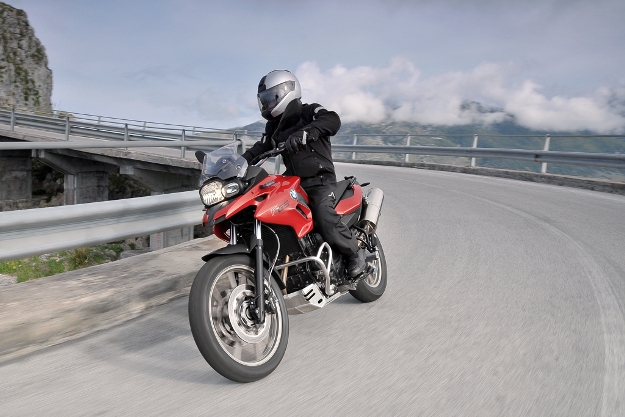 Verdict
For a rate of 9,200 € (1000 of more than the 650), taking into account the new upper works, one does not lose in the operation. With final, this competitor trail of Triumph Tiger 800 brings all that one awaits from a machine dedicated to the daily newspaper: handiness, reasonable fuel consumption and security. It's a pity that one cannot arrange his theft protection device out of U under the saddle, if not; this BMW would have made full paperboard.
Suspended well, rather light (213 kg with the full ones), propelled by a twin of 75 ch volunteer to wish, BMW F700GS 2013 is an invitation to cut down the kilometers. It profits in addition from a figure slightly reorganized, more pleasant to look at than its predecessor, the 650 GS.
To make it still more attractive, BMW had provided us one BMW F700GS 2013 equipped with a good part of the options available to the catalog: saddles comfort, indicators white, ESA, anti-skid, heating handles, alarm, witnesses of pressure of the pneumatic tires, central crutch (review and much easier to implement), etc.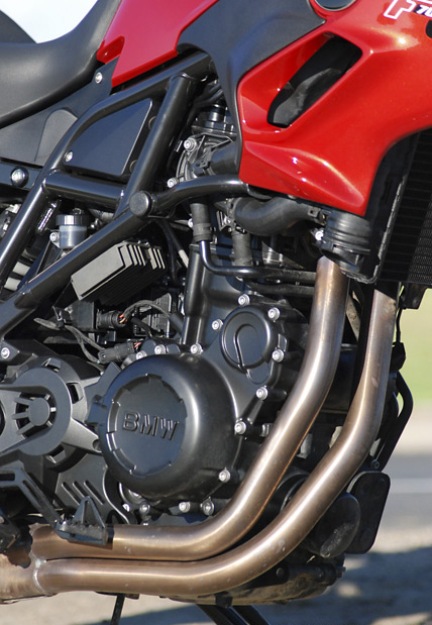 The passage from 650 to 700 of the "small" GS brings only a small amount of horses and a suspicion of additional couple. Normal, the twin-cylinder is always the same one, one 800 Cm3. Its strong point is enduring limited fuel consumption: 4.5 l/100 km with moderate pace.
In spite of the addition of a gauge with petrol and temperature engine, it is still necessary to pass by the box option to benefit from the computer of edge. To reach much information, it is necessary to act on the left control unit (touches information), or directly on the block (temperature, partial and adding).
Really too low, the bubble of origin is not a model as regards protection.
Test BMW F700GS 2013: not very easy gripping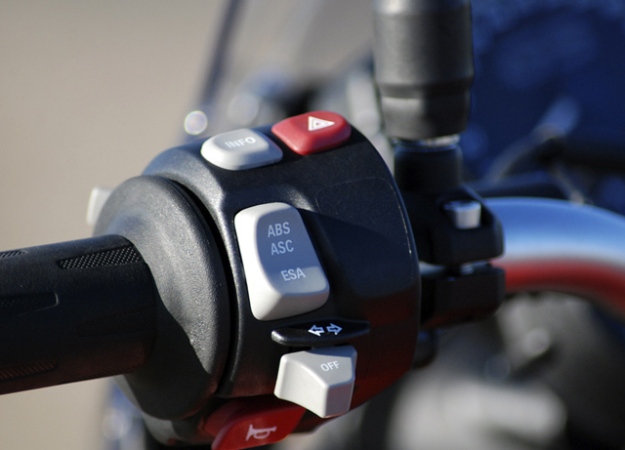 The buttons of all the functions which are ordered with the left control unit once do not handle the slipped on gloves of winter.
Test BMW F700GS 2013: a second disc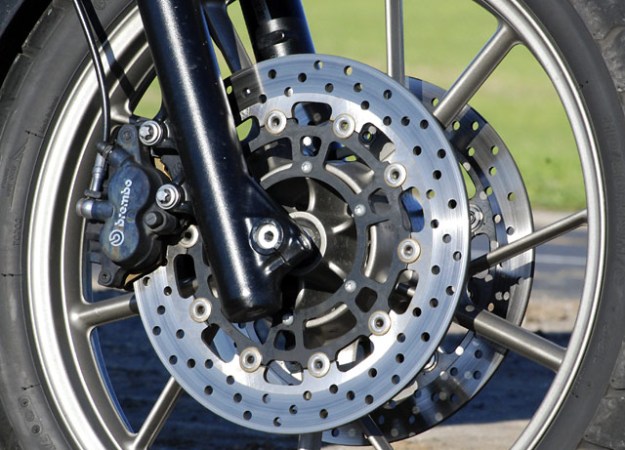 The technical evolution most significant relates to braking. The BMW F700GS 2013 gains a second disc with front, and the ABS of series. If the power is still not demonic (clamps with two pistons only), comfort gains there with corrosive the more marked.
Test BMW F700GS 2013: saddles softer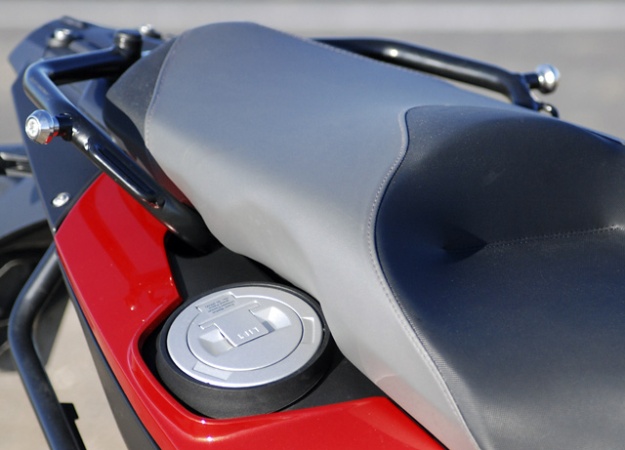 In option, the saddle "comfort" is really softer than that of origin, which emulously contributes to swallow kilometer. The filling of the tank, always placed partly under the saddle, is done on the right side of this one. But one cannot still place U under base: not the place!