Inventor of the 4-wheel ATV, Suzuki has built the world's most incredible sports-utility quad with a bold appearance and more excellent capability and dependability than ever before. Despite its storied past, the King Quad's heritage is still fresh and vibrant, waiting for you to be a part of it. Every Suzuki 2020 KingQuad 500AXi Power Steering Utility ATV model is simple to ride and has features that no other brand can match.
The following are some of the most critical aspects of the Low-effort electronic power steering with thoughtful design and a comfortable riding posture The QuadmaticTM gearbox with efficient engine braking and a torque-rich, EFI-fed engine make this vehicle simple to pull and ride on any terrain. Led taillight and complete LCD instrument panel. Fender and handlebar-mounted lamps.
Suzuki 2020 KingQuad 500AXi Power Steering Utility ATV – Features and Price
Engine Features
There has a broad powerband and high-top end power from the 493cc SOHC single-cylinder, liquid-cooled four-stroke engine. Engine height is lowered because the head and cylinders are canted forward to lower the center of gravity. The engine has a balancer shaft to provide quiet and smooth running. The broad intake valves and straight intake ports of the small four-valve cylinder head provide excellent cylinder charging efficiency. Maintaining valves is made more accessible by using screw and nut lash adjusters. Excellent heat transmission and ring sealing are made possible by the SCEM (Suzuki Composite Electrochemical Material) coating on a lightweight aluminum cylinder. It results in a highly efficient combustion chamber. Advanced Suzuki Fuel Injection enhances throttle responsiveness and fuel economy while delivering power consistently over the whole rev-range and improves engine starting in all weather and driving circumstances.
KingQuad models that meet California's strict evaporative emissions standards, for example, have no problem meeting US emissions regulations (eligible for green sticker registration). A thermostatically regulated cooling fan atop a high-capacity aluminum radiator keeps the engine running at a constant temperature.
Transmission Features
The QuadmaticTM CVT-type automatic gearbox provides Fender-mounted gate shifters for high/low range selection. When the power is off, the vehicle's innovative engine braking system helps keep it in control on steep descents. Torque-sensing limited-slip front differential provides powerful traction while maintaining light steering. 4WD traction is significantly improved with a differential-lock system.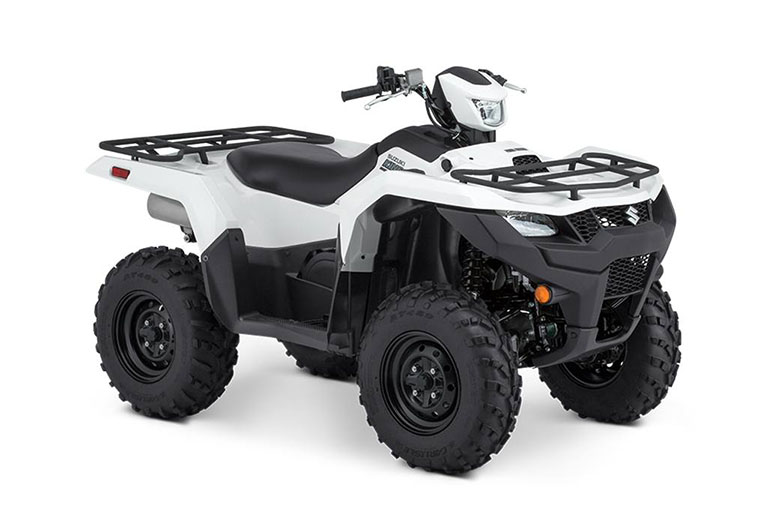 It is simple to switch between 2WD, 4WD, and differential-lock 4WD, thanks to handlebar-mounted pushbutton controls. When getting out of the muck, an override button on the left handlebar may be utilized to bypass the standard speed limits.
Chassis Features
Increased rider comfort, simplicity of use, and towing capacity are facilitated by the King Quad's frame, which has thick-wall tubes and strengthened brackets in essential sections. A new "under-steer" setting has been included in the vehicle's basic steering characteristics to save effort and improve turning in tight spaces. It is now possible to utilize handlebars that are taller and more comfortable. Power steering on the KingQuad is more powerful and efficient than the previous generation, resulting in less steering effort while decreasing rider fatigue.
High-clearance fenders on the striking, angular bodywork keep the rider safe from flying debris. Oil level checks, gasoline, air filter servicing, etc., are made easier with refined panels.
Large diameter, gas-charged shock absorbers, including five-way spring preload adjustment, are part of an independent double A-arm front suspension (6.7-inch wheel travel). Large diameter, gas-charged shock absorbers having five-way spring preload adjustment are part of a fully independent A-arm/I-beam rear suspension having 7.7 inches of wheel travel. The rider's shock may be reduced by using a big rear stabilizer bar with a compliant bushing. When it comes to best stopping power, nothing beats the twin hydraulic front disc brakes' combination of high friction brake pads, fluid lines, and lever ratio.
The foot brake lever ratio of the sealed, multi-plate rear brake system gives excellent rider control. Because of the clutch-type construction, the rear brakes are long-lasting, light, and easy to maintain. Strong steel wheels with a powder-coated matte-black finish hold 25-inch Carlisle tires with excellent grip. While on an emotional or challenging terrain ride, Suzuki's soft T-shaped seat allows the user to move about quickly. Polyethylene skid plates defend against rocks and rugged terrain while requiring little effort to traverse them. Sturdy plastic shields protect the front and rear half shafts.
Utility Features
Headlights fitted to the handlebars of an ATV illuminate the path in the direction of travel. The King Quad's unique design has dual 35-watt headlights with high and low settings. With its low-draw and brilliant LED taillight, the ATV is more easily seen and conserves electricity in low-light environments. To make the most of the King Quad's extensive towing capability, a receiver-type trailer hitch attachment is included (up to 1322 pounds). The installation of a winch is simplified by using mounts and wire conduits that are pre-wired for the device.
Service reminders based on time or mileage may be set up on the multi-function instrument panel, redesigned for better aesthetics and visibility. Speedometer, odometer, trip meter, hour meter, clock, gasoline level and driving range are all shown on the instrument panel's LCD screen. For example, there are LED indications for high/low, neutral/reverse, 2WD/four-wheel-drive, differential-locked 4WD, and LED warnings for fuel injection and engine temperature.
An 18-amp maintenance-free battery powered by a high-output, three-phase charging system provides enough juice for simple starting and accessory usage. In every home, there's a built-in 12V auxiliary outlet. The low-center-of-gravity positioning of the 4.6-gallon (17.5-liter) gasoline tank ensures a smooth ride. Vacuum petcock and ratchet-style filler cap are included (which prevents overtightening so it can be easily unscrewed for refilling).
The back of the ATV has a big 4.0-liter storage compartment, which is positioned next to the current 4.0-liter left-side chamber, allowing for plenty of storage space. A screw-on lid makes it simple to reach the 2.8-liter water resistant front storage section. Wrinkle paint is applied to the steel-tube cargo racks for scratch and abrasion resistance. The high footpegs on the floorboards give additional protection. Suzuki Genuine Accessories include winches, windshields, front and rear bumpers, a quick-release snow plow, metal skid pans, rack extensions, utility boxes and more.
Special Features
They limited 12-month warranty. Suzuki Extended Protection offers extended coverage terms and additional advantages (SEP), and operators must be at least 16 years old.
Suzuki 2020 KingQuad 500AXi Power Steering Utility ATV – Price
The new Suzuki 2020 KingQuad 500AXi Power Steering Utility Quad Bike is available at $8,749 only.
Suzuki 2020 KingQuad 500AXi Power Steering Utility ATV – Technical Specifications
Engine
| | |
| --- | --- |
| Engine | 493cc (30.1 cubic in.), 4-stroke, liquid-cooled, 4-valve, OHC single cylinder |
| Bore x Stroke | 87.5 mm x 82.0 mm (3.40 in. x 3.20 in.) |
| Compression Ratio | 9.9:1 |
| Fuel System | Suzuki electronic fuel injection |
| Starter | Electric |
| Lubrication | Wet sump |
Drive Train
| | |
| --- | --- |
| Transmission | Automatic variable ratio (V-belt), with high/low-range and reverse |
| Clutch | Dry shoe, automatic, centrifugal type |
| Driven Wheels | 2WD, 4WD, and 4WD Differential Lock |
| Final Drive | Shaft drive |
Chassis
| | |
| --- | --- |
| Brakes Rear | Sealed oil-bathed multi-disc |
| Tires Front | AT25 x 8-12, tubeless type x 2 |
| Tires Rear | AT25 x 10-12, tubeless type x 2 |
| Fuel Tank Capacity | 17.5 L (4.6 US gal.) |
| Color | Terra Green, Flame Red, or Solid Special White No. 2 |
| Suspension Front | Independent, double wishbone, coil spring, gas-charged, and oil damped with 5-way preload adjustable shock absorbers |
| Suspension Rear | Independent, double wishbone, coil spring, gas-charged, and oil damped with 5-way preload adjustable shock absorbers |
| Brakes Front | Disc brakes, twin rotors |
Electrical
| | |
| --- | --- |
| Ignition | Electronic ignition (transistorized) |
| Headlight | 12V 35/35W x 2 fender-mounted, 12V 35W x 1 handlebar-mounted |
| Tail Light | LED |
Dimension
| | |
| --- | --- |
| Overall Length | 2150 mm (84.6 in.) |
| Overall Width | 1215 mm (47.8 in.) |
| Overall Height | 1285 mm (50.6 in.) |
| Wheelbase | 1285 mm (50.6 in.) |
| Ground Clearance | 260 mm (10.2 in.) |
| Seat Height | 920 mm (36.2 in.) |
| Curb Weight | 324 kg (714 lb.), 325 kg (716 lb.) CA model |
Warranty
| | |
| --- | --- |
| Warranty | 12-month limited warranty |
| Extension | Coverage extension and additional benefits are available |