The new Suzuki 2018 QuadSport Z90 Mini Quad Bike is really in impressive mini quad bike offering the best riding experience. It is an ideal for those who are looking for mini ATV for young riders. This ATV is specially designed for the riders of 12 years and older. It features an automatic transmission and electric starter, which helps the rider to gain more experience. The new throttle limiter allows the adults to set the power level according to the skill of young riders. The new keyed ignition system ensures that the young riders only enjoy the ride under the adult supervision. The review of new Suzuki 2018 QuadSport Z90 Mini Quad Bike is given below.
Suzuki 2018 QuadSport Z90 Mini Quad Bike – Features
Engine
The new Suzuki 2018 QuadSport Z90 Mini Quad Bike features an easy electric starting system with an advantage of backup recoil starter. Its new smooth running CVT automatic transmission offers an easy operation and it provides the rider a shifting free ride so that rider can enjoy the ride. The new 2018 Suzuki ATV features the compact 90cc 4-stroke single cylinder with an air-cooled engine much powerful than 2018 Suzuki QuadSport Z50. This engine is specially designed for outstanding durability and low maintenance. The latest SCEM (Suzuki Composite Electrochemical Material) cylinder is being derived from the high performance and high mileage Suzuki GSX-R sports bike. It is optimized for best durability and weight reduction plus superior heat dissipation. The latest smooth running multi-plate cam chain lets the engine to operate quietly. The new easy access oil filter and oil strainer cap reduce the service time. This is the clean burning engine and it can easily achieve the CARB (California Air Resources Board) emission regulations. The latest spark-arrester is equipped with a muffler, which is environment-friendly and has pleasant exhaust note. The large fuel tank of 1.6 gallons has been used for long operational range. It is combined with the vacuum fuel petcock, which automatically stops the flow when the engine is off. The new keyed ignition system allows the adults to keep an eye on this Quad Bike. There is a simple screw-type throttle limiter which allows the adults to adjust the power output according to the rider's ability and skill level. The speed limiter collar is automatic clutch limits the top speed to 15 MPH and it can be removed to increase top speed as the young rider gain skill and ability.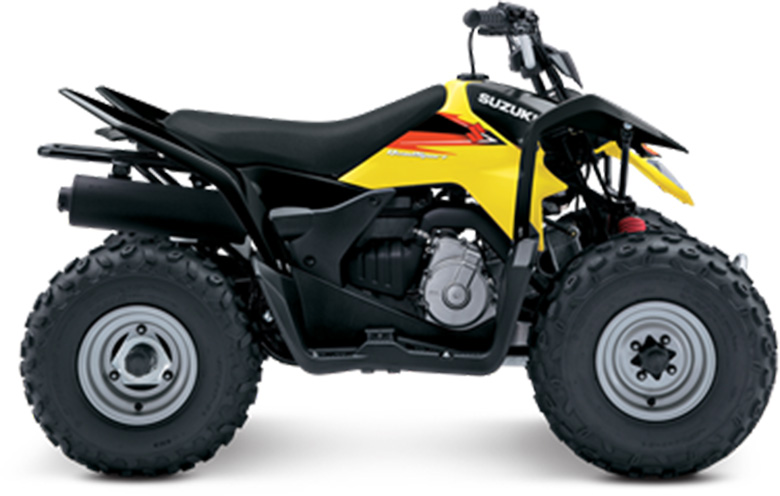 Chassis
The new Suzuki 2018 QuadSport Z90 Mini Quad Bike features the best frame specially designed for young riders. It is for the young rider have 12 years of age for easy operation. The single A-arm front suspension with the twin independent shock absorbers and solo-shock rear suspension offers the long wheel travel for the comfortable ride. The rear axle shaft has double oil seals for longer life performance and reliability. The new headlamp style front piece is detachable to achieve its sporty look like the QuadSport Z400. The new large diameter semi-sealed front drum brakes and the solo fully sealed rear drum brakes offers the best braking performance of all times. The new latest styling full floorboards and its look like a big ATV plus the yellow and black bodywork with amazing graphics always demand another look. The new 8-inch wheels are one-piece having the tubeless tires offering the smooth comfortable ride. The strong and highly rigid steel frame is being used like the one used in 2017 Suzuki QuadSport Z90. The seat height is kept low about 25.6 inches for easy handling and confident riding. The new T-shaped seat is inspired from QuadSport Z400 for smooth weight transition and comfortable ride. This quad bike has an attractive bodywork with Solid Black and Championship Yellow color scheme. The seat has the durable black cover that has awesome graphics package.
Other Features
The new Suzuki 2018 QuadSport Z90 Mini Quad Bike comes with the limited warranty of 12-months, which is double the length of other ATV's. There are a variety of Genuine Suzuki Accessories are available for QuadSport owners including the large selection of Suzuki logo apparel. This Suzuki ATV is best for 12-year-old riders.
Suzuki 2018 QuadSport Z90 Mini Quad Bike – Price
The new Suzuki 2018 QuadSport Z90 Mini Quad Bike is available for just $2,949 only.
Suzuki 2018 QuadSport Z90 Mini Quad Bike – Technical Specifications
Engine
| | |
| --- | --- |
| Engine | 90cc, 4-stroke, air-cooled, single cylinder, OHC |
| Bore x Stroke | 45.5 mm x 55.2 mm (1.791 inches x 2.173 inches) |
| Compression Ratio | 9.5: 1 |
| Fuel System | MIKUNI VM16, single carburetor |
| Starter | Electric & backup recoil |
| Lubrication | Wet sump |

Drive Train
| | |
| --- | --- |
| Transmission | CVT Automatic |
| Driven Wheels | Dry shoe, automatic, centrifugal type |
| Driven Wheels | 2WD |
| Final Drive | Chain, RK530, 60 links |

Chassis
| | |
| --- | --- |
| Suspension Front | Independent, swing axle, coil spring, oil damped |
| Suspension Rear | Swingarm type, coil spring, oil damped |
| Brakes Front | Twin drum brakes |
| Brakes Rear | Single drum brake |
| Tires Front | AT19 × 7-8, tubeless type x 2 |
| Tires Rear | AT19 × 7-8, tubeless type x 2 |
| Fuel Tank Capacity | 1.6 US gallons (6.0 L) |
| Color | Solid Black and Champion Yellow |
Electrical
| | |
| --- | --- |
| Ignition | Electronic Ignition (CDI) |
| Headlight | N/A |
| Tail Light | N/A |

Dimensions
| | |
| --- | --- |
| Overall Length | 59.3 inches (1505 mm) |
| Overall Width | 34.4 inches (875 mm) |
| Overall Height | 36.0 inches (915 mm) |
| Wheelbase | 39.6 inches (1005 mm) |
| Ground Clearance | 5.9 inches (150 mm) |
| Seat Height | 25.6 inches (650 mm) |
| Curb Weight | 280 lbs. (127 kg.) |
Warranty
| | |
| --- | --- |
| Warranty | 12-month, unlimited mileage, limited warranty |
| Extensions | Extensions available through Suzuki Extended Protection (SEP) |

Conclusion
This article is the review of new Suzuki 2018 QuadSport Z90 Mini Quad Bike and it is newly launched by one of the Best Quad Bike Brand in the World. This an ideal for those young riders who want to start their career in the world of a quad bike. The engine is high performing in all conditions. The chassis and frame design are kept similar to the bigger ATV. The color combination is kept attractive. The seat height is kept low to ensure the confident ride. The braking and suspension system are working properly. In short, this is an impressive quad bike for young riders.