The Zero Motorcycle Brand is very famous for its electric bikes. This year in 2017 Zero Motorcycle has maintained its legacy and tradition. It has launched new 2017 Zero FXS Electric Motorcycle that offers incredible power, torque and acceleration. Each part of this supermoto bike is impressive and is optimised for the excellent response. The suspension and braking system are performing quite well. The new 17 inches of wheels containing Pirelli Diablo Rosso two tires offers best grip and cornering control. It has an impressive throttle response making it fantastic to ride. This bike features a unique maintenance-free powertrain giving the best performance and each mile covered by using the new 2017 Zero FXS Electric Motorcycle includes the only small amount of electricity. It featured an optional unique and patented modular power pack system that allows recharging either on or off the motorcycle. It features an advanced ABS, fully adjustable suspension, dual projector beam headlight, new alloy wheels and high-performance street tires. In short, it is a fantastic bike and offers an excellent ride. Following is the review of new 2017 Zero FXS Electric Motorcycle.
2017 Zero FXS Electric Motorcycle – Features
GAME CHANGING Z-FORCE® POWER PACK
The new 2017 Zero FXS Electric Motorcycle features new power pack which offers unlimited mileage with an incredible response. The new 2017 Zero FXS Electric Motorcycle is available in two configurations, specially design to meet the demands of various riders:
Zero FSX ZF3.3: It features a removable power pack, and it refuelling can be done in seconds. The new swappable system allows the rider to purchase multiple batteries that can be charged by using the optional accessories during on or off the bike.
Zero FSX ZF6.5: It is equipped with an integrated and higher capacity 6.5 kWh battery. This new option is simpler and is more cost-efficient while delivering more output.
Five-year unlimited mileage warranty manufactures the new Z-Force power packs. This power pack offers the worry-free zero maintenance battery, which is designed primarily to for best performance and longer life. The new fully modular Z-Force quick-swap technology allows the rider to swaps the power pack on the new Zero FSX ZF3.3 in seconds. The rider can also upgrade the bike's capacity from 3.3 kWh to 6.5 kWh. But if someone wants to add the second power pack, then he must have to update the documents of motorcycle's registration.
This power pack has the new state-of-the-art configuration of cell chemistry. They yield more, and refined output offers the highest energy density in the electric vehicle industry. It also provides isolated power systems and 12 V system for running accessories. The modules of the bike can be fully removed and can be transported to charge anywhere quickly, but you need to purchase the stand-alone quick charger and the power pack module charging adapter. It also features the module locking system for superior security and peace of mind. The new scalable off-board charging options are also available to reduce recharge time.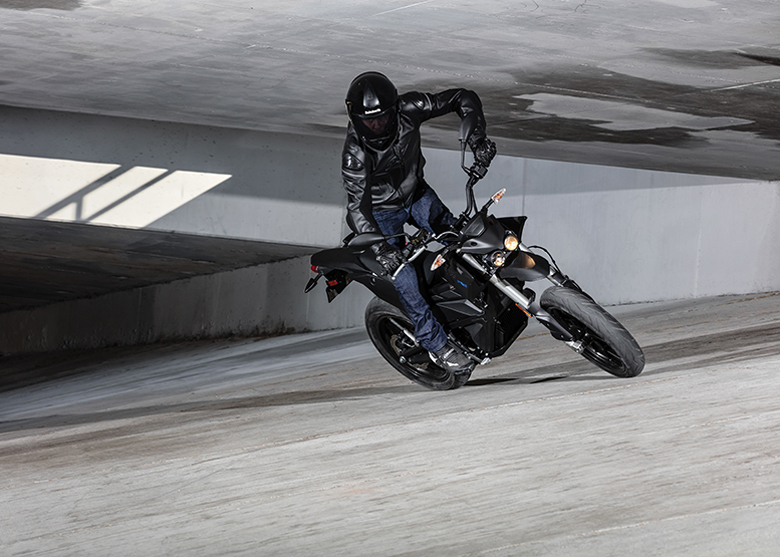 REVOLUTIONARY Z-FORCE® MOTOR
The motor of new 2017 Zero FXS Electric Motorcycle is optimised to deliver excellent torque, and it superbly fits inside this lightweight motorcycle. This assembly gives thrilling acceleration output. This vehicle is designed from the ground up to be compact, efficient and powerful. It is entirely air-cooled, and it configured to provide the fantastic riding experience. The best feature is that it does not require any regular maintenance. When the bike starts to slow down, the motor generates electricity that is transferred back into the power pack to extend the ride time. It uses IPM (Interior Permanent Magnet) motor, which is more efficient and it cools more rapidly for improved performance. It provides 46 hp and 78 ft-lb of torque.
CHARGE quickly, CHARGE ANYWHERE
The newly launched 2017 Zero FXS Electric Motorcycle has an unusual feature that it comes with a simple and lightweight cable that can be plugged into any household outlet. For daily use, the new Zero's scalable "Quick Charger" system can reduce the charging times dramatically. This system uses up to four stand-alone (off-board) 1kW chargers. These chargers work in conjunction with the bike's standard (on-board) charger.
FRAME AND BODYWORK
This motorcycle features the handcrafted aircraft grade aluminium frame, which is engineered from the ground up. This Zero Motorcycle has a combination of lower weight and higher strength that only means more responsiveness. This frame has a hydroformed top tube that increases its power and reduces the overall weight. It generates greater acceleration no matter whether you are in city traffic of cornering. To achieve the maximum durability, its frame is shot-peened and anodised.
SHOWA SUSPENSION
The Zero Brand worked in close collaboration with the Shows to develop suspension systems that offer an excellent small bump compliance. Plus it also provides predictable control of bigger impacts and exceptionally smooth action under all conditions. The new torsional rigidity of the front end improves the handling, and the hollow front axle reduces the unsprung weight. The new suspension settings are completely customizable to meet the demands of the broad range of riders. This system also features the durable and highly protective fork guards.
BOSCH ANTI-LOCK BRAKE SYSTEM (ABS)
The new 2017 Zero FXS Electric Motorcycle features an advanced Bosch anti-lock brake system (ABS) that improves the control in the broad array of conditions, and it also ensures the best braking performance. This advanced Bosch-ABS comes as a standard, and it can be switched on or off depending on the rider preference. It offers an incredible smooth actuation for improved control under extreme braking. The new refined hydraulic ratios have improved the braking power and modulation.
WHEELS AND TIRES
The new 2017 Zero FXS Electric Motorcycle Features new Pirelli tires that come as standard. They provide improved traction in the broad range of conditions and have excellent road feel. This motorcycle features alloy wheels, which are specially designed to reduce unsprung weight without compromising on strength.
DIRECT DRIVE GEARING
This new 2017 Zero FXS Electric Motorcycle features a clutchless direct drive, which means it is geared for rapid acceleration and maximum efficiency. This motorcycle offers the controlled and powerful acceleration at any speed between 0-85 mph. The carbon fibre belt achieves minimal friction losses for increased overall range plus is integral to making the powertrain maintenance-free. Moreover, it has an adjustable rear axle to modify belt tension.
DASH AND CONTROLS
The touch of new 2017 Zero FXS Electric Motorcycle is designed to offer quick and accurately useful data on such information as the state of charge, power output and selected riding profile. The rider can toggle through three riding profiles by using the ergonomic right-hand switch gear to meet the requirement of the trip: Sport, Eco & Custom. The dash screen has a blue backlit LCD, which is integrated into the front of the motorcycle. It features a projector beam headlight and integrated fly screen that provides the clean and contemporary front profile.
ZERO MOTORCYCLES APP
By using the official Zero Motorcycles App, the rider can see the detailed information about his vehicle such as time until charged, average watts per mile and much more. When rider parked his bike, the app allows him to set the custom riding mode's performance profile by adjusting the parameter for max torque, top speed and max regenerative braking. During the ride, rider phone transforms into the customised dash that offers the detailed real-time bike information. The rider can sync using the Bluetooth; this app works on Android mobile and iPhone. Bluetooth-enabled the connectivity for both iPhone and Android mobile devices.
2017 Zero FXS Electric Motorcycle – Specs, Pics and Pricing
| | | | |
| --- | --- | --- | --- |
| RANGE | ZERO FXS ZF3.3 MODULAR | ZERO FXS ZF6.5 | ZERO FXS ZF6.5 MODULAR |
| City | 45 miles (72 km) | 90 miles (145 km) | 90 miles (145 km) |
| Highway, 55 mph (89 km/h) | 27 miles (43 km) | 54 miles (87 km) | 54 miles (87 km) |
| Highway, 70 mph (113 km/h) | 18 miles (29 km) | 37 miles (60 km) | 37 miles (60 km) |
MOTOR
| | | | |
| --- | --- | --- | --- |
| Peak torque | 78 ft-lb (106 Nm) | 78 ft-lb (106 Nm) | 78 ft-lb (106 Nm) |
| Peak power | 27 hp (20 kW) at 4,300 RPM | 46 hp (34 kW) at 4,300 RPM | 46 hp (34 kW) at 4,300 RPM |
| Top speed (maximum) | 85 mph (137 km/h) | 85 mph (137 km/h) | 85 mph (137 km/h) |
| Top speed (sustained) | 75 mph (121 km/h) | 75 mph (121 km/h) | 75 mph (121 km/h) |
| Type | Z-Force® 75-5 passively air-cooled, high efficiency, interior permanent magnet, radial flux,  brushless motor | Z-Force® 75-5 passively air-cooled, high efficiency, interior permanent magnet, radial flux, brushless motor | Z-Force® 75-5 passively air-cooled, high efficiency, interior permanent magnet, radial flux, brushless motor |
| Controller | High efficiency, 550 amp, three phase brushless controller with regenerative deceleration | High efficiency, 550 amp, three phase brushless controller with regenerative deceleration | High efficiency, 550 amp, 3-phase brushless controller with regenerative deceleration |

POWER SYSTEM
| | | | |
| --- | --- | --- | --- |
| Est. pack life to 80% (city) | 101,000 miles (163,000 km) | 203,000 miles (327,000 km) | 203,000 miles (327,000 km) |
| Power pack | Z-Force® Li-Ion intelligent modular | Z-Force® Li-Ion intelligent integrated | Z-Force® Li-Ion intelligent modular |
| Maximum capacity | 3.3 kWh | 6.5 kWh | 6.5 kWh |
| Nominal capacity | 2.9 kWh | 5.7 kWh | 5.7 kWh |
| Type of Charger | 650 W, integrated | 650 W, integrated | 650 W, integrated |
| Charge time (standard) | 4.7 hours (100% charged)/ 4.2 hours (95% charged) | 8.9 hours (100% charged)/ 8.4 hours (95% charged) | 8.9 hours (100% charged)/ 8.4 hours (95% charged) |
| Input | Standard 110 V or 220 V | Standard 110 V or 220 V | Standard 110 V or 220 V |
DRIVETRAIN
| | | | |
| --- | --- | --- | --- |
| Transmission | Clutch-less direct drive | Clutch-less direct drive | Clutch-less direct drive |
| Final drive | 90T / 20T, Poly Chain® HTD® Carbon™ belt | 90T / 20T, Poly Chain® HTD® Carbon™ belt | 90T / 20T, Poly Chain® HTD® Carbon™ belt |
CHASSIS/ BRAKES/ SUSPENSION
| | | | |
| --- | --- | --- | --- |
| Front suspension | Showa 41 mm inverted cartridge forks, with an adjustable spring preload, compression and rebound damping | Showa 41 mm inverted cartridge forks, with an adjustable spring preload, compression and rebound damping | Showa 41 mm inverted cartridge forks, with an adjustable spring preload, compression and a rebound damping |
| Rear suspension | Showa 40 mm piston, a piggy-back reservoir shock with an adjustable spring preload, compression and a rebound damping | Showa 40 mm piston, a piggy-back reservoir shock with an adjustable spring preload, compression and a rebound damping | Showa 40 mm piston, a piggy-back reservoir shock with an adjustable spring preload, compression and a rebound damping |
| Front suspension travel | 7.00 inches (178 mm) | 7.00 inches (178 mm) | 7.00 inches (178 mm) |
| Rear suspension travel | 8.94 inches (227 mm) | 8.94 inches (227 mm) | 8.94 inches (227 mm) |
| Front brakes | Bosch Gen 9 ABS, with J-Juan asymmetric dual piston floating calliper, 320 x 5 mm disc | Bosch Gen 9 ABS, with J-Juan asymmetric dual piston floating calliper, 320 x 5 mm disc | Bosch Gen 9 ABS, with J-Juan asymmetric dual piston floating calliper, 320 x 5 mm disc |
| Rear brakes | Bosch Gen 9 ABS, with J-Juan single piston floating calliper, 240 x 4.5 mm disc | Bosch Gen 9 ABS, with J-Juan single piston floating calliper, 240 x 4.5 mm disc | Bosch Gen 9 ABS, with J-Juan single piston floating calliper, 240 x 4.5 mm disc |
| Front tire | Pirelli Diablo Rosso II 110/70-17 | Pirelli Diablo Rosso II 110/70-17 | Pirelli Diablo Rosso II 110/70-17 |
| Rear tire | Pirelli Diablo Rosso II 140/70-17 | Pirelli Diablo Rosso II 140/70-17 | Pirelli Diablo Rosso II 140/70-17 |
| Front wheel | 3.00 x 17 | 3.00 x 17 | 3.00 x 17 |
| Rear wheel | 3.50 x 17 | 3.50 x 17 | 3.50 x 17 |
DIMENSIONS
| | | | |
| --- | --- | --- | --- |
| Wheelbase | 56.0 inches (1,422 mm) | 56.0 inches (1,422 mm) | 56.0 inches (1,422 mm) |
| Seat height | 32.9 inches (836 mm) | 32.9 inches (836 mm) | 32.9 inches (836 mm) |
| Rake | 24.4° | 24.4° | 24.4° |
| Trail | 2.8 inches (71 mm) | 2.8 inches (71 mm) | 2.8 inches (71 mm) |
WEIGHT
| | | | |
| --- | --- | --- | --- |
| Frame | 20 lb (9.1 kg) | 20 lb (9.1 kg) | 20 lb (9.1 kg) |
| Curb weight | 251 lb (114 kg) | 293 lb (133 kg) | 293 lb (133 kg) |
| Carrying capacity | 379 lb (172 kg) | 337 lb (153 kg) | 337 lb (153 kg) |

ECONOMY
| | | | |
| --- | --- | --- | --- |
| Equivalent fuel economy (city) | 530 MPGe (0.44 l/100 km) | 530 MPGe (0.44 l/100 km) | 530 MPGe (0.44 l/100 km) |
| Equivalent fuel economy (highway) | 215 MPGe (1.09 l/100 km) | 215 MPGe (1.09 l/100 km) | 215 MPGe (1.09 l/100 km) |
| Typical cost to recharge | $0.37 | $0.73 | $0.73 |
PRICING
| | | | |
| --- | --- | --- | --- |
| MSRP | $8,495 | $10,495 | $10,995 |
WARRANTY
| | | | |
| --- | --- | --- | --- |
| Standard motorcycle warranty | 2 years | 2 years | 2 years |
| Power pack warranty | Five years/unlimited miles | Five years/unlimited miles | Five years/unlimited miles |