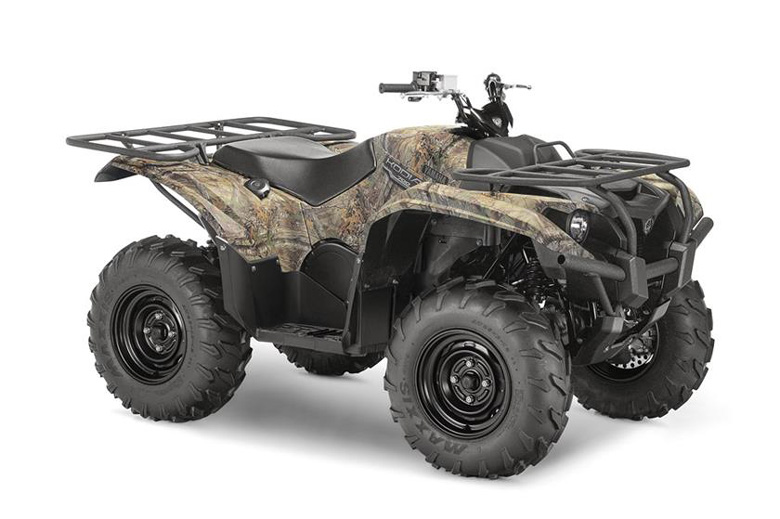 This year Yamaha Brand has launched the number of best bikes and quad bikes. The new Yamaha 2017 Kodiak 700 Utility ATV is one of them. It features the best tackling and toughest jobs and has the roughest terrain with the superior comfort. This utility ATV has manufactured to have a legendary Yamaha Reliability. The engine delivers a remarkable amount of power and acceleration. The chassis is robust and compact with excellent colour. The review of the new Yamaha 2017 Kodiak 700 Utility ATV is as follows.
Yamaha 2017 Kodiak 700 Utility ATV – Features
Engine Features
The new Yamaha 2017 Kodiak 700 Utility ATV features a powerful DOHC 708 cc with four valves fuel-injected engine. This engine delivers an optimised torque with superb power delivery and engine character. It is the high-tech engine that is ideal for smooth, quiet operation for all day long. It features Mikuni fuel injection means that has an easy cold start and flawless fuel delivery in all conditions. The new Kodiak 700 Ultramatic transmission features the best-gated shifter, dual range drive plus featuring gear and it is the most advanced drive system. The new gear ratio and the Kodiak-specific CVT settings are superbly designed to lower engine RPM, and it provides the smooth and easy-to-use power character. The new automatic centrifugal clutch maintains the constant belt tension to reduce belt wear. The sprag clutch offers neutral all-wheel engine braking. The engine features 10.1:1 compression ratio and has a four-valve head that delivers optimum torque for best response. The new long and high mounted air-intake layout increases the power and torque while it also provides additional room for centre storage and easy servicing for big air filter element. The new stainless steel exhaust system contains the screen-type spark arrestor for more power with minimum noise. The new high-capacity radiator uses fan-assist to deliver an excellent air flow to achieve maximum cooling efficiency. It is positioned high in the frame for best protection. The new Yamaha's peerless Ultramatic transmission has a five positioned shift lever with High, Low, Neutral, Reverse and a Park gates. They are optimised for real and precise transfer operation. There is a new mechanical 4WD system used in the handlebar lever. The new design and high-mounted drive system of air intake help to reduce the drive system temperatures. It also assists in keeping the water and debris from entering into the drive case.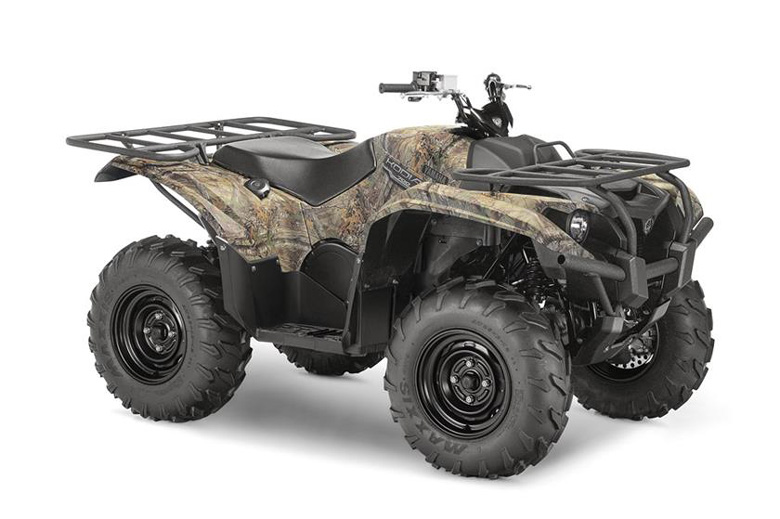 Chassis/ Suspension Features
The all-new Yamaha 2017 Kodiak 700 Utility ATV features exclusively designed 25 inches of Maxxis tires. These tires provide precise steering, optimise comfort and maximum traction. The new independent double wishbone suspension is used in it. It features 7.1 inches of wheel travel and is 9.1 inches at the rear. It also provides an excellent rider comfort on all kinds of surfaces, thanks to its nitrogen-charged shocks. The new hydraulic front brakes offer the powerful and consistent braking performance. They add to the rider confidence. The sealed rear brake is specially protected front dirt, rocks and mud. The fuel tank is located under the seat having the capacity of 4.76 gallons. It is positioned to have an excellent centralization and optimised handling. This quad bike offers the ground clearance of 10.8 inches. The full-length skid plates to offer maximum underbelly protection for wide range of terrain. The durable wrinkled-finish carry bar resists the scratching, while injection-molded fenders protect it against the damage from rock and debris.
Additional Features
Since Yamaha is one of the Top Ten Quad Bike Brand in the World, so it is offering the new Yamaha 2017 Kodiak 700 Utility ATV with the broad range of features. It features the heavy-duty ball mounts that come as a standard. It can tow more than 1300 pounds. It also features large-diameter steel cargo racks with durable wrinkle paint finish that pack a total of 308 pounds combined. Its seat is long and plush. It is designed for the maximum comfort of rider for extended work days. It is assembled in U.S.A.
Unique Key Features
High-Tech Engine, Built for the Real World.
Ultramatic® (The Industry's Most Durable CVT Transmission).
Compact, Comfortable Chassis.
Sharp Styling.
Work-Ready Tow Capacity.

Yamaha 2017 Kodiak 700 Utility ATV – Price
The newly launched Yamaha 2017 Kodiak 700 Utility ATV is available from August 2016. The Realtree Xtra is available with the price of $7,499. The Hunter Green has a price tag of $6,999 while the Red has a price of $6,999.
Yamaha 2017 Kodiak 700 Utility ATV – Specs with Pics
Engine
| | |
| --- | --- |
| Engine Type | 708 cc liquid-cooled DOHC 4-stroke, four valves |
| Bore x Stroke | 103 mm x 85 mm |
| Compression Ratio | 10.1:1 |
| Fuel Delivery | Yamaha Fuel Injection (YFI), 44 mm |
| Ignition | TCI: Transistor Controlled Ignition |
| Transmission | Ultramatic V-belt with an all-wheel engine braking, H, L, N, R, P |
| Final Drive | Lever-operated 2WD/4WD, shaft |

Chassis
| | |
| --- | --- |
| Suspension / Front | Independent double wishbone, 7.1 inches travel |
| Suspension / Rear | Independent double wishbone, 9.1 inches travel |
| Brakes / Front | Dual hydraulic disc |
| Brakes / Rear | Multi-disk wet brake |
| Tires / Front | AT25 x 8-12 Maxxis® MU19 |
| Tires / Rear | AT25 x 8-12 Maxxis® MU19 |

Dimensions
| | |
| --- | --- |
| L x W x H | 81.5 inches x 46.5 inches x 48.8 inches |
| Seat Height | 33.9 inches |
| Wheelbase | 49.2 inches |
| Turning Radius | 126.0 inches |
| Maximum Ground Clearance | 10.8 inches |
| Fuel Capacity | 4.76 gallons |
| Wet Weight | 661 lb |
| Rack Capacity | 110 lb Front / 198 lb rear |
| Towing Capacity | 1322 lb |

Other
| | |
| --- | --- |
| Warranty | 6 Month (Limited Factory Warranty) |

Conclusion
This article provides a complete review of newly launched Yamaha 2017 Kodiak 700 Utility ATV; it was covered under www.bikescatalog.com. It is a fantastic utility quad bike having the number of features. It offers perfect handling and riding experience. One should purchase this quad bike and share his expertise in the form of comments.