The Suzuki Company has launched its best dirt bike of the world. Suzuki Company wants to be on top when it comes to the dirt bikes. The new 2017 Suzuki RM85 comes with a tradition of racing style to represents the Suzuki, motocross family. The new 2017 Suzuki RM85 bike has a reliable two-stroke powerful engine which produces a smooth and controlled power at any rpm with an emphasis on its low to mid-range performance. Just like the ancestors, the new 2017 Suzuki RM85 delivers a class leading handling and controlling for both rookie rider and experienced rider as well. With the smooth power delivery of the engine and the lightweight of the chassis, the new 2017 Suzuki RM85 is considered the perfect motocross bike for a new and experienced rider.
2017 Suzuki RM85 – Specs
Engine
The new 2017 Suzuki RM85 motorcycle comes with an incredibly powerful engine which delivers a smooth and controllable power to the rider. The bike comes with a high revving power of 84.7 ccs with a two-stroke engine. The bike is liquid cooled with reed valve, the single cylinder of the engine has a bore and stroke ratio of 48 x 46.8 mm. The bike has a bottle features of Suzuki Composite Electrochemical Material (SCEM) for durability, efficient heat transfer, and little weight for superior class performance.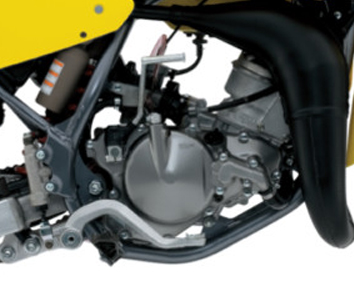 The bike has amazing exhaust system made up of aluminum best to match the rate of expansion of the cylinder and improving sealing for better engine performance. The exhaust valve governor and actuator help to provide excellent throttle response and overall tractability. The bike has a Precise Keihin™ PE28 carburetor which provides smooth throttle response and is specially designed for simplified maintenance and tuning. The new 2017 Suzuki RM85 comes with a large capacity radiator which provides an efficient engine cooling at all engine speed.
Transmission
The new 2017 Suzuki RM85 bike comes with a smooth shifting six-speed transmission plus a precise rack and pinion activated clutch. The bike has a long clutch lever which makes it easy to locate accurately and work the engagement point during starting and diving off of corners. The new 2017 Suzuki RM85 bike has a durable transmission which features a refined shift mechanism with a large detent spring and a needle bearing on its left side of shift drum. The bike has knurled shift pedal tip which delivers an excellent grip and changes feel for accurate gear selection.
Chassis
The new 2017 Suzuki RM85 motorcycle comes with a tubular steel frame with aluminum beam swingarm which provides a class-leading performance on the track, especially in the corners. The bike is designed to achieve maximum rigidity, durability, and straight-line performance; the frame contains a large diameter tubing in key areas and the large front reinforcement plate. The bike comes with a SHOWA inverted front forks of about 37 mm which are completely adjustable for rider weight, ability, and style. The forks of the motorcycle feature a cartridge system with fully adjustable rebound damping and 20-way adjustable compression damping which includes guards to protect the inner fork tubes. The forks have 275 mm of travel. The bike has a SHOWA large diameter rear shock absorber which is valved to produce a plush feel and resistance to bottoming. The shock provides a 277 mm of wheel travel and features adjustable compression and rebound force adjustment. The new 2017 Suzuki RM85 comes with a twin-piston caliper front brake with 220 mm of large diameter disc and a rear brake with 200 mm disc to provide an excellent braking performance. The new 2017 Suzuki RM85 bike has a light narrow diameter front and rear brake which houses improves feel and feedback to the rider. The front hose is routed behind the fork leg just to eliminate the need for a brake hose cover. The new 2017 Suzuki RM85 bike has a rigid rear brake caliper which provides a reliable braking performance, long pad life and is very easy to maintain. The plastic guard of caliper reduces the possibility of damage and it saves weight. The bike has a rear brake pedal of forged aluminum alloy, which is light and durable and it provides an accurate braking feel. The bike has high-quality footpegs which are made up of cast chrome molybdenum steel, instead of stamped steel, which makes it more durable with better grip. The both sides of the new color seat have textured surface for a better knee gripping. The new 2017 Suzuki RM85 bike comes with incredible wheel sizes which meet AMA 85 cc class regulation. The bike has a front wheel of 70/100-17 and a rear wheel of 90/100-14. The new competition of the bikes has inspired the body panel colors, seat color, and graphics.
2017 Suzuki RM85 price
The new 2017 Suzuki RM85 bike with all of its excellent features comes with the price tag of $4,099 only.
2017 Suzuki RM85 – Specs
Engine
| | |
| --- | --- |
| Type | 84.7 cc, 2-stroke, liquid cooled, single cylinder |
| Bore x Stroke | 48.0 mm (1.88 inches) x 46.8 mm (1.84 inches) |
| Compression Ratio | 9.5 / 10.9 : 1 |
| Fuel System | KEIHIN PE28, single carburetor |
| Starter | Primary kick |

Drive Train
| | |
| --- | --- |
| Transmission | 6-speed constant mesh |
| Clutch | Wet multi-plate style, manual release |
| Final Drive | Chain, D.I.D. 428DS, 118 links |
Chassis
| | |
| --- | --- |
| Suspension Front | Telescopic, pneumatic/coil spring, oil damped |
| Suspension Rear | Link type, coil spring, oil damped |
| Brakes Front | Disc brake, single rotor |
| Tires Front | 70/100-17 40M, tube type |
| Tires Rear | 90/100-14 49M, tube type |
| Fuel Tank Capacity | 5.0 Liters |
| Color | Champion Yellow No.2 / Solid Black |
Dimensions
| | |
| --- | --- |
| Overall Length | 1805 mm (71.1 in.) |
| Overall Width | 735 mm (28.9 in.) |
| Overall Height | 1100 mm (43.3 in.) |
| Wheelbase | 1240 mm (48.8 in.) |
| Ground Clearance | 325 mm (12.8 in.) |
| Seat Height | 850 mm (33.5 in.) |
| Curb Weight | 73 kg (161 lbs.) |

Warranty

Conclusion
The new launched 2017 Suzuki RM85 is an excellent bike with impressive classical design, real power, and its review is written under www.bikescatalog.com. This article provides the complete overhaul about the newly launched dirt bike by Suzuki Company. 2017 Suzuki RM85 is the fantastic and classic bike which has some unique features and has an excellent suspension and electronic system. The bike has a sturdy, muscular engine which produces exceptional acceleration, and single torque. The design of the 2017 Suzuki RM85 is unique and classical one, so purchase this new 2017 Suzuki RM85 motorcycle. Enjoy the ride of this fantastic bike on motocross rallies; it has comfortable and full of the fun ride no matter you are the rookie or an experienced rider and come back later for some more about bikes in the shape of discussion and leave your comment.