After the trial TXT Factory, Gas Gas raises the veil on Gas Gas EC Factory Replica 2013 today. A motorcycle of Enduro which turns clearly to the competition, and which, one must acknowledge it, is superbly development by the Spanish manufacturer.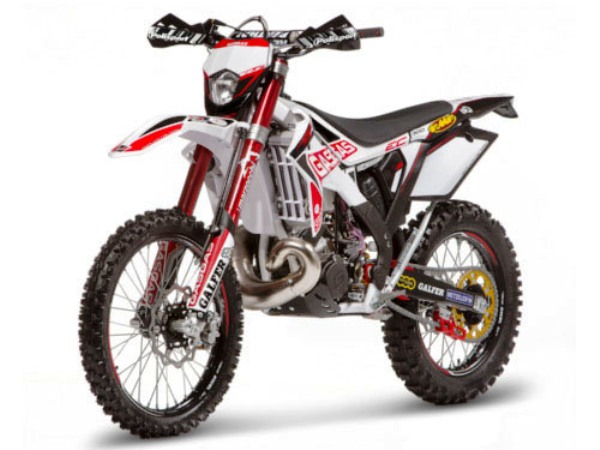 The competition within reach, here what Gas Gas with his EC Factory Replica 2013 proposes to you? A classical motorcycle of Enduro which receives the small resulting from the development of the official motorcycles controlled by Dannie McCaney and Rodrig Thain in world championship. Gas Gas EC Factory Replica will be declined into two cubic capacities: 250 and 300 Cm3, both in 2-time.
New adjustments appear on the engine of Gas Gas EC Factory Replica, with in particular the arrival of a new red S3 cylinder head anodic. Specifically developed for Gas Gas by Pere Ibanez, the specialist house since 2010, this cylinder head would increase the power on all the beach of mode.
The other principal modification engine is at the level of the clutch, which calls from now on a Rekluse system. Thanks to this modular clutch at the increased lifetime, the effect of rebound would be reduced and is optimized.
The lid of clutch also comes from to Rekluse and receives a special personalization Gas Gas. The food by Keihin carburettor and silencer FMF remain of a news.
Part cycles
Whereas Ohlins equipped GasGas Factory Replica up to now, it is a Marzzochi fork with closed cartridge which one finds on EC Replica 2013. This fork 48 mms in diameter treated antifriction metal offers a larger pallet of adjustments.
Concerning the shock absorber, it is always Öhlins with the orders with model TTX44. A shock absorber, to which the CSC (Frame Stability Control) is added, which, as its name indicates it, optimizes the stability of the frame.
For the handlebar, it is a model Renthal TwinWall which takes the seat and the black anodic wheels of Gas Gas Factory Replica come from Takasago Excel, these last being assembled with the tires Metzeler Six Days Extreme. Finally the Polisport plastics receive same the déco as the official machines of the World EWC.
Available in May, Gas Gas EC 250 Factory Replica and Gas Gas EC 300 Factory Replica will be officially presented at the time of the GP of Spain, May 11th and 12th, third round of the world championship Enduro 2013.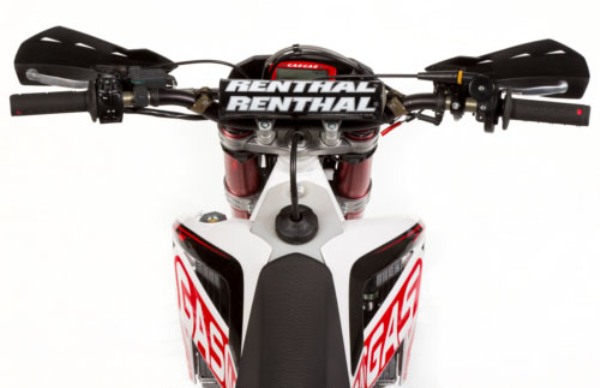 Gas Gas EC 250 (300) Factory Replica 2013: Technique
Engine: 249.3 Cm3 (299.3 Cm3), one-cylinder 2 times with liquid cooling, boring 66.4 mm X chase 72 mm (boring 72 mm X chases 72 mm), carburizing Keihin PKWS 38 mm, box 6 speeds, starting with the kick, transmission final by chain
Chassis: perimeter steel frame CR-MO, Marzocchi inverted closed diameter cartridge. 48 mm deb. 305 mm, rear monoshock Olhins TTX44 progressive system rods, deb. 298 mm front brakes 2 piston Nissin caliper 1 / Galfer wave disc diam. 260 mm – AR piston Nissin caliper 1 / Galfer Wave disc diam. 220 mm, front tires 90/90 x 21 – AR 140/80 x 18
Template: Length 2200 mm, width 830 mm, height 1260 mm, footing 1,475 mm, height of saddle 950 mm, tank 9.5 L., dry weight 102 kg (given manufacturer)