Harley-Davidson has just revealed its range for the year 2013. No innovation crashing to pieces for its 110 birthday, but two improved standard models and – especially – a newcomer in range CVO: Softail Breakout. Hard chrome look, driving XXL and neat details: Harley-Davidson Breakout 2013 is ultimate Softail for the amateur's hot rods with two wheels!
Newcomer for 2013 in the family CVO, Harley-Davidson Softail breakout again takes all the receipts of this prestigious line: an exclusive completion, a motorization of exception… and a rate with the endorsement!
To mark the 110th birthday of the brand, Softail Breakout receives enormous V-twin Scream in' Eagle 110 (1 803 Cm3) in its version with beams of balancing. The transmission Cruise Drive at 6 speeds and finale by belt is associated with a fluid clutch with Assist slip & offering Slipway of better feelings of shifting of speed, an increased longevity and an effort with the reduced lever. The Harley-Davidson CVO Breakout 2013 is equipped in series with a speed regulator electronic, ABS, starting without key and of the Harley-Davidson security system.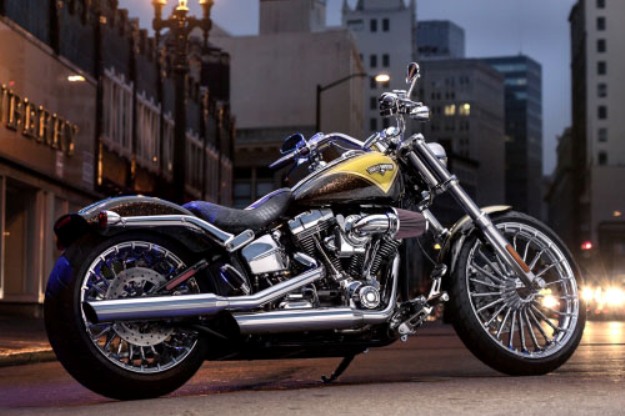 Aesthetically, Soft ail CVO Breakout is characterized by a back mudguard truncated to the extreme, rims aluminum Turbines with fine extra sticks (21 inches with before with tire of 130 mm, 18 inches in the back with tire of 240 mm), a surmounted broad fork of a mini nacelle of headlight, an aluminum oil tank injected, a saddle leather way alligator and a good chromium amount.
Available in three variants (Black Diamond/Molten Silver/Crushed Slate, Hardware Candy Gold Dust/Liquid Sun/Pagan Gold and Crimson Red Sunglow/Scarlet Laces/Hammered Sterling), the painting of Harley-Davidson Softail Breakout is on the usual level of the productions of the department Custom Vehicle Harley-Davidson Operation i.e. worthy of a large preparer.
Available soon in concession (be 2012), Harley-Davidson Softail CVO Breakout 2013 will be produced to only 1 900 specimen and will be proposed with a rate with the image of his scarcity: 29 000 €. Groups…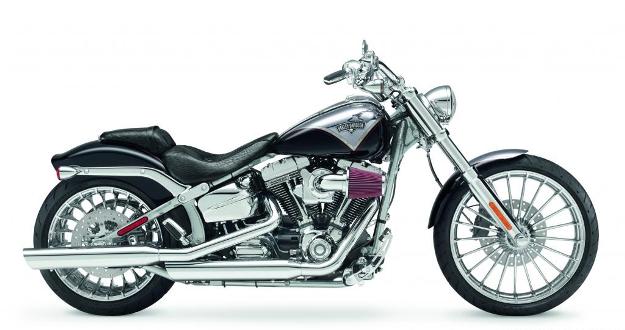 Harley-Davidson Softail CVO Breakout: Principal characteristics
V-Twin Scream in' Eagle Twin Cam 110B (1 803 cm2)
Assist clutch & Slipway (better feelings and less effort with the lever)
Three graphics (Black Diamond/Molten Silver/Crushed Slate, Hardware Candy Gold Dust/Liquid Sun/Pagan Gold and Crimson Red Sunglow/Scarlet Laces/Hammered Sterling) applied and polished with the hand
Saddles and thump momentary leather (black or maroon dark) with motif alligator
Rims Harnesses
Specific mudguards
Cast solid aluminum swords
Tire postpones of 240 mm.
Broad t-pieces of fork
Reserve of 19 liters
Production limited to 1 900 specimens
See all the photographs large size of Harley-Davidson CVO Breakout 2013