With twin under-seat tailpipes and a low superstructure, the Ducati 2019 Hypermotard 950 Naked Motorcycle has a striking look. The mechanics, remarkably the light, crucial rear Trellis sub-frame, are on full display. The Hypermotard 950 is 4 kg lighter than the previous generation, as well as being more cosmetically pleasing (the engine alone accounts for 1.5 kilograms). An all-new frame constructed of tubes of varied sizes, new wheels, aluminum-flanged brake disc and fork bodies, light-weight Marzocchi forks, and careful attention to detail allowed this to happen.
The new Ducati 2019 Hypermotard 950 Naked Motorcycle is powered by a 937 cm3 Testastretta 11° twin with greater power, more vital pulling force, and improved electronics for better control. When it comes to extreme on-track racing, twisting rural roads, and everyday city driving, this engine delivers 114 horsepower and 9.8 kg of torque at 9,000 revolutions per minute (rpm).
Ducati 2019 Hypermotard 950 Naked Motorcycle – Features
Design
Due to its lightness and clean lines, the new Ducati 2019 Hypermotard 950 Naked Motorcycle 3rd generation has strong ties to the supermotard racing scene. It results in a bike that extreme riders will simply love. The 14.5-liter tank and high seat (with a tiny mid-section) give the bike a competition motard look and feel.
Its aggressive stance is bolstered by the dual under-tail silencers, slimline superstructure, and iconic frontal view with its sharp "beak," including a headlight (with an outline that recalls an off-road race number holder). Adding a DRL to the front of the vehicle also gives it a more modern, technological aspect.
Ergonomics
Thanks to a thorough re-evaluation of the riding position, the rider now has total control over the vehicle and quick response regardless of the conditions. A narrower midsection and a 53 mm shorter inner leg curve on the new model were achieved by emphasizing the tapering of the rear sub-frame at the mainframe connection point. It allows riders to rest both feet firmly on the ground while retaining the same nominal seat height.
A flat and long seat with a slightly raised passenger zone is standard on the new Ducati 2019 Hypermotard 950 Naked Motorcycle. Because the SP version's flatness is more motard-style, it gives the rider more longitudinal flexibility. Handlebar tips have been widened by 7 degrees to enhance further the riding posture's dominance, all in the name of better control.
Testastretta 11° engine
The Hypermotard 950 series is powered by a sophisticated 937 cm3 Testastretta 11° two-cylinder engine. Repairs to the engine have resulted in a four-horsepower increase over the previous model (and a weight decrease of 1.5 kg). This engine can now rev as fast as 9000 times before losing power. Torque is at its highest at 7,250 rpm, but it pulls smoothly throughout the rev range. The Hypermotard 950 has a torque ratio of about 80% at 3,000 rpm and 88% between 5,000 and 9,000 rpm.
An updated exhaust cam profile, new pistons with a 13.3:1 compression ratio, and a new exhaust system with under-seat silencers all contribute to the enhanced performance of the new engine design. Using a redesigned 53 mm throttle body and an engine control unit with Ride-by-Wire throttle, the Testastretta 11° obtains its fuel. It benefits the Hypermotard 950 and the SP version to have a lighter clutch and alternator covers, a more lightweight gear shift drum, an aluminum (rather than steel) chain tensioner, and magnesium cam covers.
The self-servo wet slipper clutch may now be used with less on-lever effort thanks to the new hydraulic control system. With a displacement of 937 cubic centimeters, the Ducati 2019 Hypermotard 950 Naked Motorcycle Testastretta two-cylinder engine is potent in its class. There is a 30,000-kilometer interval between oil changes and Desmo Services.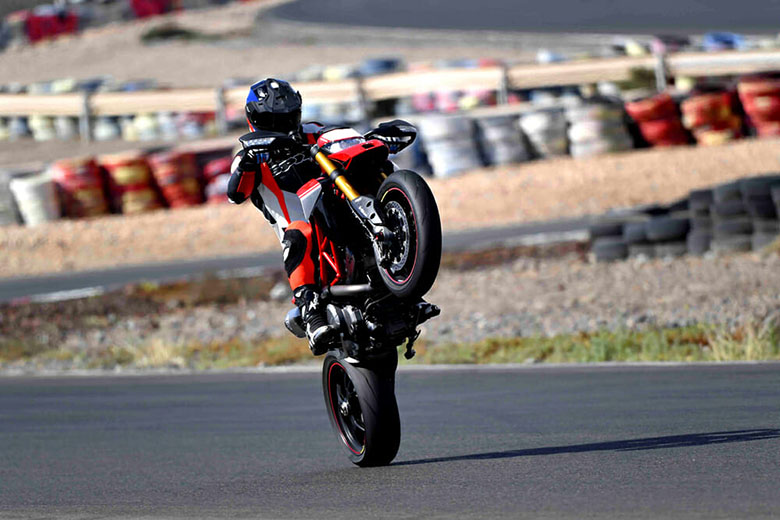 Frame
The Ducati 2019 Hypermotard 950 Naked Motorcycle has a new steel Trellis frame with tapered tubing, decreasing one kg weight. With a 25° rake, 104 mm of the trail, and a 30 mm offset, the bike's handling is solid and stable without surrendering its characteristic agility. The frame is connected to the original Hypermotard's rear sub-frame (tubular steel Trellis). When it comes to driving at high speeds, the 1,493 mm wheelbase (or 1,498 mm on the SP model) and 70° steering lock help, despite its sizeable 14.5-liter fuel tank, the Hypermotard 950 retains its curved design and basic functionality. The Hypermotard 950 has an aluminum swingarm with a single side.
Instrumentation
A 4.3-inch TFT display is part of the instrumentation on the Ducati 2019 Hypermotard 950 Naked Motorcycle. Because of the Panigale V4-inspired visuals and interface, menu navigation and setting modifications are simplified, and the selected Riding Mode is simpler to see. The Riding Mode interface shows any changes made to the settings immediately. It is accomplished using explanatory visuals and a grading scale to illustrate whether the difference is better suited for performance or safety/stability.
Headlight and indicators
The very light and minor headlight assembly have a Daytime Running Light (DRL) for improved vehicle visibility throughout the day. Instead of a traditional tail light, an LED strip may be used as a stoplight and a tail light. Handguards incorporate auto-off LED indicators to keep the Hypermotard 950's lines neat.
Controls
The compact electronic throttle on the Ducati 2019 Hypermotard 950 Naked Motorcycle's Ride-by-Wire system matches the switchgear design. Brake and clutch levers can be changed concerning the handlebar. Passengers' footpegs can be taken out. The passenger grip-strap may be tucked away when the seat is not used to keep it out of sight. A USB port is mounted under the seat of the Hypermotard 950.
Suspension
Wheel travel on the Ducati 2019 Hypermotard 950 Naked Motorcycle is about 170 mm that is provided by new, fully adjustable 45 mm Marzocchi forks with aluminum fork bodies/tubes. The new device weighs half as much as the previous one. The 950 is equipped with a rear Sachs shock with a 150 mm wheel travel that can be adjusted. There are no fixed shocks on this bike; instead, the front fork and rear shock have fully adjustable Ohlins forks with 185mm of travel each. The rear shock has 175mm of travel.
Brakes
To regulate the front brakes, a radial brake pump with a 5-position adjustable lever uses Brembo M4.32 4-piston radial monobloc calipers. Brembo calipers hold the 245mm rear disc, kept by a single 320mm Brembo caliper on the front wheels. Excellent braking performance, a hallmark of Ducati 2019 Hypermotard 950 Naked Motorcycle for decades, is only possible with top-of-the-line components.
Wheels and tires
The Ducati 2019 Hypermotard 950 Naked Motorcycle's aluminum wheels include three Y-spokes. The cross-section of the front wheel is 3.5 inches, while the cross-section of the back wheel is 5.5 inches. The bike rides on Pirelli Diablo Rosso III tires, with fronts measuring 120/70 ZR17 and rears measuring 180/55/55 ZR17. The overall weight of these wheels has been lowered by 800 grams compared to the previous model. For the Hypermotard 950 SP, Marchesini used lightweight forged wheels with three-Y-spokes with an overall cross-section of 3.5″ in the front and 5.5″ in the back. The SP is outfitted with Pirelli Diablo Supercorsa SP tires, with 120/70 ZR7 up front and 180/55 ZR177 on the rear.
Ducati 2019 Hypermotard 950 Naked Motorcycle – Technical Specifications
Engine and transmission
Displacement
937 ccm (57.18 cubic inches)
Engine type
V2, four-stroke
Engine details
L-twin
Power
112.7 HP (82.2 kW) at 9000 RPM
Torque
96 Nm (9.8 kgf-m or 70.8 ft.lbs) at 7250 RPM
Compression
13.3:1
Bore x stroke
94 mm x 67.5 mm (3.7 inches x 2.7 inches)
Valves per cylinder
4
Fuel system
Injection. Magneti Marelli
Fuel control
Desmodromic valve control
Cooling system
Liquid
Gearbox
6-speed
Transmission type,
final drive
Chain
Clutch
Slipper and self-servo wet multi-plate, hydraulic
Emission details
Euro 4
Exhaust system
Single stainless steel muffler, including the catalytic converter and two lambda probes.

Chassis, suspension, brakes, and wheels
| | |
| --- | --- |
| Frame type | Steel tube trellis frame |
| Rake (fork angle) | 25-degree |
| Trail | 104 mm (4.1 inches) |
| Front suspension | Marzocchi aluminum full adjustable, upside down 45mm |
| Front-wheel travel | 170 mm (6.7 inches) |
| Rear suspension | Progressive linkage with fully adjustable monoshock. Aluminum single-sided swingarm |
| Rear-wheel travel | 150 mm (5.9 inches) |
| Front tire | 120/70-17 |
| Rear tire | 180/55-17 |
| Front brakes | Double disc. ABS. Floating discs. Four-piston calipers. |
| Diameter | 320 mm (12.6 inches) |
| Rear brakes | Single disc. ABS. Two-piston calipers. |
| Diameter | 245 mm (9.6 inches) |
| Wheels | 10-spoke in light-alloy |
| Seat | Dual seat |

Physical measures and capacities
| | |
| --- | --- |
| Dry weight | 178 kg (392.4 pounds) |
| Weight incl. oil, gas, etc | 200 kg (440.9 pounds) |
| Power/weight ratio | 0.6329 HP/kg |
| Seat height | 870 mm (34.3 inches) |
| Overall length | 2100 mm (82.7 inches) |
| Wheelbase | 1493 mm (58.8 inches) |
| Fuel capacity | 14.50 liters (3.83 US gallons) |
Other specifications
| | |
| --- | --- |
| Color options | Ducati Red |
| Starter | Electric |
| Instruments | Digital |
| Factory warranty | Two years unlimited mileage |

Conclusion
The new Ducati 2019 Hypermotard 950 Naked Motorcycle is an impressive naked motorcycle with plenty of excellent features. The motorcycle comes with a powerful engine that is characterized by its instant throttle response. Its attractive chassis is very charming, and its comfortable seat design ensures maximum riding pleasure and movement to tackle different situations.