The Aprilia brand always stays ahead of its competitors in terms of quality and high performing bikes. The Aprilia 2018 RSV4 RR Sports Bike is another impressive example of the fastest bikes offering more fabulous performing and stronger agility.
The prime objective behind the Aprilia RSV4 RR to become the fastest superbike in the segment. To achieve this goal, the Aprilia team has drawn the latest technology from Aprilia Racing technology. It has exceptional engine performance, electronics, suspension, and brakes. The review of Aprilia 2018 RSV4 RR Sports Bike with its specifications and features, are given below.
Aprilia 2018 RSV4 RR Sports Bike – Features
Electronics
The Aprilia 2018 RSV4 RR Sports Bike comes with the latest and perfect technology that makes it one of the best super sports bike in the world. The new APRC (Aprilia Performance Ride Control) is the well-known dynamic control suite, which is derived directly from the world's best winning technology in the world. This progress was possible due to the repositioning of the inertial platform that monitors the operation, plus it improves accurate detection of the dynamic conditions of the bike.
The fourth evolution of the Aprilia APRC fits in perfectly with the excellent electronic management of the full ride-by-wire throttle. This system allows providing the superfluous throttle body electronic management components to be removed from the bike, which saves 500 grams. The APRC comes as standard equipment on the Aprilia 2018 RSV4 RR Sports Bike which includes the following controls;
ATC: Aprilia Traction Control
AWC: Aprilia Wheelie Control
ALC: Aprilia Launch Control
AQS: Aprilia Quick Shift
APL: Aprilia Pit Limiter
ACC: Aprilia Cruise Control
Alongside the fourth generation APRC system, an advanced multi-map cornering ABS has been developed in collaboration with Bosch to ensure road safety and ultimate performance. The 9.1 MP system, can optimize the braking and ABS intervention in corners due to the specific algorithm that continually monitors various parameters like lateral acceleration and braking pressure. The ABS works in union with the Aprilia RLM (Rear Liftup Mitigation) system. This system helps in limiting the lift of rear-wheel during sudden brake.
The cornering ABS is finely tuned with the specific indications of Aprilia, and it is adjustable in 3 levels of sensibility plus it can be switched off. These three Cornering ABS maps can work in with any of the three engine maps, i.e., Sports, Track and Race. It allows the riders having different experience and skill levels to find the best possible combination that suits their style.
The latest color TFT instrumentation is the true digital computer having exceptional features. The latest V4-MP allows the rider to connect his smartphone to the vehicle with the help of Bluetooth. The corner by corner electronic settings calibration system can be downloaded to the laptop for analysis.
Performance
The latest Italian technology makes this Aprilia sports bike world's first full-scale production bike having the high performance small V4 engine. The engine is extremely compact in size and low in weight and gives impressive performance due to latest electronics like in 2018 Aprilia RSV4 RF Sports Bike. The changes have been made in this Italian V4 which results in an increase of overall reliability and performance with compromising the power (201 HP at 13,000) and torque (115 Nm at 10,500 RPM).
The exhaust system features the silencer that has the double oxygen sensor plus has a built-in valve with the engine ECU features the high calculating capacity. The engine of Aprilia 2018 RSV4 RR Sports Bike has a more upper extension capacity which was a reason behind the removal of variable timing intake ducts. It has removed the overall weight of the fuel system due to up to 500 grams.
Chassis
The Aprilia is well-known for its attractive and robust frame, which makes it famous in the world of chassis manufacturer. The Aprilia 2018 RSV4 RR Sports Bike is the only superbike that allows the rider to adjust the engine position in the frame. The RF version of the bike features the sophisticated suspension which offers the fine adjustments both in hydraulics and spring preload, and it is about 800 grams lighter than the previous versions. It features an adjustable steering damper which is supplied by Ohlins.
The Brembo braking system contains the pairs of new 5 mm thick steel discs with a diameter of 330 mm. It is attached with the Monobloc M50 calipers fitted with the high friction coefficient brake pads.
Versions and Colors
The 2018 Aprilia RSV4RR represents the top shelf technical platform that incorporates all the electronic, engine and braking innovations introduced on 2018 Aprilia RSV4 RF. This Aprilia RSV4 RR is available in two attractive color scheme both matte on the black and grey base with red wheel rims. The Aprilia RSV4 RF is an exclusive version that comes as standard with the latest generation Ohlins suspension system and lightweight aluminum forged rims.
Accessories
The Aprilia 2018 RSV4 RR Sports Bike comes with a wide range of accessories that features high-quality equipment. The wide range of accessories are also available for this superbike;
Slip-on racing exhaust
Complete racing exhaust
Öhlins TTX shock absorbers
Öhlins steering damper
Öhlins NIX Fork
Components in carbon
Mirror plugs
License plate bracket cover
Frame guards
The inverted racing gear lever
Forged rims
Aluminum racing levers
Tank bag
The adjustable license plate bracket
Motorcycle cover
V4-MP kit
Aprilia 2018 RSV4 RR Sports Bike – Technical Specifications
Engine
| | |
| --- | --- |
| Type | Aprilia longitudinal 65° V-4 cylinder, 4-stroke, liquid cooling system, double overhead camshafts (DOHC), four valves per cylinder |
| Fuel | Unleaded petrol |
| Bore and stroke | 78 x 52.3 mm |
| Total engine capacity | 999.6 cc |
| Compression ratio | 13.6:1 |
| Maximum power at crankshaft | 201 HP (148 kW) at 13,000 rpm |
| Maximum torque at the crankshaft | 115 Nm at 10,500 rpm |
| Fuel system | Airbox with front dynamic air intakes. 4 Marelli 48-mm throttle bodies with eight injectors and latest generation Ride-By-Wire engine management. Three different engine maps selectable by the rider with bike in motion: T (Track), S (Sport), R (Race). |
| Ignition | Magneti Marelli digital electronic ignition system integrated with an engine control system, with one spark plug per cylinder and "stick-coil"-type coils |
| Starter | Electric |
| Exhaust | Four into two into one layout, two oxygen sensors, single lateral silencer with ECU-controlled bypass valve and integrated trivalent catalytic converter (Euro 4) |
| Alternator | Flywheel mounted 450 W alternator including rare earth magnets |
| Lubrication | Wet sump lubrication system with oil radiator and two oil pumps (lubrication and cooling) |
Check out the latest engine accessories of Aprilia 2018 RSV4 RR Sports Bike.
| | |
| --- | --- |
| Buy Now | Buy Now |
| Buy Now | Buy Now |

Transmission
Gearbox
6-speed
1st: 39/15 (2.600)
2nd: 33/16 (2.063)
3rd: 34/20 (1.700)
4th: 31/21 (1.476)
5th: 31/23 (1.348)
6th: 34/27 (1.259)
Clutch
The multi-plate wet grip including mechanical slipper system
Primary drive
Straight cut gears and integrated, flexible coupling, drive ratio: 73/44 (1,659)
Secondary drive
Chain: Drive ratio: 41/16 (2.562)
Traction management
All new APRC System (Aprilia Performance Ride Control) including Traction Control (ATC), Launch Control (ALC), cruise control (ACC), Wheelie Control (AWC), and speed limiter (APT), all of which can be configured and deactivated independently.
Chassis
Frame
Aluminum dual beam chassis with pressed and cast sheet elements
Front suspension
Sachs Fork with 43 mmÆ stanchions. Forged billet aluminum radial caliper mountings. Adjustable spring preload & hydraulic compression and rebound damping. Wheel travel: 120 mm
Rear suspension
Double braced aluminum swingarm; low mixed thickness and sheet casting technology. Sachs mono-shock adjustable in hydraulics in compression and rebound, spring preload [Öhlins TTX mono-shock with piggy-back, fully adjustable in spring preload, wheelbase, and hydraulic compression and rebound damping. New progressive linkage. 130 mm wheel travel.
Brakes
Bosch 9.1 MP ABS with cornering function, adjustable to 3 maps equipped with RLM (Rear wheel Lift-up Mitigation) (can be disabled).
Front: Dual 330-mm diameter floating stainless steel disc with lightweight stainless steel rotor and aluminum flange with six pins. Brembo M50 monobloc radial calipers incluidng 4Æ 30 mm opposing pistons. Sintered pads. Radial pump and metal braided brake hose
Rear: 220 mm diameter disc; Brembo caliper with two 32 mm separate pistons Æ32 mm. Sintered pads. Pump including integrated tank and metal braided hose
Wheel rims
Aprilia aluminum alloy rims with three split spokes
Front : 3.5″X17″
Rear : 6″X17″
Tires
Radial tubeless.
Front : 120/70 ZR 17
Rear : 200/55 ZR 17 (alternative: 190/50 ZR 17; 190/55 ZR 17)
People also like to see different accessories related to chassis of Aprilia 2018 RSV4 RR Sports Bike.
| | |
| --- | --- |
| Buy Now | Buy Now |
| Buy Now | Buy Now |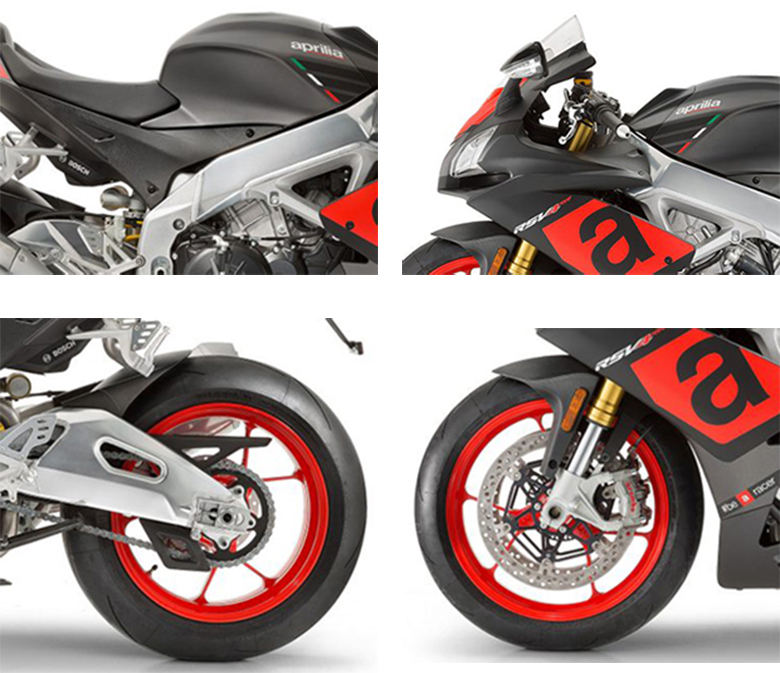 Dimensions
| | |
| --- | --- |
| Wheelbase | 1435 mm |
| Length | 2055 mm |
| Width | 735 mm |
| Saddle height | 845 mm |
| Headstock angle | 25° |
| Trail | 104.8 mm |
| Weight | 204 kg |
It is good to wear safety gears during ride.
| | |
| --- | --- |
| Buy Now | Buy Now |
| Buy Now | Buy Now |
Other
| | |
| --- | --- |
| Consumption | 6,67 litres/100 km |
| CO2 emissions | 156 g/km |
| Tank | 18.5 liters (including 4-liter reserve) |
Conclusion
This review article provides the full review of Aprilia 2018 RSV4 RR Sports Bike, and it is covered under Bikes Catalog. This sports bike features the high performing engine and an attractive chassis. Its perfect ergonomics enhance its overall appearance. The latest generation of electronics makes the bike one of the best and high performing in terms of efficiency and agility. The suspension and braking system makes this bike one of the best in the world of sports bike.