Presented in its final version on the next Eicma living room of Milan, Adiva AD3 300 2013 is officially confirmed in France for the month of December 2012. Imported by the new company 1Pulsion, the scooter having three wheels with folding roof do not miss arguments.
It is confirmed today by a press release that the scooter three wheels with folding roof Adiva AD3 300 (to be seen here in action!) will be presented in its final version to the next living room of Milan, which will  held from November 13th to next November 18th.
Still better, this official information radiating its new French distributor, the company 1Pulsion (directed by former President d' Euro motor, Olivier Parading), informs us the marketing of the new three-wheeler scooter accessible to the motorists is planned for the end of the month of December 2012.
The tripod convertible of the manufacturer italic-Japanese (the head office is in Saitama in Japan, the office of research at Exnuovo in Italy) will be initially launched to Asia by November, not far from its production sites.
Adiva AD3 300 2013 will be propelled by one-cylinder of 298.9 Cm3, 4T and 4 valves, developing the power of 29, 5 ch with 8,500 tr/min. Unlike the current scooters with three wheels of the market, its nose gear rests on a system of horizontal members connected to an adjustable mono-shock absorber in compression. In addition to these technical specification and the comfort offered by its broad windshield (with windscreen wiper) or its roof which can line up in its trunk, this tripod convertible does not miss practical aspects.
It is indeed equipped with a system of extractors of hot air (in option), of limp of arrangements, a trunk for two crash helmets and a saddle placed at only 720 mm of the ground. We yet do not have any information concerning its selling price, but the precise details in this field should follow soon. Remain connected!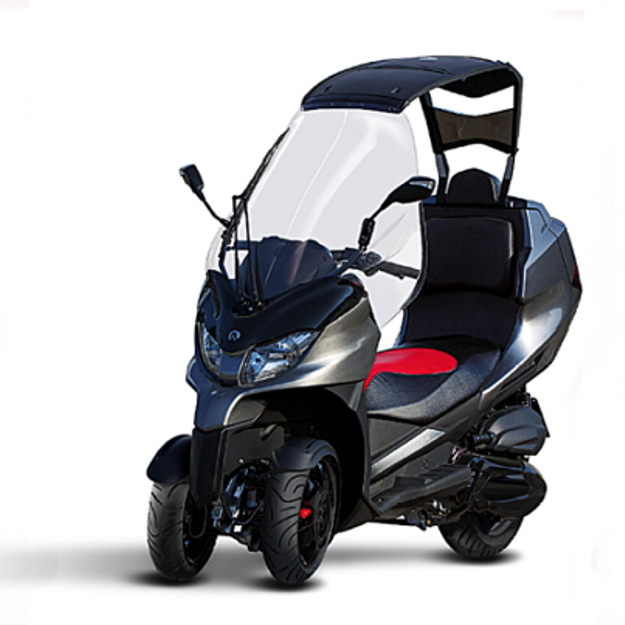 Adiva AD3 300 2013 Features:
One-cylinder engine of 298.9 Cm3, 4T and 4S
Power 29.5 CH with 8500 tr/min
Liquid cooling
Food by electronic injection
Electric starting
Tally tubular out of steel
AR: 2 adjustable shock absorbers
Brake AV: 2 discs of 220 mm diam. / stirrup doubles piston
 Brake AR: 1 disc of 240 mm dam/clamp simple piston
 Tire AV 130/70 X 13
Tire AR 150/70 X 13
Footing 1,550 mm
Height of saddle: 720 mm
Tank: 13 liters
Available in blue, black or gray