It is fully loaded with classic American style as an homage to our past. It is easy to recognize the new 2022 Indian Roadmaster Cruisers as an Indian motorcycle thanks to its traditional styled fairing and balance fenders.
2022 Indian Roadmaster Cruisers – Features and Specs
Exceptional Wind Protection
You won't feel the wind until you're down, thanks to the fork-mounted fairing, adjustable vents below, and push-button power windshield.
Ultimate Comfort
Heated grips, floorboards to rest your feet on, and heated seats. It has every conceivable luxury in the cockpit.
Thunderstroke V-Twin
You've got plenty of power thanks to the class-leading air-cooled Thunderstroke engine, which roars through the curves.
Tech-Powered Touring
A 7-inch touchscreen controlled by Ride Command is paired with cruise control, built-in audio, keyless ignition, and even more ride-enhancing technology.
Bottomless Storage
The saddlebags and trunk provide more than 36 gallons of waterproof, remote-locking storage.
Personalized Style
Whether you go with all chrome or all-black finishes, you won't blend in with the crowd.
The 2022 model year selection of Indian Motorcycles, the country's first bike manufacturer, includes advanced technology and additional accessories for its bagger, cruiser, and touring models. In addition, every model line-up of the 2022 Indian Motorcycle series is back in new colors.
2022 Updated Technology
Ride Command
Indian Motorcycle is executing a new speed limit overlay function to enhance the riding experience. Riders can now speedily see the current posted speed limit while navigating to a location thanks to an all-new Ride Command function on the Ride Command Map screen or Navigation Split Screens. All bikes are equipped with the latest Ride Command in 2022 that give associated services that come standard with the added ability, while 2020 and 2021 vehicles can get it with a software update.
Made For The Self-Made
An expertly built, powerful, and well-balanced touring bike, the Indian Motorcycle Roadmaster comes with the most comprehensive selection of touring amenities that Indian Motorcycle has to offer.
Touchscreen Powered by Ride Command
The elegant 7-inch touchscreen powered by RIDE COMMAND offers Bluetooth® connectivity, Apple CarPlay integration, turn-by-turn navigation, and more.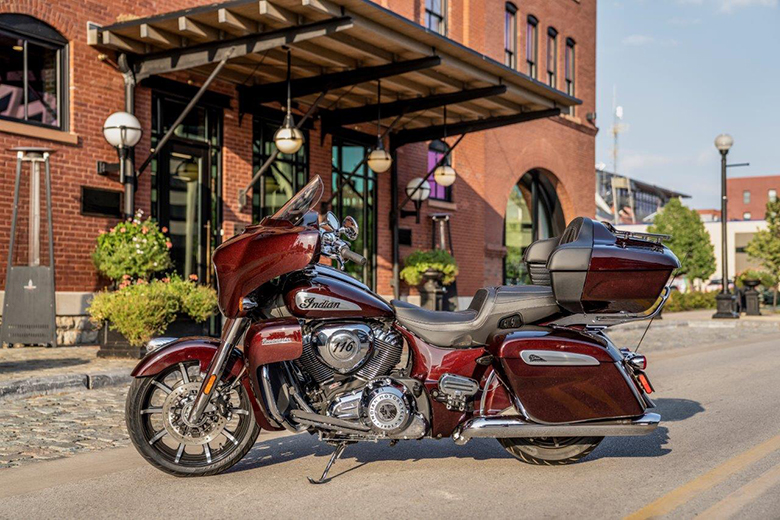 Thunderstroke 116 V-Twin Engine
The 171 Nm of torque produced by the air-cooled Thunderstroke 116 engine offers outstanding power at low RPMs and a comfortable ride at any speed.
Comfort For Miles
You can be sure of a comfortable ride with heated grips, a comfortable 2-up seat, and individual heat controls for driver and passenger. Riders can customize the airflow using the adjustable vents of the rigid lower fairing for maximum comfort.
A Higher Standard
LED illumination, keyless entry, cruise control, ABS, and tire pressure monitoring are examples of advanced ride comforts.
Ride the Long Haul in Comfort & Style
Even if the journey is long, there is no need to feel that way. The Roadmaster is configured to get you there in style and comfort, no matter how far you go.
137 Litres of Cargo Space
A remote-locking saddlebag, a trunk, and easy-access bottom storage provide waterproof storage to keep your cargo safe from the elements.
Premium Audio
There are potent speakers in the fairing and trunk that produce 200 watts of crystal clear sound. Additionally, it has a dynamic equalizer that automatically corrects for outside sounds like wind and engines.
Push-Button Power Windshield
Height adjustment is easy thanks to the power windscreen with a push button. You can lift it for a casual stroll or keep it low for air on your face.
Ride in Comfort, Your Way
Choose from three riding modes: Tour, Standard, and Sport, for an experience that suits your riding style. For better comfort in slow-moving traffic, rear cylinder deactivation automatically shuts off the rear cylinder when the bike is stopped.
2022 Indian Roadmaster Cruisers – Price
The new 2022 Indian Roadmaster Cruisers is available at $29,999 – $31,499 only.
2022 Indian Roadmaster Cruisers – Technical Specifications
Engine & Drivetrain
| | |
| --- | --- |
| Bore x Stroke | 4.063″ x 4.449″ (103.2mm x113mm) |
| Compression Ratio | 11:1 |
| Displacement | 116 cu in (1,890 ccs) |
| Drive/Driven Clutch | Wet, Multi-Plate, Assist |
| Electronic Fuel Injection System | Closed loop fuel injection / 54 mm bore |
| Engine Type | Air-cooled Thunderstroke 116 |
| Exhaust | Split Dual Exhaust w/ Cross-over |
| Gear Ratio (1st) | 9.403: 1 |
| Gear Ratio (2nd) | 6.411: 1 |
| Gear Ratio (3rd) | 4.763: 1 |
| Gear Ratio (4th) | 3.796: 1 |
| Gear Ratio (5th) | 3.243: 1 |
| Gear Ratio (6th) | 2.789: 1 |
| Peak Torque | 126 ft-lbs |
| Peak Torque RPM | 2,900 RPM |
| Transmission/Final Drive | 2.2: 1 |
| Transmission/Primary Drive | Gear Drive Wet Clutch |
Dimensions
| | |
| --- | --- |
| Fuel Capacity | 5.5 gal (20.8 L) |
| Ground Clearance | 5.5 in (140 mm) |
| GVWR | 1,385 lb (628 kg) |
| Lean Angle | 31° |
| Overall Height | 55.7 in / 1415 mm |
| Overall Length | 104.6 in (2,656 mm) |
| Overall Width | 40.2 in (1,022 mm) |
| Rake/Trail | 25° / 5.9 in (150 mm) |
| Seat Height | 26.5 in (673 mm) |
| Weight (Empty Tank / Full of Fuel) | 877 lb (398 kg) / 909 lb (412 kg) |
| Wheelbase | 65.7 inches (1668mm) |
Brakes
| | |
| --- | --- |
| Front Brakes | Dual, 300mm Floating Rotor, 4 Piston Caliper |
| Rear Brakes | Single, 300mm Floating Rotor, 2 Piston Caliper |
Tires / Wheels
| | |
| --- | --- |
| Front Tires | Metzeler Cruisetec 130/80B17 65H |
| Front Wheel | Highlight Machine Tour 17-inch x 3.5-inch |
| Rear Tires | All-new Metzeler Cruisetec 180/60R16 80H |
| Rear Wheel | Highlight Machine Tour 16-inch x 5-inch |

Suspension
| | |
| --- | --- |
| Front Fork Tube Diameter | 46mm |
| Front Suspension | Telescopic Fork |
| Front Travel | 4.7 inches (119mm) |
| Rear Suspension | Single Shock with Air adjust |
| Rear Travel | 4.5 inches (114mm) |
Features
| | |
| --- | --- |
| Color/graphics | Black Metallic, Maroon Metallic over Crimson Metallic |
| Factory Warranty | For two years, Unlimited-Mile |
| Gauges | Fairing-mounted instrument cluster containing analog speedometer and tachometer including fuel gauge, range, odometer, and current gear. Cruise control enabled, 15 LED telltale indicators; cruise control set, high beam, neutral, turn signal, ABS, low tire pressure, check engine, battery, low fuel, security system, low engine oil pressure and MPH or km/h unit designation. |
| Infotainment | Seven inches of touchscreen powered by RIDE COMMAND: The model year 2022 bikes include a complimentary 1-year trial for connected contains from the vehicle sales date. Seven-in touchscreen display with a real-time clock; ambient air temperature; heading; audio information display; map/navigation with real-time traffic & weather; Bluetooth status for phone and headset; vehicle status; vehicle info; current ride data; trip meters; vehicle trouble code readout; ride mode selection; screen brightness; Apple CarPlay integration. |
| Lights | Driving, LED Headlamp, Tail, Brake & Turn Signal |
| Standard Equipment | 7 inches of Display powered by Ride Command with Navigation and Apple CarPlay integration; Power Windshield; Driving Lights; Highway Bars; Vinyl Seats; Heated Grips; 36.2 Gallons of Storage; Tire Pressure Monitoring; Adjustable Passenger Floorboards; Remote-locking Hard Saddlebags & Trunk; Selectable Ride Modes; Keyless Ignition; Rear Cylinder Deactivation; Cruise Control; ABS; 200 Watt Audio System with AM/FM, Bluetooth, USB, Smartphone Compatible Input, and Weatherband; 12V Charging Port |