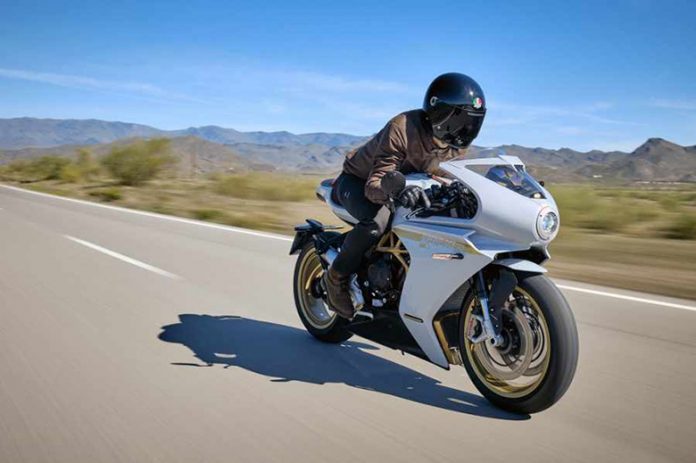 The new 2021 Superveloce S MV Agusta Sports Motorcycle goes to great lengths to provide maximum quality control. Designed to cut through the wind, the new white livery is a fitting tribute to its classic lines. These wheels have all the economy and lightness of a contemporary spin with the look and feel of a spoked wheel.
Adding a touch of ultimate class to an already stunning bike, the brown Alcantara seat completes the look. The Racing package for the Superveloce S contains a single-seat tail fairing with a brown Alcantara pad, an Arrow triple-exit exhaust, and an ECU with a specialized setting for this particular use.
When it comes to the new MV Superveloce S, nothing is spared in pursuing perfection. Designed in a wind tunnel, these new Surreal White exteriors bring out the car's classic lines. With the economy and weight of a contemporary wheel, spoke wheels are an exquisite homage to past motorcycles.
Our experts were looking at ways to make the straight-three engine more efficient. As a result of the counter-rotating crankshaft technology, the engine's core remains unchanged. It is the industry's most potent straight threes on the market, with a maximum power rating of 147 PS.
As one of the unique models in MV's long history, it is destined to become an icon.
Everything about the new MV Superveloce S has been meticulously thought out. The wind tunnel-designed lines are highlighted in a stunning new Surreal White finish. With the economy and weight of a contemporary wheel, spoke wheels are an exquisite homage to past motorcycles.
The headlights include a two-function, complete LED poly-ellipsoidal element, while the taillights utilize LED technology. LED daylight running lights are integrated into the instrument cluster's casing.
Right in front of your eyes is the technological future. The new 5.5″ TFT dashboard on the Superveloce interfaces with the MVRide app, allowing you to personalize every vehicle element from your smartphone.
Saddle height, new padding, and handlebars were all sourced from an F3 supersport bike to achieve the best possible balance between comfort and efficiency while riding. The riding posture may be customized thanks to the removable and repositionable footrests.
2021 Superveloce S MV Agusta Sports Motorcycle – Features
Mechanical and Electronic Revolution
The 2021 Superveloce S MV Agusta Sports Motorcycle is a trendsetter and an instant classic. Authentic modern-classic style and a contemporary heart and structure are found in this piece.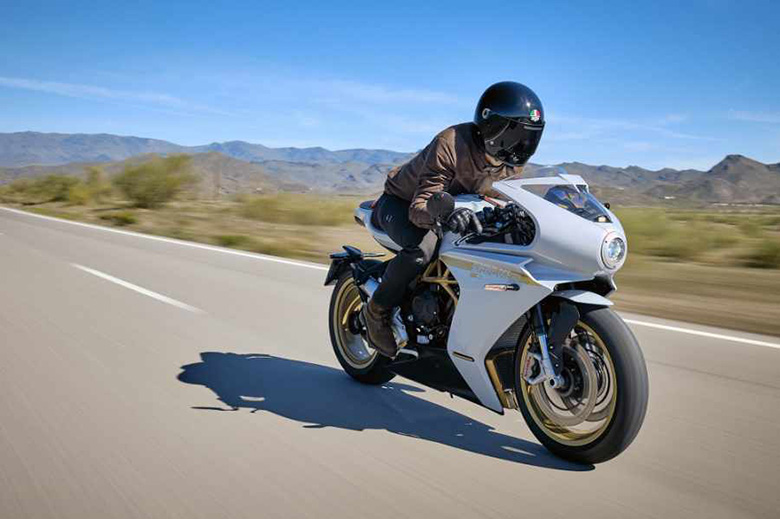 For the MV Agusta brand and the post-heritage motorcycle industry, the Superveloce is the sole racing classic available for purchase. As always, this bike is a one-of-kind creation from MV Agusta. In 2021, the Superveloce line will have several new features, including revised content and a technical change for a more enjoyable ride. MV Agusta worked on the chassis, engine, transmission, and electronics of the Superveloce to accomplish this.
Chassis: In Pursuit of Perfection
All MV Agusta motorcycles are now renowned for their chassis quality. Even at the pinnacle of achievement, one must strive to improve one's skills and abilities. To improve torsional and longitudinal rigidity, the chassis plates on all Superveloce MY21 models have been modified.
Even More Advanced Engine
Engines with three cylinders have been under constant development for a long time. With its distinctive counter-rotating crankshaft, the underlying technology has not been altered (unique for this displacement).
MV Agusta's three-cylinder engine, which produces 147 horsepower (108 kW) at 13,000 rpm, is still among the most powerful.
As a result of the MV Agusta engineers' meticulous work on the 2021 version – Euro 5 compliant, of course – the new tappets and new titanium valve guides have been treated with DLC to reduce internal friction further. Redesigning the exhaust system from the manifold to the silencer allowed for improved control and even more generous torque and power curves at all engine speeds. It is the first time that the injectors have been updated to oversee an injection pressure is increased by 0.5 bar. The ECU firmware, management logic, and engine control algorithms were modified, allowing for even more accurate and refined throttle management. Twin-flow oil radiator improves cooling efficiency by more than 5%.
Quicker and More Precise Shifting
With a more durable clutch basket and improved clutch control, the bike runs smoother and quieter. The third iteration of the EAS 3.0 bidirectional Quick-Shift has smoother shifting.
Electronics: Complete Than Ever
A crucial step forward in new Superveloce models' electronics has been made possible by e-Italian-designed Novia's IMU inertial platform, which was created for MV Agusta as part of the company's IMU inertial platform project. With this device, you can regulate every aspect of your bike's operation depending on its lean angle.
Superveloce S – Superveloce
In addition to the cornering function of the ABS, which Continental designed specifically for MV Agusta, the TC traction control kicks in more accurately depending on the bike's angle of attack. Front lift control (FLC) may now be regulated by the IMU, completely forbidding it. An additional feature, Launch Control, intervenes both on engine speed and torque. Your sights are on the future of technology.
The 5.5″ TFT dashboard, which interfaces with the MV Ride App, is standard on all Superveloce versions. A smartphone app may be used to customize the bike's features and share rides with friends and family. Turn-by-turn navigation and route recording and sharing are possible with the mirroring part—a new joystick on the handlebar controls accessing the dashboard menus.
2021 Superveloce S MV Agusta Sports Motorcycle – Technical Specifications
Engine
| | |
| --- | --- |
| Type | Three-cylinder, 12 valves, four strokes |
| Timing system | "D.O.H.C" including a mechanical chain tensioner and DLC tappet |
| Total displacement | 798 cm3 (48.7 cubic inches) |
| Compression ratio | 13.3:1 |
| Starting | Electric |
| Bore x stroke ratios | 79mm x 54.3mm (3.1 inches x 2.1 inches) |
| Maximum power – RPM (at the crankshaft) | 108 kW (147 hp) at 13,000 RPM |
| Max. torque – RPM | 88Nm (8.98kgm) at 10,100 RPM |
| Cooling system | Cooling including separated liquid & oil radiators |
| Electronic quick shift | MV EAS 3 (Electronically Assisted Shift Up and Down) |
| Clutch | Wet, multi-disc slipper clutch |
| Transmission | Cassette style; 6-speed, constant mesh |
| Primary drive | 22/41 |
| Final drive ratio | 17/43 |

Electrical Equipment
| | |
| --- | --- |
| Voltage | 12 V |
| Alternator | 350 W at 5.000 RPM |
| Battery | 12 V – 8.6 Ah |
Dimensions and Weight
| | |
| --- | --- |
| Wheelbase | 1.380 mm (54.33 in.) |
| Overall length | 2.015 mm (79.92 in.) |
| Overall width | 760 mm (28.74 in.) |
| Saddle height | 830 mm (32.68 in.) |
| Min. ground clearance | 120 mm (4.72 in.) |
| Trail | 99 mm (3.89 in.) |
| Dry weight | 173 kg (381.4 lbs.) |
| Fuel tank capacity | 16.5 liters |
Performance
| | |
| --- | --- |
| Maximum speed | 240 km/h (149.1 mph) |
Frame
| | |
| --- | --- |
| Type | All-new ALS Steel tubular trellis |
| Rear swing arm pivot plates material | Aluminum alloy |
Front Suspension
Type
All-new Marzocchi "UPSIDE DOWN" telescopic hydraulic fork with rebound-compression
damping and spring preload external and separate adjustment
Fork dia.
43 mm (1.69 inches)
Fork travel
125 mm (4.92 inches)
Rear Suspension
Type
Progressive Sachs, single shock absorber having rebound & compression damping and
spring preload adjustment
Single-sided swing arm material
Aluminum alloy
Wheel travel
130 mm (5.12 in.)
Brakes
| | |
| --- | --- |
| Front brake | Double floating disc with 320 mm (12.6 in.) diameter, with steel braking disc and flange |
| Front brake caliper | Brembo radial-type monobloc, with four pistons Ø 34 mm (Ø 1.34 in.) |
| Rear brake | Single steel disc with 220 mm (8.66 inches) dia. |
| Rear brake caliper | Brembo with 2 pistons – 34 mm (1.34 inches) |
| ABS | Continental MK100 with RLM (Rear Wheel Lift-up Mitigation) and with cornering function |
Wheels
| | |
| --- | --- |
| Front: Material/size | Alloy spoke wheel 3.50" x 17" |
| Rear: Material/size | Alloy spoke wheel 5.50" x 17" |
Tires
| | |
| --- | --- |
| Front | 120/70 – ZR 17 M/C (58 W) Pirelli Diablo Rosso Corsa II |
| Rear | 180/55 – ZR 17 M/C (73 W) Pirelli Diablo Rosso Corsa II |
Fairing
Emission Standards
| | |
| --- | --- |
| Environmental Standard | Euro 5 |
| Combined fuel consumption | 6.1 l/100 km |
| CO2 Emissions | 139 g/km |