The purest form of a sports bike. It's been pared down to the basics. Extremely sporty, agile, quick, and appropriate for an A2 driver's license. Moto3 genes are evident in every move, whether on rural roads or the racetrack, transmitting a genuine racing sensation. The handling is outstanding. The performance was excellent. The power is awe-inspiring.
2020 KTM RC390 Super Sports Bike – Features and Price
Engine & Exhaust
KTM's development strength is shown again by the RC 390's state-of-the-art single-cylinder engine with dual overhead camshafts. With its snappy torque, tame the streets, and race the bends with its smooth yet powerful power.
Engine
The KTM RC 390 engine not only produces plenty of power and quick acceleration but also has excellent road manners and fuel efficiency. With 32 kW (44 hp), this lightweight, compact engine packs a punch and is the sportiest choice for A2 riders. The 2020 KTM RC390 Super Sports Bike is ready to leave the rest of the city traffic behind with the flick of a wrist, thanks to its clever intake design and precise fuel injection system.
Exhaust
The three-chamber silencer is small and located near the bike's overall center of gravity. It keeps the motorbike balanced and straightforward to navigate through the city's narrow and winding streets.
Chassis
The RC 390's orange-painted frame was designed to be one of the best-performing chassis in the category. It was designed to reward riders with outstanding agility, athletic feedback, ergonomic comfort, and dynamic handling. The steering head angle was raised to 66.5 degrees, which resulted in a shorter trail, shorter wheelbase, and more ground clearance. These changes free the racer from the RC and provide fast, responsive, and enjoyable handling.
Brakes
KTM created a high-tech braking system in collaboration with BREMBO that works in perfect harmony with the state-of-the-art ABS, enabling riders to maintain complete control of their KTM RC 390 at all times. The RC 390 has a four-piston radially bolted caliper and a massive 320 mm brake disc on the front, as well as a single-piston floating caliper and a 230 mm disc on the back, for pro-level braking no matter how hard you ride.
Tank for Fuel
The gasoline tank of the KTM RC 390 is made of steel and has a capacity of 10 liters (including a 1.5-liter reserve tank). The tank was designed to complement the KTM RC 390's supersport flair while still providing comfortable rider ergonomics. The KTM RC 390, because of its fuel-efficient engine, has a long-range with this tank, even when riding in full sport mode all day.
Comfort and Ergonomics
The KTM RC gives you and your passenger a racing-inspired body posture and flexibility of mobility while maintaining the comfort required for everyday use. Unrivaled operability and broad touch surfaces provide superior control and feel for all-day cornering enjoyment.
Handlebar
The bike's athletic and aggressive riding posture is aided by the clip-on bars and strategically placed switches, which help improve control for precise lines through every turn.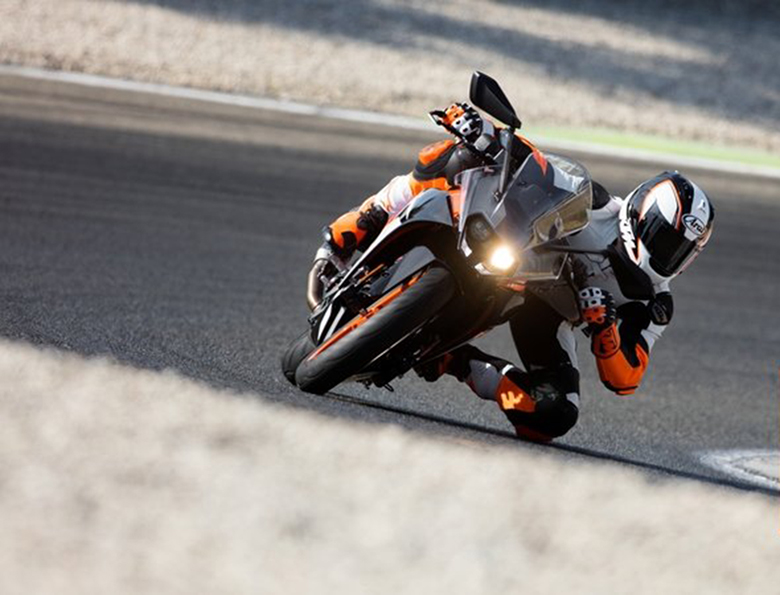 Seats
The two-part seat has first-class supersport ergonomics and provides excellent support for both the rider and the pillion. The 820 mm seat height offers a stable riding posture while still being high enough for circuit-style riding. The new Pillion seat has been incorporated into the bodywork to maintain the KTM RC 390's supersport appearance while providing exceptional passenger comfort.
Windshield
The sophisticated windscreen design of the KTM RC 390 combines with the front end's aerodynamic optimization to provide maximum wind protection for riders who prefer to go out on the open road.
Footpegs
These lightweight but super-strong footpegs are made from high-grade, CNC-machined aviation aluminum and provide special purchases for rider feet when he needs them most. The new pegs may be adjusted in three different locations to suit various rider forms and riding styles.
Graphics and Bodywork
The RC master's sporty bodywork, footpegs, and control levers not only give it a distinct supersport-inspired appearance but also aid severe cornering with higher lean angles.
Trim Parts
The dual solid headlamp offers an excellent vision in low-light or dark situations, and it perfectly complements the KTM RC 390's contemporary, supersport racing appearance.
Electronics and Software
This RC's potency is enhanced by clever circuitry. ABS and a ride-by-wire throttle system are among the high-end technological features, reflecting the high-quality standards.
Accessories & Luggage
Enhance your RC 390 to fit your particular tastes, whether you're strolling the streets or racing the asphalt, with KTM's extensive selection of motorcycle accessories. All KTM PowerParts are designed mainly for each respective motorcycle, ensuring that KTM riders get only components that correctly complement their ride and offer that crucial "factory fit" direct from the dealer.
2020 KTM RC390 Super Sports Bike – Price
The new 2020 KTM RC390 Super Sports Bike is available at the price of $5,549 only.
2020 KTM RC390 Super Sports Bike – Technical Specifications
Engine
| | |
| --- | --- |
| Displacement | 373 cm³ |
| Power in KW | 32 kW |
| Design | 1-cylinder, 4-stroke engine |
| Bore | 89 mm |
| Stroke | 60 mm |
| Starter | Electric starter |
| Lubrication | Wet sump |
| Transmission | 6-speed |
| Cooling | Liquid-cooled |
| Clutch | PASC™ anti-hopping clutch, mechanically operated |
| EMS | Bosch EMS with RBW |
Chassis
| | |
| --- | --- |
| Frame Design | Steel trellis frame, powder-coated |
| Front Brake Disc Diameter | 320 mm |
| Rear Brake Disc Diameter | 230 mm |
| ABS | Bosch 9.1 MB Two-Channel ABS (disengageable) |
| Chain | 520 X-Ring |
| Steering Head Angle | 66.5 ° |
Conclusion
In the end, team Bikes Catalog would love to say that the new 2020 KTM RC390 Super Sports Bike is an impressive sports motorcycle. The RC390 is very famous among sports bike lovers due to its aggressive riding position and attractive graphics. The exhaust sound is mind-blowing and its perfectly aerodynamic shape can quickly leave anyone behind.