The 2019 models of Moto Guzzi are one of the most marvelous and stunning bikes by the brand. The new 2019 Moto Guzzi V7 III Stone Classic Motorcycle is one of those bikes that are extremely famous due to the latest technology. The bike contains an electric and essential version forsakes any chromium detail to embrace the darkness of matt black paint, which is paired with the saddle carrying passenger grab strap. The headlight frame is not chromium, but black and its front mudguard are painted in a way that matches the fuel tank. Also, the bike is available in two new and attractive satin finish color schemes i.e., Rosso Rovente and Grigio Granitico. So, instead of talking about it more, let's have a brief review of 2019 Moto Guzzi V7 III Stone Classic Motorcycle along with its specifications.
2019 Moto Guzzi V7 III Stone Classic Motorcycle – Features and Specifications
Pleasure to Ride
The research team of Moto Guzzi always tries its best to provide the best things to their customers. The third generation of "Seven-fifty" from Mandello will continue to be the Moto Guzzi entry-level model. They are straightforward to ride and are the lowest weight having authentic and robust character. The bike has shown the transversal V-twin engine that is a one-of-a-kind configuration. The primary goal behind the evolution of the Moto Guzzi V7 Stone is to give its outstanding style, including standard equipment and upgraded performance. So, when all things meet in 2019 Moto Guzzi V7 III Stone Classic Motorcycle, the rider will enjoy the pleasure to ride.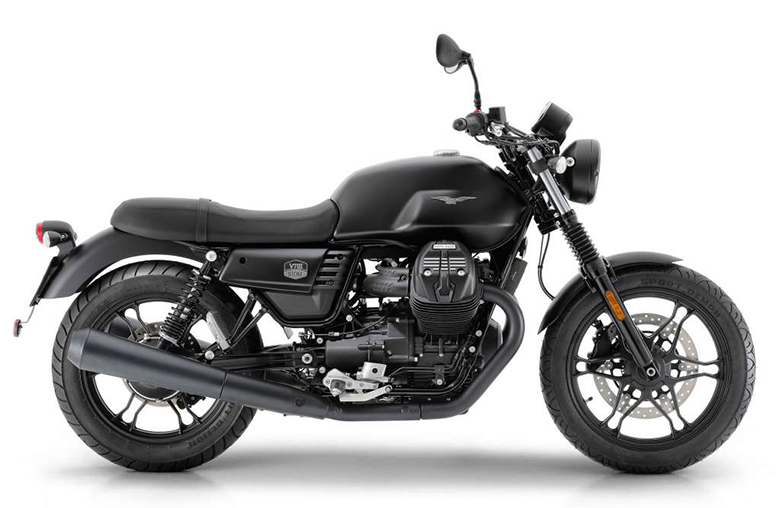 The motorcycle has a dominated stylish personality, which is characterized by a design that ensures Moto Guzzi heritage and the latest equipment. The first impression during the bike is that the rider is on the study and mature bike, highlighted with the presence of dual-pipe exhaust manifolds and engine heads. The Moto Guzzi Stone is one of the most accessible and sleekest bikes as compared to the 2017 Moto Guzzi V7 III Stone Classic Model.
Some parts are not changed i.e., fuel tank having the carrying capacity of 21 liters. The 1971 V7 Sport inspired its style. The injector covers and side fairing having the sleek shape enhances the overall appearance. Every model contains the dedicated saddle, including the new graphics and coverings. The Moto Guzzi V7 III Stone has now used the single circular instrument display. The speedometer features an analog dial that provides all other information confined in a digital box.
Chassis
The 2019 Moto Guzzi V7 III Stone Classic Motorcycle features an ultra-fine and legendary frame and suspension. This V7 has a great history, and infect LAPD used these models. The steel frame features the double-cradle tubular layout and contains the same weight distribution i.e., 46% front and 54% rear, which is the common heritage of V7 models.
The third generation comes with an entirely different and reinforced front section having different steering geometry. These changes help in ensuring dynamic performance, better handling, and outstanding stability. The fresh paint job and high level of finishing add in the beauty of V7 Stone.
The rear suspension system comes with the pair of Kayaba shock absorbers, and they are adjustable in spring preload. They provide the progressive controlled response in all situations even when riding two-up. The passenger will never stop admiring the comfortable seating position, thanks to the low and forward positioning of footpegs. The saddle-handlebar-footpegs are ideally spaced for riders of any height thanks to the lower saddle and correct positioning of aluminum footpegs.
Engine
There are many excellent twin-cylinder engines in the world, but there is only one transversal V, and it is used in 2019 Moto Guzzi V7 III Stone Classic Motorcycle. The engine is configured with the cylinders so particular that it made it an integral part of the bike's design i.e., authentic modern art metallic sculpture. In the small block version, this third evolution engine delivers the maximum riding pleasure while ensuring more excellent performance and reliability.
The base of aluminum is stiffened in the focal points, and it adopts a crankshaft including inertia calculated to return vitality and an all-new adequate engine brake. The latest lubrication system in the crankcase dissipate the heat in its best possible way. An all-new ventilation system reduces power loss due to the internal pumping of the crankcase chamber, plus the reduced capacity of the oil pump is capable of absorbing less power. The new oil pump intake duct is used as a related by-pass valve, and piston cooling oil jets have been introduced that contains the flow control and management valve. The alternator cover contains the blow-by gas output.
The changes have been introduced in the higher part of the engine with the new cylinder head, pistons, and cylinders. The bore, stroke, and displacement have been kept the same. The timing is being controlled by the pushrod and rockers system including 2-valves-per-cylinder, but it is positioned in an inclined position in the head. The fuel system is located in a single-body Marelli electronic injection system that has been managed by an automatic control unit. An all-new exhaust system is complete with dual pipe manifolds that helps in improving thermal insulation. The auxiliary air system intake in its heads has been combined with the new trivalent catalytic converter, the double lambda probe, and an all-newengine design. The Moto Guzzi twin 750 engine complies with the strict Euro 4 standard.
The engine provides the maximum power of 52 HP at 6,200 rpm while the maximum achievable torque is 60 Nm at 4,900 rpm. There is an option for a reduced-power version that is best for A2 class driver's license and ideal for new riders. The new 170 mm dry single-disc clutch has been used that increases the sturdiness and reliability over time. It decreases the load on the lever and handlebar. The six-speed gearbox has been used that gives precise and smooth shifting experience.
Safety
The Moto Guzzi Stone is always on top of the game in terms of safety aspects. This classic motorcycle features the ABS and fully adjustable MGCT (Moto Guzzi Traction Control) like in 2019 Moto Guzzi V7 Stone Night Pack. The ABS comes in a two-channel Continental system that prevents the wheel from locking up. The MGCT is very helpful in preventing the rear wheel spin in acceleration. It can be adjustable in two sensitivity levels.
Moto Guzzi MIA
The MIA is one of the most innovative Moto Guzzi multimedia system, which is available as an optional accessory. The rider can easily connect the bike to the smartphone by using this system. There is an application, which can be easily downloaded from the App Store and Google Play. The Bluetooth connection lets the rider to view five different parameters of his choice.
Accessories
There are number of original accessories available out there, and rider can purchase them to customize their rides.
Arrow 2 in 1 high exhaust
Öhlins shock absorbers
Red front brake caliper
Red cylinder head covers
Aluminum side panels
Carbon side panels
Carbon mudguards
Tubular engine guard
Fuel tank cover
Aluminum top fairing
Tank cover band
2019 Moto Guzzi V7 III Stone Classic Motorcycle – Technical Specifications
Engine
| | |
| --- | --- |
| Capacity | 744 cc |
| Bore | 80 mm |
| Travel | 74 mm |
| Distribution | 2-valve having light alloy pushrods and rockers |
| Max Power | 38 kW (52 hp) @ 6200 rpm |
| Maximum torque @ the crankshaft | 60 Nm @ 4900 rpm |
| Exhaust system | 3-way catalytic converter including the double lambda probe |
| Cooling | Air |

You may need the following accessories/ spare parts of Moto Guzzi.

[maxbutton id="1″ url="https://amzn.to/2UncRP2″ ]

Price = $51.20
[maxbutton id="1″ url="https://amzn.to/2WwAAit" ]

Price = $29.99
[maxbutton id="1″ url="https://amzn.to/33AsuXC" ]

Price = $104.99
[maxbutton id="1″ url="https://amzn.to/2Uc0N44″ ]
Chassis
| | |
| --- | --- |
| Frame | Double cradle tubular frame in ALS steel including detachable elements. |
| Wheelbase | 1445 mm |
| Trail | 106 mm |
| Headstock angle | 26.4° |
| Front suspension | Ø 40 mm hydraulic telescopic fork |
| Front suspension Travel | 130mm |
| Rear suspension | Die-cast light alloy swingarm including two shock absorbers having adjustable spring preload (Öhlins fully adjustable for Racer) |
| Rear suspension Travel: | 93mm |
| Front brake | Ø 320mm stainless steel floating discs, Brembo calipers having four-differently sized opposed pistons |
| Rear brake | Ø 260mm, stainless steel disc, floating caliper including two pistons |
| Front-wheel | 18″ in a lightweight alloy 100/90 (110/80 R18 alternatively) |
| Rear-wheel | 17″ in lightweight allow 130/80 |

You got to check out these chassis spare parts/ accessories of Moto Guzzi.

Price = $43.20
[maxbutton id="1″ url="https://amzn.to/3aajwCJ" ]

Price = $136.26
[maxbutton id="1″ url="https://amzn.to/2UthAP9″ ]

Price = $90.85
[maxbutton id="1″ url="https://amzn.to/2y2YojX" ]

[maxbutton id="1″ url="https://amzn.to/39ccUmf" ]
Dimension
| | |
| --- | --- |
| Saddle height | 770 mm |
| Length | 2,185 mm |
| Height | 1,100 mm |
| Minimum ground clearance | 150 mm |
| Fuel tank capacity | 21 liters (including 4-liter reserve) |
| Dry weight | 189 kg |
| Kerb weight | 209 kg (Special, Rough 213 kg) |

Other
| | |
| --- | --- |
| Consumption (WMTC cycle) | 5.5 l/100 km (Racer 5.7 l/100 km) |
| CO2 Emissions (WMTC cycle) | 128 g/km (Racer 132 g/km) |
You should use the following safety gears during ride.

Price = $48.99
[maxbutton id="1″ url="https://amzn.to/3aeDo7K" ]

Price = $9.99
[maxbutton id="1″ url="https://amzn.to/33O2GYh" ]

Price = $59.95
[maxbutton id="1″ url="https://amzn.to/2xXHLG5″ ]

Price = $19.98
[maxbutton id="1″ url="https://amzn.to/2vD2L46″ ]
Conclusion
In conclusion, the 2019 Moto Guzzi V7 III Stone Classic Motorcycle is an effective option for those guys who like vintage bikes with modern style. The newly designed engine delivers outstanding performance while the chassis provides ultimate riding pleasure and stability. It's a good bike for daily routine use and long trips as well.