The Kawasaki Naked models are very famous all over the world, and its 2018 Z650 Kawasaki Sports Bike is very famous since its launch. It is one of the compact and middleweight bikes of Z-lineup of Kawasaki. The overall appearance of the bike is kept aggressive and super naked Z-styling that gives an idea of sporty performance with everyday versatility. It is the top-ranked bike due to its lightweight and easy to maneuver chassis characteristics. This model is available in Metallic Matte Covert Green/Metallic Flat Spark Black and Metallic Spark Black/ Metallic Flat Spark Black. The full review of 2018 Z650 Kawasaki Sports Bike with its price and specifications are given below.
2018 Z650 Kawasaki Sports Bike – Features and Price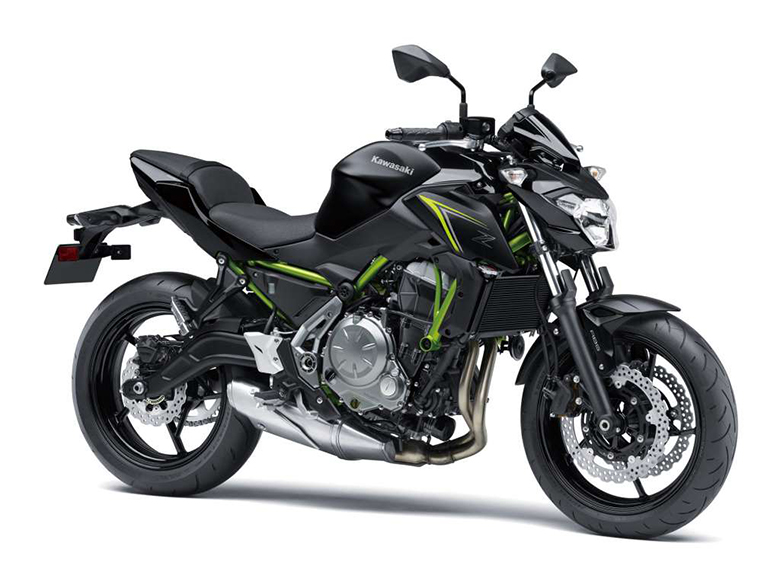 Engine Features
This Kawasaki Z650 features the compact 649 cc Twin cylinder DOHC engine, which provides smooth and robust power. It is very famous, especially in the low-to-mid-range thanks to its rider-friendly power characteristics. It helps the rider to facilitate control and it inspires confidence over the broader range of riding conditions.
The engine consists up of a fully assist and slipper clutch, and it uses the rotational forces of the clutch hub and new pressure plate. The clutch is forced together during acceleration so that fewer and lighter clutch springs care be used for the lighter feel at its lever. When the back-torque and when a too low gear is selected, the slipper function lets the clutch slippage to help prevent the engine from lock-up and stalling and rear-wheel hop. The engine consists up of 6-speed transmission that contains the linkage-type gear shit mechanism that offers the direct feeling for best shifting.
The engine comprises up of 36 mm of Keihin throttle bodies the help in delivering the stronger low-to-mid-power. However, it also contains dual throttle valves (KP) for better performance and reliability. The sub throttles are positioned behind the main throttle valves, and they are controlled by ECU so that the DFI system contains the precise throttle response. An accurate fuel delivery through fine atomizing injectors with exhaust catalyzer reduces the overall emission.
Chassis Features
The high-tensile steel trellis frame contains an optimized dimension with wall thickness that reduces frame weight. The frame components follow an ideal pipeline so that the structure is as straight as possible. The engine is fixed with the frame at three points while the footpegs stays are being used as stressed members to contribute to the overall weight reduction.
The horizontal back-line linkage in the rear suspension is placed atop the swingarm that helps in making room for an under-engine muffler for best mass centralization. The rear shock is kept away from its exhaust so that its operation will not be affected by exhaust heat. The latest gull-wing swingarm allows for clearance for muffler while contributing significantly in the light and natural handling.
The ABS comes as standard that helps in assisting braking under certain conditions, plus it also contains the small Bosch 9.1M control unit that saves space and weight. The Nissin braking calipers have been designed by taking inspiration from the sporty design, and it includes front and rear brake specific pads. The front offers a sharp initial bite while the rear provides optimum control and a high overall braking force. The sporty five-spoke wheel design helps in delivering light and graceful appearance, which comes with Dunlop Sportmax D214 tires for better performance and fuel mileage.
Instrumentation and Ergonomics
The stacked instrument cluster contains and easy to read layout. Its high tech analog tachometer number on its brushed-aluminum panel are indicated with sweeping LCD needles presenting modern and high-tech look. It is equipped with the shift-up indicators that flash the tachometer whenever the user-selected the shift point. The gear position indicator helps riders in assessing transmission gear selected at a glance.
The Distinctive Z-styling of the 2018 Z650 Kawasaki Sports Bike makes it a distinctive member, among other bikes. It contains the Sugomi design that means an intense aura or energy given off by a person. Its headlight cowl and meter visor help in offering the slim and slowing lines from the top of its fuel tank. The engine has a sharp shape with a minimal overhang that adds to the flowing design while it contributes to the brief and lightweight look.
2018 Z650 Kawasaki Sports Bike – Price
The Z650 is available at two different prices, i.e. Non-ABS is available at $6,999 while the bike with ABS supported comes with the tag of $7,399.
2018 Z650 Kawasaki Sports Bike – Technical Specifications
Power
| | |
| --- | --- |
| Engine | 4-stroke, 2-cylinder, DOHC, water-cooled |
| Displacement | 649cc |
| Bore x Stroke | 83 mm x 60 mm |
| Compression ratio | 10.8:1 |
| Fuel System | DFI® with Keihin 36mm Keihin throttle bodies |
| Ignition | TCBI with electronic advance |
| Transmission | 6-speed, return shift |
| Final Drive | Sealed chain |
Check out the latest engine accessories of Kawasaki Z650.
| | |
| --- | --- |
| [maxbutton id="1″ url="https://amzn.to/2tdt8MU" ] | [maxbutton id="1″ url="https://amzn.to/37Us7YS" ] |
| [maxbutton id="1″ url="https://amzn.to/2QPyBTi" ] | [maxbutton id="1″ url="https://amzn.to/35KroYB" ] |

Performance
| | |
| --- | --- |
| Front Suspension / Wheel Travel | Telescopic fork/4.9 inches |
| Rear Suspension / Wheel Travel | Horizontal back-link with adjustable preload, swingarm/5.1 inches |
| Front Tire | 120/70 ZR17 Dunlop Sportmax D214F Sportmax |
| Rear Tire | 160/60 ZR17 Dunlop Sportmax D214 |
| Front Brakes | Dual 300 mm petal-type rotors with two-piston calipers, ABS |
| Rear Brakes | Single 220 mm petal-style disc, ABS |
Check out some of the chassis accessories as well.
| | |
| --- | --- |
| [maxbutton id="1″ url="https://amzn.to/2RhqCNw" ] | [maxbutton id="1″ url="https://amzn.to/2FJoetx" ] |
| [maxbutton id="1″ url="https://amzn.to/2QOjo4x" ] | [maxbutton id="1″ url="https://amzn.to/2sjvY2o" ] |

Details
| | |
| --- | --- |
| Frame Type | Trellis, high tensile steel |
| Rake/Trail | 24.0°/3.9 inches |
| Overall Length | 81.3 inches |
| Overall Width | 30.5 inches |
| Overall Height | 42.5 inches |
| Ground Clearance | 5.1 inches |
| Seat Height | 30.9 inches |
| Curb Weight | 410.1 lb |
| Fuel Capacity | 4.0 gallons |
| Wheelbase | 55.5 inches |
| Color Choices | Metallic Spark Black/Metallic Flat Spark Black, Metallic Matte Covert Green/Metallic Flat Spark Black |
| Warranty | 12 Month Limited Warranty |
| Kawasaki Protection Plus™ (optional) | 12, 24, 26 or 48 months |
Normally, experts recommend the use of safety gears during ride.
| | |
| --- | --- |
| [maxbutton id="1″ url="https://amzn.to/30fFqAB" ] | [maxbutton id="1″ url="https://amzn.to/2soWFms" ] |
| [maxbutton id="1″ url="https://amzn.to/2QOGWqd" ] | [maxbutton id="1″ url="https://amzn.to/2Tjr14M" ] |

Conclusion
The 2018 Z650 Kawasaki Sports Motorcycle is an impressive sports bike that comes with a lot of remarkable features. Its high performing engine with fully customized chassis makes the overall ride full of fun. The overall appearance is kept aggressive and stylish. The seat design ensures an ultimate riding pleasure. The latest suspension and braking system has been optimized to provide the best performance under all conditions.