The 2018 YZF-R1 Yamaha Powerful Heavy Bike is another impressive example of the legacy of Yamaha brand. This sports bike features a thrilling engine that can offer plenty of acceleration and torque. This chassis is fully synced with the requirement of an engine, i.e., it has a lightweight frame, but it is strong enough to withstand shocks during rides. Every equipment has been optimized to deliver quality work. The review of 2018 YZF-R1 Yamaha Powerful Heavy Bike with its price and specifications are given below.
2018 YZF-R1 Yamaha Powerful Heavy Bike – Features and Price
Engine Features
The 2018 YZF-R1 Yamaha Powerful Heavy Bike features the potent 998 ccs inline 4-cylinder, cross-plane crankshaft engine that features the titanium fracture-split connection rods. The titanium alloy used in teh manufacturing of the connecting rods, which is about 60 percent lighter than steel. This reduced weight help in gaining better response at higher rpm. This engine can deliver extremely high horsepower and the stronger pulse of linear torque. The transmission features the 6-speed close-ratio which gear up to meet the high-revving driver. The transfer also stacks the input/output shaft to centralize the mass plus it also keeps the overall engine size shorter front-to-back. It helps in the optimization of engine placement in the frame for an outstanding weight balance.
An all-new 2018 YZF-R1 Yamaha features the latest rocker-arm valve actuation, which uses the arm's lever ratio to allow for more massive vale lift. It uses the lower cam lobes and reduced spring pressure for a further power boost. The lightweight magnesium covers and lightweight aluminum fasteners are used across the engine, which further reduces weight. This Yamaha R1 is equipped with the latest exhaust system as comparing the older 2017 Yamaha YZF-R1 Sports Bike, manufactured from lightweight titanium. The compact midship muffler also centralizes the mass low in its frame, and it is placed closer to the center of the bike. The latest Yamaha's assist and slipper clutch are used to give the rider more confident downshift when entering corners aggressively.
Electronics
The new 2018 YZF-R1 Yamaha Powerful Heavy Bike features the latest Yamaha's Inertial Measurement (IMU), which uses six axes of measurement. This IMU communicates with the ECU that activates the all the latest technologies in the Yamaha Ride Control (YRC) including Power Mode, Slide Control System, Traction Control System, Launch Control System, with an updated Lift Control System. All of these systems are fully adjustable, and it can be saved within four presets in the YRC system. The Power Delivery Mode (PWR) is quite similar to the D-Mode systems. This new mode allows the rider to choose from four settings of throttle-power valve response to best match their preferences and riding conditions.
The Yamaha 2019 YZF-R1 contains the Traction Control System (TCS) that reduces the rear wheel spin when exiting corners. The amount of intervention increases as the lean angle increase, and it comes with ten separate settings with an off option as well. The Yamaha's Slide Control System (SCS) is first of its kind that comes directly in Yamaha YZR-M1 MotoGP bikes. It works in this bike along with IMU so that if a slide is detected while accelerating during hard leaning conditions, the new ECU will intervene in and control engine power to reduce the slide. This latest system is fully adjustable and comes with four settings with an off option.
The Yamaha's Lift Control System (LCF) is an updated system that has also been used in 2018 Yamaha YZF-R6 Sports Bike. This system features more progressive mapping to improve forward drive when the system intervenes. This system comes with four settings with an off option as well. The LCS limits the engine rpm to 10,000 even with the full open throttle. It maintains an optimum engine output in conjunction with an input from the TCS and LIF system to maximize acceleration form the standing start. There are three settings levels, including the off option that regulars the effect.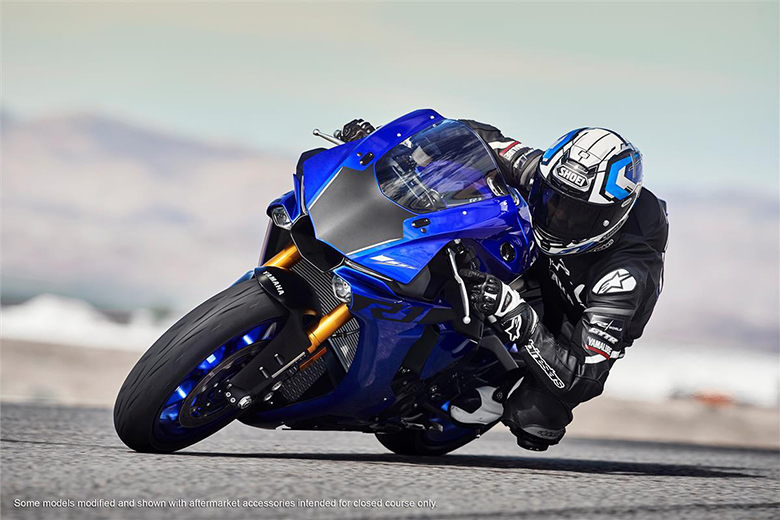 The Quick Shift System (QSS) contains the downshifting capabilities as well as allowing the rider to throttle clutchless upshifting. On downshifting, the ECU matches engine speed on each downshift for instantaneous gear changes with the minimal chassis disruption. The QSS comes with the three settings, including an off option. An all-new ride-by-wire Yamaha Chip Controlled Throttle (YCC-T) system that senses the slightest throttle input by the rider, and it instantaneously calculates the ideal throttle valve opening. This R1 contains the YCC-I (Yamaha Chip Controlled Intake), which is the variable intake system that broadens the spread of power across the entire rpm range. The brilliant full color, thin-film transistor (TFT) meter provides all kinds of the necessary information to the rider.
Chassis/ Suspension
The new 2018 YZF-R1 Yamaha Powerful Heavy Bike features the slim aluminum Delta-box frame and magnesium sub-frame that contributes to its lightweight and compact chassis design. This Yamaha R1 contains an advanced inverted KYB front fork with 43 mm of inner tubes and 4.7-inch stroke with full adjustability. All kinds of adjustments are made on the top of the fork legs for simplified tuning. An all-new and fully adjustable KYB shock features the rear bottom link pivot position, which is optimally placed to provide exceptional handling.
This Heavy Bike features the 4.5 gallons of a fuel tank that weighs about 3.5 pounds less than the ordinary steel tank. The track developed racing ABS, and Unified Braked System offers the maximum braking performance. The four pistons radial mounted front calipers ride on its big 320 mm rotors for outstanding stopping power. An all-new 10 spoke cast magnesium wheels lower its rotational mass by 1.9 pounds over the 2014 Yamaha YZF-R1 model while reducing the unspring weight for quick direction change.
Unique Key Features
MotoGP® Styling
All-LED Lighting
Factory Level Telemetry
Check out the latest Accessories and Spare Parts of 2018 YZF-R1 Yamaha Powerful Heavy Bike.
2018 YZF-R1 Yamaha Powerful Heavy Bike – Price
The new 2018 YZF-R1 Yamaha Powerful Heavy Bike is available with the price of $16,699, and it comes in Raven and Team Yamaha Blue color option.
2018 YZF-R1 Yamaha Powerful Heavy Bike – Technical Specifications
Engine
| | |
| --- | --- |
| Engine Type | 998cc, liquid-cooled, inline 4-cylinder DOHC, 16 valves |
| Bore x Stroke | 79.0mm x 50.9mm |
| Compression Ratio | 13.0:1 |
| Fuel Delivery | Fuel Injection with YCC-T and YCC-I |
| Ignition | TCI: Transistor Controlled Ignition |
| Transmission | 6-speed; multiplate assist and slipper clutch |
| Final Drive | Chain |

Chassis
| | |
| --- | --- |
| Suspension / Front | 43mm KYB® inverted fork; fully adjustable; 4.7- in travel |
| Suspension / Rear | KYB® piggyback shock, 4-way adjustable; 4.7- in travel |
| Brakes / Front | Dual 320 mm of hydraulic disc; Unified Brake System and ABS |
| Brakes / Rear | 220mm disc; Unified Brake System and ABS |
| Tires / Front | 120/70ZR17 |
| Tires / Rear | 190/55ZR17 |

Dimensions
| | |
| --- | --- |
| L x W x H | 80.9 inches x 27.2 inches x 45.3 inches |
| Seat Height | 33.7 in |
| Wheelbase | 55.3 in |
| Rake (Caster Angle) | 24.0° |
| Trail | 4.0 in |
| Maximum Ground Clearance | 5.1 in |
| Fuel Capacity | 4.5 gal |
| Fuel Economy | 34 mpg |
| Wet Weight | 441 lb |

Other
| | |
| --- | --- |
| Warranty | 1 Year (Limited Factory Warranty) |

Conclusion
This review article provides the full analysis of 2018 YZF-R1 Yamaha Powerful Heavy Bike, and it is covered under Bikes Catalog. This powerful heavy bike features the high performing engine that can not only provide better torque but superb acceleration as well. The lightweight chassis is beautiful and features perfectly aerodynamic bodywork. Those riders who want riding pleasure with beauty and power should purchase 2018 YZF-R1 Yamaha Powerful Heavy Bike.