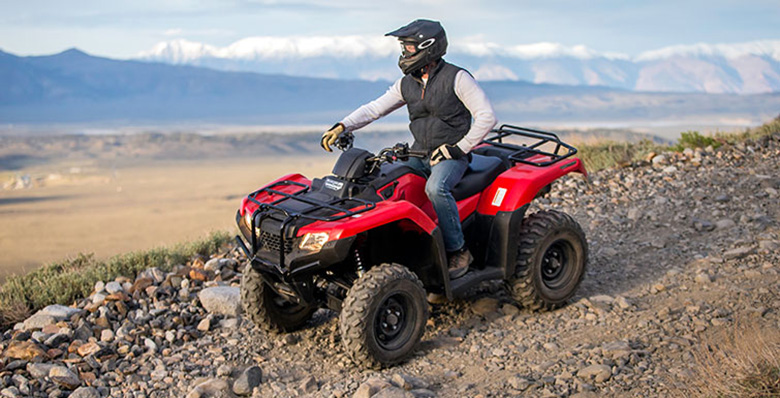 The Honda Brand is one of the Best Quad Bike Brand in the World and this year it has proved it again by launching its amazing 2017 FourTrax Rancher Honda Utility Quad Bike. This is best for the variety of riders and customers to meet their daily requirement. This new ATV is the best choice for those riders who want performance with enjoying the ride while exploring new trails. It features the Honda approved ignition system. The powerful engine delivers the fantastic amount of power plus it is reliable and efficient as well. The new independent rear suspension (IRS) offers an excellent handling and superior ride. The standard manual ATV transmission and new Automatic Dual Clutch Transmission (DCT) are available in this ATV. The new 2017 FourTrax Rancher Honda Utility Quad Bike is always ready for challenging ride. Honda Brand recommend it for riders of 16 years of age and older. Have a look at the review of new 2017 FourTrax Rancher Honda Utility Quad Bike.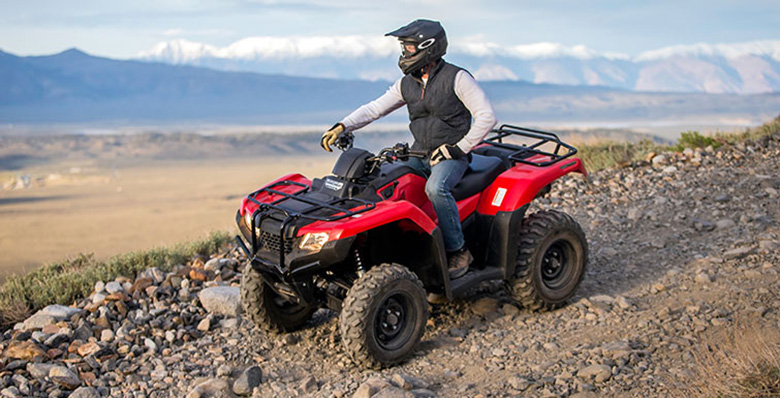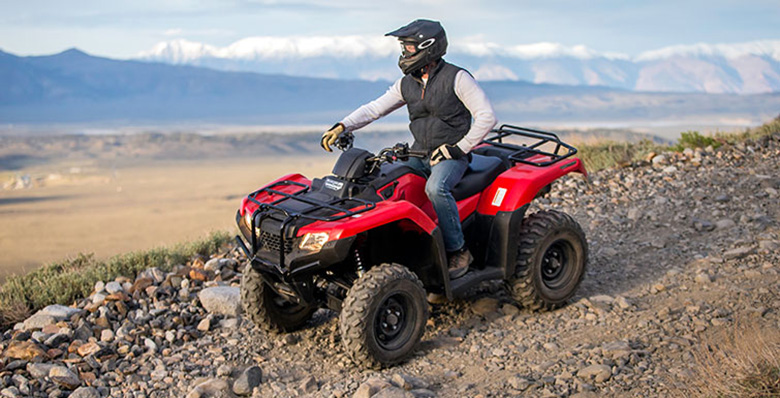 2017 FourTrax Rancher Honda Utility Quad Bike – Specification
Engine Features
The new 2017 FourTrax Rancher Honda Utility Quad Bike features the powerful 420cc of a liquid-cooled engine. It has a single cylinder with four stroke technology. It is a compact and lightweight engine containing an overhead-valve with new semi-dry-sump design. This design makes this engine much shorter from top to bottom. It results the best handling by lowering the center of gravity of engine plus it also allows for greater ground clearance. It features Honda's Programmed Fuel Injection (PGM-FI) with the throttle bodies of 34 mm and 12-hone Denso injector. The new oxygen sensor allows the better fuel mapping to adjust any riding condition. It also guarantees the trouble-free operation in the cold and at varying altitude. The best features is that reduces the emissions plus it enhances the fuel efficiency. Honda's engineers have oriented the new crankshaft front to back in a chassis to route the flow of power straight to the wheels. This changing reduces the powertrain friction plus it puts more grunt to the ground. The Honda's new fully Automatic DCT transmission offers the strong internal, fast shifts, superb control, and true compression-braking capability in steep terrain. It gives the best upshift and downshifts. The shaft drive used in this quad bike is clean and efficient. Rider only has to focus on fun ride and not on lubrication or adjustment out on the trail. The Electric Power Steering eliminates the bump steer and it lessens the steering efforts. It provides more boost when required. The Rider has the option to choose whether 2WD or 4WD i.e. for lighter steering and for maximum available traction. The Honda's exclusive Electric Shift Program (ESP) allows the rider to upshift and downshift just by pushing one button. For more comfort, there is also genuine compression braking system for speed control. There is also a new reverse lever, which is very easy and intuitive to use.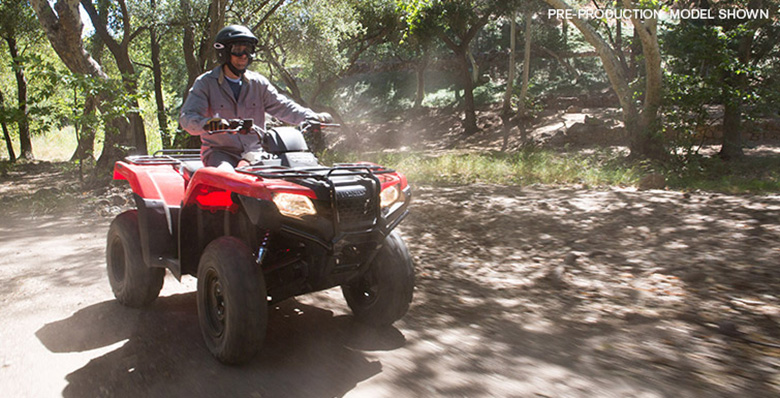 Chassis Features
The new 2017 FourTrax Rancher Honda Utility Quad Bike comes with an awesome color combination on its strong and compact frame. It features the new plush seat with the best suspension support for ultimate comfort. The superior ergonomics make it look amazing and to achieve the minimum air drag. Honda Brand always focus on the quality of its quad bikes like in 2017 Honda FourTrax Recon. The exclusion Honda Phantom Camo lets your ATV to blend into the broad range of environments. The rear swingarm has all-new solid-axle design for strength and rigidity. It also eliminates the rear suspension squat when rider tow the heavy load as it placed on the axle itself and not on the rear shock. The full Automatic DCT with Independent Rear Suspension (IRS) contains the travel of 8 inches and clearance of 9 inches. It guarantees an ultimate traction and ultra-smooth ride covers rough terrain. The new disc brakes offer an excellent braking performance. The new digital instruments show the standard gear position indicator, odometer, speedometer, trip meter, and much more. The new in-tank pump is also used for a cooler pump operation and for long pump life.
2017 FourTrax Rancher Honda Utility Quad Bike – Price
The new 2017 FourTrax Rancher Honda Utility Quad Bike comes with the price of $5,349 only.
2017 FourTrax Rancher Honda Utility Quad Bike – Specs
Engine
| | |
| --- | --- |
| Engine Type | 420 cc liquid-cooled fuel injected OHV wet-sump longitudinally mounted single-cylinder four-stroke |
| Bore And Stroke | 86.5 mm x 71.5 mm |
| Induction | Keihin® 34 mm throttle body fuel injection system |
| Starter | Electric with an optional auxiliary recoil |
| Compression Ratio | 9.9:1 |

Drive Train
| | |
| --- | --- |
| Clutch | Automatic |
| Transmission | Five-speed with a Reverse |
| Driveline | Direct rear driveshaft |

Chassis/ Suspension/ Brakes
| | |
| --- | --- |
| Front Suspension | Independent double-wishbone; 6.69 inches travel |
| Rear Suspension | Swingarm with a single shock; 6.69 inches travel |
| Front Brake | 190 mm Dual hydraulic disc |
| Rear Brake | 160 mm Sealed mechanical drum |
| Front Tire | 24 x 8-12 |
| Rear Tire | 24 x 10-11 |

Dimensions
| | |
| --- | --- |
| Length | 82.8 inches |
| Width | 47.4 inches |
| Height | 46.2 inches |
| Wheelbase | 49.9 inches |
| Seat Height | 33.7 inches |
| Ground Clearance | 7.2 inches |
| Curb Weight | 573 pounds |
| Fuel Capacity | 3.9 gallons, including 1.3 gallons reserve |
| Turning Radius | 9.2 feet |
Other
| | |
| --- | --- |
| Model Id | TRX420TM1 |
| Emissions | This ATV also meet the current California Air Resources Board (CARB) and the EPA off-road emissions standards |
| Available Colors | Red, Olive |
| Note | No operator under the age of 16. Honda Brand recommends that all quad bike riders take a training course and read their owner's manual thoroughly. |

Factory Warranty Information
| | |
| --- | --- |
| One Year | Transferable limited warranty; extended coverage available with a Honda Protection Plan |

Conclusion
This article is all about the review of new 2017 FourTrax Rancher Honda Utility Quad Bike and it is covered under www.bikescatalog.com. It is really an impressive ATV with the powerful engine and strong chassis. The seat and suspension offers the smooth ride plus the new brakes give the full control over the speed of ATV. Don't wait and ride it and share your experience in the form of comments.