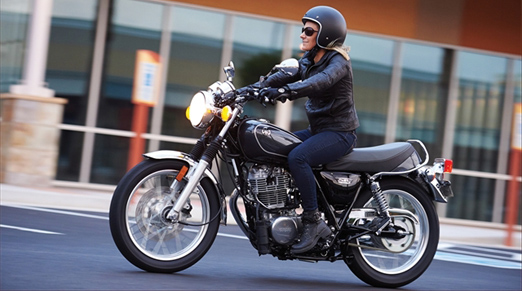 YAMAHA SR400 is a stunning, graceful classic bike having 1970s style and one of the best ever used 399cc air-cooled engines technology. When we look at Yamaha SR400 2015, we have an idea that "Everything old is new again".
Yamaha has a company profile of great technology and newer standard that are up to date and mechanically SR series is meant to be a great machine. Yamaha Company has heritage of manufacturing SR series more than 30 years. The company is in the market with all its rivals and is standing firmly due to its amazing and strong mechanics. The level of demand for SR series has never ended so company decided to make this classic which will win the heart of bikers right away from day one of release. Probably it is the highest selling bike in American States. Yamaha SR400 2015 is one of the best ever bike Yamaha has introduced in that price plan, equipped with all classic instruments, powerful 399cc engine, light weight, chrome finished rims and strong body parts.

The 2015 Yamaha SR400 looks a great deal because of its living classic that has not changed much since it has started its production nearly 30 years ago. People appreciate its style, design, sparking chrome when parked at a road side shop. Yamaha SR400 2015 is not like some retro bikes that are new make of older designs; it is manufactured like the same specification as the original model, because it uses an air-cooled engine and twin-shock chassis. It has a powerful engine of almost 400cc, air-cooled, 4-stroke single-cylinder with one intake valve, one exhaust valve, and one exhaust pipe to start with
The true thumping sound after start will raise your passion for its ride and the high torque 399cc engine will boost you for its first ride.SR400 has the feature of Fuel injection with transistor ignition. And a slim chassis with an easy riding position that delivers relaxed handling. All you get is a simple reliable design and clean mechanical bike that makes the SR400 a true classic, from every angle. It represents everything about motorcycling because of its charming look and technology. The level of interest in the SR has never gone away. And now the Yamaha SR400 is ready to be an integral part of the of new generation bikers. Below are some features, specifications, price, release date and review discussed in some detail:
Key Features of New 2015 Yamaha SR400:
400cc air-cooled 4-stroke single cylinder engine
Fuel injection with transistor ignition
Comfortable torque for easy and pleasant riding
Light, slim and agile steel chassis
Chromed analog gauges, speedometer etc.
Retro style for classic bike lovers
Spoked wheels with aluminum rims
Classic 12-litre teardrop fuel tank
Conventional front forks with twin rear shocks
Classical Kick-starting engine
User friendly steering
Light weight
Chrome fenders
66 mpg mileage
Comfortable ride on country roads
Narrow tires
Comfortable and easy reached seat for smaller rider
2015 Yamaha SR400 PRICE:
Yamaha SR400 2015 is not very costly and its price is within the range of a true bike lover, who loves to ride a classic good looking motorbike. Yamaha SR400 single unit is approximately available in the market at about $5,990
2015 Yamaha SR400 Release Date:
As compare to the company schedule of releasing new model of a Yamaha at the end of every year, this time they decided to introduce new 2015 SR400 Yamaha available from mid of this year i-e May 2014.
YAMAHA 2015 SR400 FIRST RIDE:
Everybody is anxious to ride the sr400 Yamaha 2015 for the first time but only that person knows how well and easy is to ride a sr400 2015 Yamaha for the first time. When starting a bike nowadays the thing that will come in everybody mind is that SR400 2015 would be self start like all other brands of new era, but in this special case Yamaha SR400 starts with the old kick start option technology. Firstly you pull the decompression lever below the clutch lever and gradually turn the kick starter to get the piston in the right starting position.
The position is indicated in the glass in the cylinder. If the indicator is in front of glass, it is in the right position. Then you release the decompression lever and allow the kick starter go up. Now this is the time, The Yamaha SR400 2015 is ready to start. Now give a hard kick. The Yamaha SR400 powerful 399cc engine runs at 1000 rpm. Let the Yamaha SR400 drive through a beautiful Highway. It would be a relaxed pleasant drive because of its design simplicity; seat is reachable and easy to sit on. The steering of Yamaha 2015 SR400 is very smooth and easy to turn on the zigzag turns; the shock absorbers are good for long drive so you can drive it comfortably on a long trip.
In my opinion It looks tough to start a  2015 Yamaha SR400 but it is very easy and enjoyable to do. Keep the piston on the right position, there is a small window on the cylinder to help see piston position kick once and it is done. That's all there is nothing to do with it, and a decompression lever to help moving the piston around. Because of its fuel injection system the engine starts much faster than the old SR 500, you can enjoy letting it idle along at 1000 rpm once started, and listen how it runs while it warms up.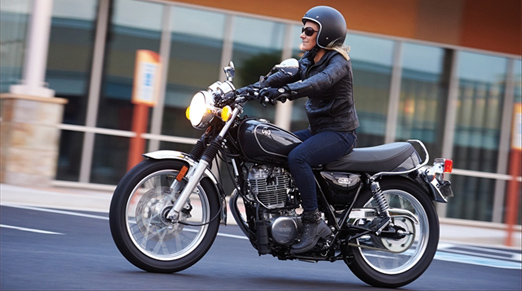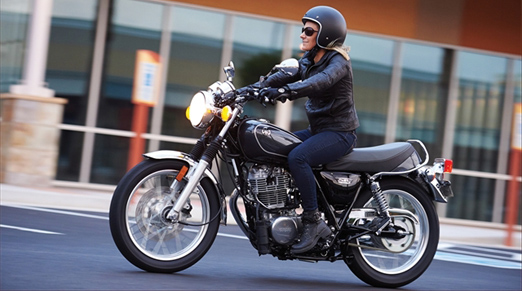 The strong vintage style and its easy handling makes the Yamaha  SR400 2015 real ideal companion of you while taking ride in the city with its modest performance. Due to its light weight as well as with a slim seat than today's average motorcycle, the SR400 excels in strong city traffic and is very easy to run by even smaller riders. You will appreciate its super handling, which is a feeling in itself. Unlike for short strips and zigzag roads it will run fine on a country road. The Yamaha SR400 2015 will also guarantee you curious look by guys when you stop at a roadside cafes or fast food points.
SR400 has a classic design and simplicity like the best British and Japanese designs of the 60s and 70s. Unlike old models, SR400 is equipped with the chrome finish and classic shape of its equipment such as the chrome headlight and flashers, the vintage round analog instruments for rev counter and speedometer are very beautiful.
Every part of the Yamaha 2015 which is chromed finished will spark and shine when Sunlight hits it, giving a very curious look. It is short, lightweight, rolls on narrow tires, and feather light, relaxed steering. All you have to say that it's a strong, stylish, vintage design with chrome finished fenders and rims, relaxed steering, easy reached seat and riding this thing would be ultimate fun. I think now SR400 2015 is the most selling bike in USA.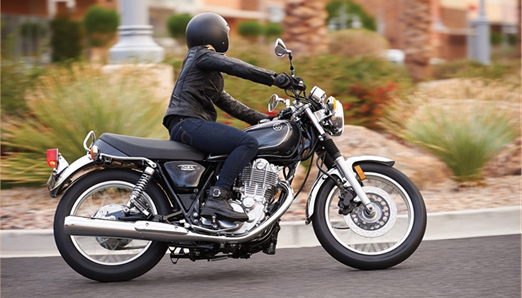 2015 Yamaha SR400 Specs:
Engine:
| | |
| --- | --- |
| Type | 399cc, air-cooled SOHC, 2-valve |
| Bore x Stroke | 87.0 x 62.7mm |
| Compression Ratio | 8.5:1 |
| Ignition TCI | Transistor Controlled Ignition |
| Transmission | 5 speed |
Chasis:
| | |
| --- | --- |
| Suspension  Front | Telescopic; 5.9-in travel |
| Suspension Rear | Swing arm; 4.1-in travel |
| Brakes  Front | Hydraulic disc brake, 268mm |
| Brakes  Rear | 150mm drum |
| Tires  Front | 90/100-18M/C 54S |
| Tires  Rear | 110/90-18M/C 61S |
Dimensions:
| | |
| --- | --- |
| Length | 82.1 in |
| Width | 29.5 in |
| Height | 43.1 in |
| Seat Height | 30.9 in |
| Wheelbase | 55.5 in |
Miscellaneous:
| | |
| --- | --- |
| Final drive | Chain |
| Fuel Capacity | 3.2 gal |
| Fuel Economy | 66 mpg |
| Weight | 384 lb |
| Warranty | 1 Year |
CONCLUSION:
The new Yamaha 2015 comes with a state of the art technology, equipped with powerful 399cc engine, under one year official warranty by Yamaha Company. In my opinion you will love to have this stylish bike. You will enjoy your journey on a street road, highways and country roads.Each person that witness SR400 standing or running on a road will have to admire it for its classic design and sparking body parts. The ride on this machine would be full of joy and memorable.