2014 Honda CRF50F Specification, Price, Review
The Honda's CRF50F is considered to be the most popular bike ever known to the world for the best reason as it is named as a beginner bike. Not only this, Honda 50cc dirt bike comprises of a pile of more reasons to stand first in the choice for bikes. For example, like the efficient bullet proof engine along with automated clutch and tough suspension altogether making it an awesome bike best fitted and highly supportable to the new riders. As far as the quality is named Honda's CRF50F comes with a mind blowing engineering technique providing minimized frustration.  This appears to be the longest running model and maintains to run smoothly ensuring the highest quality. So for no other reason CRF50F Honda is here. 2014 Honda CRF50F Specification, Price And Review is given below in detail.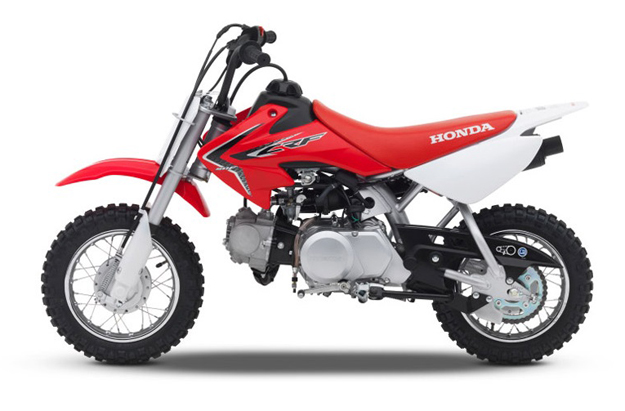 Specifications For The CRF50F HONDA:
Honda 50cc dirt bike is acknowledged highly for having exciting features that gives out perfect engineering techniques in the most elegant way. The 2014 Honda crf50f specs are elaborated as follow: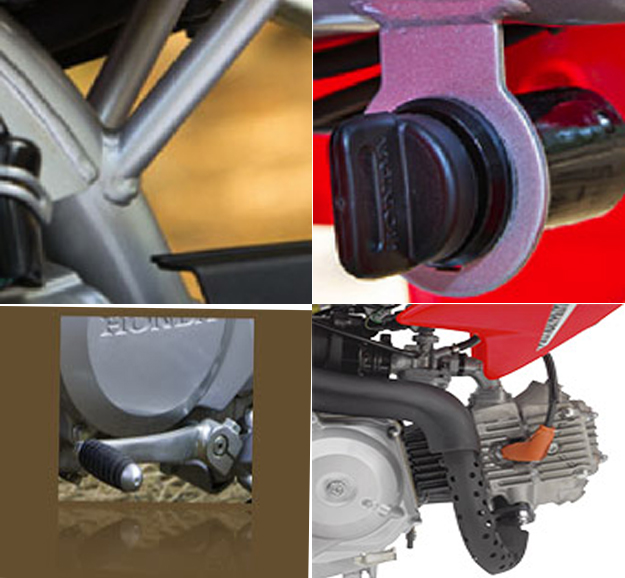 | Features | Concerned Details |
| --- | --- |
| Model ID | CRF50F |
| Available Color | Red |
| Ignition | CD |
| Induction | 13mm piston-valve carburetor |
| Compression Ratio | 1010.0:1.0:1 |
| Bore and stroke | 39.0mm x 41.4mm |
| Valve Train | SOHC & two-valve |
| Type of engine | 49cc air-cooled, single-cylinder & four-stroke |
| Rear suspension | 2.8 inch travel along with single-shock |
| Front Suspension | 3.5-inch travel along with Inverted telescope |
| Front tire | 2.50-10 |
| Rear tire | 2.50-10 |
| Front Brake | Drum |
| Rear Brake | Drum |
| Final Drive | #420 chain; 14T/37T |
| Transmission | Automated clutch with three-speed |
| Fuel capacity | 0.7 gallons along with 0.2-gallon reserve ability |
| Rake | Caster Angle  25.0° |
| Wheel Base | 36.0 Inches |
| Ground Clearance | 5.8 inches |
| Trail | 32.0mm or 1.3 inches |
| Seat Height | 21.6 inches |
| Seat Height | 21.6 inches |
| Curb weight | 110 pounds including the fluids needed, standard equipment and tank full of fuel ultimately ready to ride on |
| Warranty Duration | Limited but extended available at HPP(Honda Protection Plan) 6 Months |
| Age Limit | 13 years and older, should take training course and go through the manual thoroughly |
| Errors Emissions | Meeting the current CARB and EPA Standards |
| Price | MSRP  $1,399.00 |
| Claimed Weight | 110 lbs (Full fuel tank inclusive) |

Honda Dirt Bikes 50cc:
The most roaming questions now a day is "what bike should I buy for my young children?" the major thing which force to think is the gift-related activity due to the festivity of Christmas. Inculcating the features above for Honda 50cc dirt bike solves the problem to great extent. CRF50F Honda provides an excellent and smooth way of riding for the new riders with full supportive features like four-stroke and secured platform for young-off riders.
The fact is that the CRF50F Honda for certain will be the most trendy and prominent model for the year 2014. For no other reason as Honda CRF50F to speed is the greatest bike known ever , best suited to the new riders or to those who are directed to chase a  dream of living their childhood again.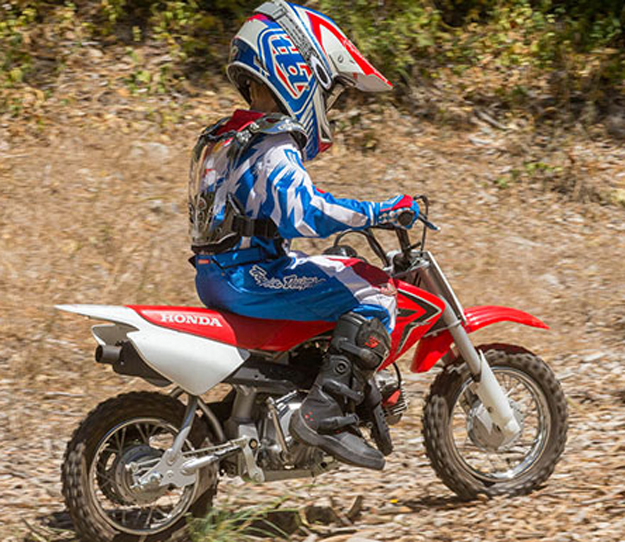 Salient Features:
CRF50F Honda 2014 carries more weight in its motor as it belongs to the family of four-stroke when compared with the two-stroke design. That consequently results in supporting the rider as it provides the low center of gravity, where picking the bike would be easy on a fall, even with the short height riders. An adult can take the 2014 Honda 50cc dirt bike for a slow spin as being helped with the generously designed chassis along with inverted fork suspension that enables a quick scoot back on the seat.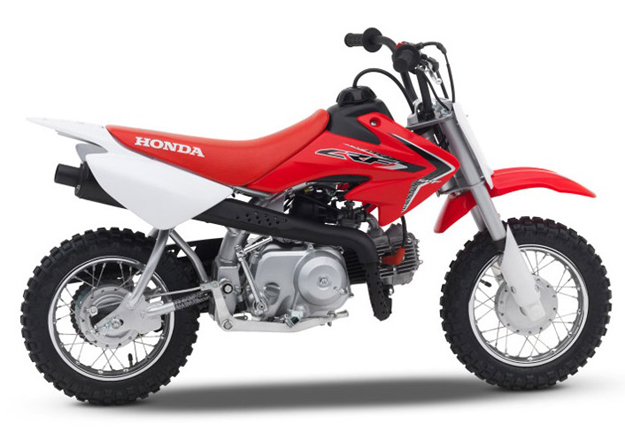 2014 Honda 50cc Dirt Bike involves three-speed transmission with an automated clutch that helped in making a soft and mellow learning curve that results in taking off the focus towards the throttle control and the balance of the bike. CRF50F Honda is able to shift gears with ease in case an inexperienced rider is there. Moreover, it appears a low maintenance cost to parents and that's the beauty of the bike largely.
The suspension in the CRF50F Honda is constructed in way that supports the lighter rider that is less than 100 pounds resulting in as more then enough to the one in target weight range.
The technicality of 2014 Honda CRF50F had made climbing and descending hills a real challenge with the help of its small wheelbase and narrow 10'' tires that act like a pizza cutter directed through sandy floor.  Honda 50cc dirt bike involves all the features that are required to build confidence of the young riders on bike yet not a race bike. Moreover, practically it has been designed to have fun with family and friends.
2014 Honda CRF50F  comes up with an electric starter that happens to be the good one choice for the young riders as the parents don't need to chase their little ones every time they fall. This Kick start in 2014 Honda CRF50F appears as a challenge for the new riders even on tough and uneven surfaces.
While in process to learn a ride on dirt bike like 2014 Honda CRF50F the efficient way is to have in hand the skills for the braking system. The 2014 Honda CRF50F brake drum style appears such sufficient for the new rider specifically strong and touchy. In case with the faster riders they are focused in having more stopping power.

It's been observed that the new riders appear s very to tough on bike although Honda is picking up with the variety in the colors year after year. 50cc Dirt Bike is noticed as the longest running model in case the off-road line-up. Concluding all in all, the 2014 Honda  50cc Dirt Bike is the one with minimized frustration lying behind the term quality, running flawlessly over the road sustaining quality and balance with adorable performance. The most notable thing to keep in mind is for parents; they should consider largely their kid's age, size, ability and maturity before permitting them to have a ride. Ensuring safe ride by wearing helmet and avoid riding when influenced with alcohol or any other drug.
Shekinah Edwin is the writer of 2014 Honda CRF50F Specification, Price And Review.