2018 Aprilia Shiver 900 Naked Bike Price Review
The Aprilia is well-known sports brand for its sports bikes featuring the high-performance engine and superb chassis design. This year it has launched the new 2018 Aprilia Shiver 900 Naked Bike featuring the twin-cylinder engine, which is capable to deliver more than 95 HP and torque of 90 Nm. It has successfully met the Euro 4 standards as well. Its latest engine design provides the maximum rideability that raises the bar to the new heights. It is an impressively powerful, agile and technological advanced bike offering an ultimate riding pleasure. Its review with price and pictures are given below.
2018 Aprilia Shiver 900 Naked Bike – Features and Price
Performance
An all-new 2018 Aprilia Shiver 900 Naked Bike features the most refined mechanics and an excellent chassis structure, which is capable to perform well in all conditions. This bike has evolved from its ancestor when the first model of Shiver came in 2007. This new bike features the factory made Ride-by-Wire technology to manage an engine throttle valve electronics. This technology was first used in the racing world back in 2002 and is well known for its awesome performance. It features the powerful 900cc V-twin engine offering the best performance at all times. It is capable of providing more power, the maximum torque delivered at any rpm at the top levels for its category. It ensures to deliver more power and more character that gives the greater riding satisfaction without sacrificing the comfort, pleasure, and performance. Its latest chassis architecture makes it ergonomically perfect. The Aprilia has carefully designed and launched the 900cc lineup of its bikes including 2017 Aprilia Dorsoduro 900.
Engine
The new 2018 Aprilia Shiver 900 Naked Bike features the 900cc powerful engine capable to deliver the massive amount of power and acceleration. It has the ability to significantly increase its torque at medium rpms. It's 66 lb-ft (90 Nm) of torque at 6,500 rpm ensure to have a maximum fun and thrill ride. The engine has been carefully designed to make it certified for Euro 4 standards. This naked bike is easy to ride for new riders. Its new powerplant maintains the 90-degree angle between its two cylinders and timing system with four valves per cylinder, dual overhead cam, and liquid cooling. It features the most efficient lubrication circuit and new Mare Iii 7SM ECU. This Aprilia experience the full benefits of its electronic control system and riding support which has been used in 2017 Aprilia RSV4 RF , which has won seven World SBK titles. The latest traction control system ensures to achieve the maximum safety and pure brilliant riding enjoyment, thanks to its dual control acts on both ignitions and on its throttle valves. The latest Ride-by-Wire comes as a standard providing the best riding experience. This system is much lighter in weight resulting in the overall reduction of weight. The latest exhaust pipes not only looks amazing but offer the best performance all times. The Aprilia brand has maintained its original position but the end of the silencer is kept shorter and directed upward. The exhaust flow is now directed downward and to the side in order to prevent it's interfering with the passenger and to ensure ultimate comfort.
Chassis
The new 2018 Aprilia Shiver 900 Naked Bike features the ultra-fine chassis architecture making it easy to ride. It contains the mixed steel trellis/aluminum plate's frame offering the standard-setting stiffness making it extremely compact but a strong bike like in 2017 Aprilia Shiver 900. The Aprilia chassis design is the result of an experience of Aprilia engineers, which they have gained over the period of times. The trellis upper part in steel tubing is conned to the widespread aluminum lateral plates with special and high-resistance bolts. This combination makes it extremely stiff and lightweight frame allowing the rider to have an easy maneuvering experience. Its agility has been achieved by longitudinal development of the engine, which also allows the rider to choose to position the shock absorber laterally. This modification creates a space for exhaust manifolds that have the shape and volume calibrated to the performance for better performance. It allows an optimum exhaust manifold layout without having a significant impact on the length of the bike. An aluminum allows swingarm boasts stiffness valves at the top of its category while it is sized to withstand the asymmetrical stress due to the lateral positioning of the shock absorber.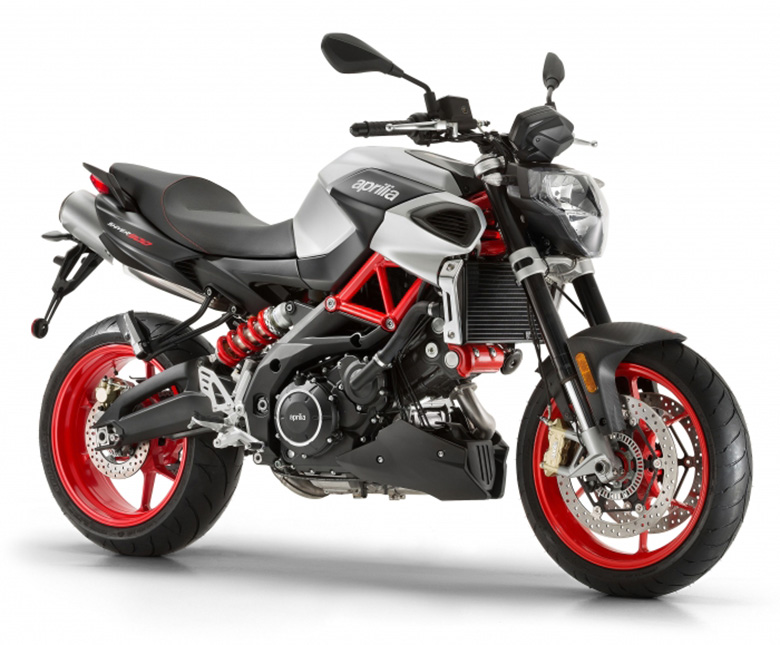 The new 2018 Aprilia Shiver 900 Naked Bike features the 41 mm stanchions Kayaba fork, which is almost the half kilo lighter than those which are used in previous models. It is adjustable in hydraulic rebound damping and spring preload. The new 120 mm of travel allows the rider to enjoy the smooth ride while the two steering yoke plates are begin made of forged aluminum. The rear shock absorber has been attached on its side and it is pivoted directly to its swingarm. It is adjustable in its spring preload as well as in hydraulic rebound. The rear wheel travel is about 130 mm. The latest sporty and three-spoked wheel rims are inspired by the 2017 Aprilia Tuono V4 wheels. The front wheel is being reduced by 0.9 kg while the rear by 1.3 kg. The reduction in weight leads to the reduction of gyroscopic effects and providing greater agility for the bike. The suspension system has been improved due to the reduction of unsprung masses and quicker acceleration. The new wheel rims contain the front tire of 120/70 and rear of 180/55.
Technology
The new 2018 Aprilia Shiver 900 Naked Bike features the latest instrument cluster and an all-new TFT technology display to guarantee that the information is perfectly legible. The large 4.3-inch screen allows having on-board information available to the rider with incredible background and font color combination. The rider can also connect his smartphone with this naked bike to receive all the calls and information related to the bike. It is very easy to use and powerful technology used in 2018 Aprilia Shiver 900 Naked Bike. An advanced traction control system increases the safety while taking the riding pleasure to ultimate levels. This naked bike is always ready to provide the thrilling ride anywhere the rider wants.
Design
The new 2018 Aprilia Shiver 900 Naked Bike features an outstanding design and an attractive graphics. The side covers on its fuel tank, side panels, tail fairing, and front mudguard creates an aesthetic sense of the bike. The new twin cylinder engine offers an aggressive ride while its chassis has aggressive components like rims, frame, rear shocks and red paints, which creates an impressive beast like an image of this naked bike.
2018 Aprilia Shiver 900 Naked Bike – Price
The new 2018 Aprilia Shiver 900 Naked Bike is available with the price of $9,995 only.
2018 Aprilia Shiver 900 Naked Bike – Technical Specifications
Engine
| | |
| --- | --- |
| Engine type | Longitudinal 90° V-twin engine, liquid-cooled, 4-stroke, double-overhead camshaft with the mixed gear/chain timing system, four-valve-per-cylinder |
| Capacity | 896.1 |
| Max power (at crankshaft) | 94 hp (70 kW) @ 8,250 rpm |
| Max torque (at crankshaft) | 66 ft-lbs (90 Nm) @ 6,500 rpm |
| Fuel system | Integrated engine management system. Latest generation 3 maps (Sport, Touring, and Rain) Ride-by-Wire throttle management. |
| Electronic aids | Three level traction control plus off with Continental two channel abs |
| Exhaust | The 2-in-1 system made entirely of stainless steel with three-way catalytic converter and lambda probe |

Transmission
| | |
| --- | --- |
| Gearbox | 6 speeds, drive ratio |
| Lubrication | Wet sump |
| Clutch | Multiplate wet clutch, hydraulically operated |

Chassis / Suspension / Brakes
| | |
| --- | --- |
| Chassis | Modular tubular steel frame fastened to an aluminum side plates by high strength bolts. Removable rear subframe |
| Front suspension | Kayaba Upside-down fork 41 mm with an adjustable hydraulic rebound damping and spring preload. Wheel travel 120 mm |
| Rear suspension | Aluminum alloy swingarm with stiffener brace. Hydraulic shock absorber, with an adjustable rebound and preload. 130 mm wheel travel. |
| Front brake | Dual 320 mm stainless steel floating discs. Radial, four-piston calipers. Steel braided brake line. |
| Rear brake | 240 mm stainless steel disk. Solo piston caliper. Steel braided brake line |
| Wheels | Cast aluminum alloy |
| Front tire | Radial tubeless; 120/70 – ZR 17 |
| Rear tire | Radial tubeless; 180/55 – ZR 17 |

Dimension
| | |
| --- | --- |
| Max. Length | 83.5 inches (2,120 mm) |
| Max. Width | 31.8 inches (810 mm) (at handlebar) |
| Seat height | 31.8 inches (810 mm) |
| Curb weight | 481 lbs. (218 kg) |
| Fuel tank capacity | 3.9 gallons (15 liters) |
Warranty / Approval
| | |
| --- | --- |
| Warranty | All 2014 and newer Aprilia Scooters include the 2-year unlimited-mileage warranty. Limits are outlined in the warranty booklet. See dealer for details |
| Approval | Transport Canada and Environment Canada |

Conclusion
This article is the review of new 2018 Aprilia Shiver 900 Naked Bike and it gives its full details. It features the powerful engine capable to deliver the massive amount of power and acceleration. The chassis design is kept aggressive while the graphics are kept attractive. The seat gives the comfortable ride, low frame weight adds comfort in maneuvering while the low wheel weight reduces the gyroscopic effects. It is an ideal bike to ride on all kinds of city traffic and highways.