Three-wheeled Peugeot Metropolis 400i RS
To like the town amateurs of sporting style, Peugeot decline its Peugeot Metropolis 400i in the same time racy and elegant version RS. Exclusive color along with the lustrous accessories made the receipt quite well-known, however force is to recognize that thus provided, and the three-wheeler is more attracting.
In majority the three-wheeler scooters are chosen for the sense of security which they confer, however many of their users choose these tripods because of the power of their motorization. Indeed, only Piaggio MP3 LT, Quadro 3D and today Peugeot Metropolis, allow the motorists holders of the license B to control a scooter of a power higher than 15 ch.
Du blow, like Piaggio does it with its series Sport on MP3 your ban or Touring, Peugeot proposes a version RS of new Peugeot Metropolis 400i, such variations RS available on whole of its range two-wheeled vehicle, Satelis at the head.
Same features as that of the classical model, Peugeot Metropolis RS 400i 2013 is distinguished any D ` access from its two exclusive colors, titanium checkmate (the color of the concept presented the last year) or white.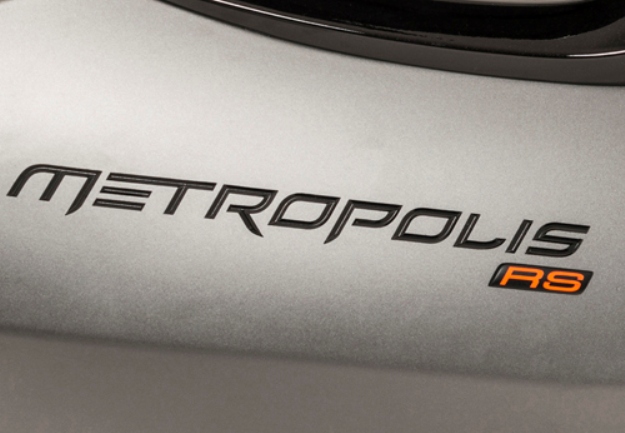 The equipment of the tripod to the sporting look understands a jump of wind tinted sport, aluminum foot-boards, as well as edges of rims and a calendar specific to the orange edging.
For the moment, no information as for the tariff of sale of this version RS of Metropolis 400i 2013 is available. However should learn some to us more on the living room of Milan… so remain connected!